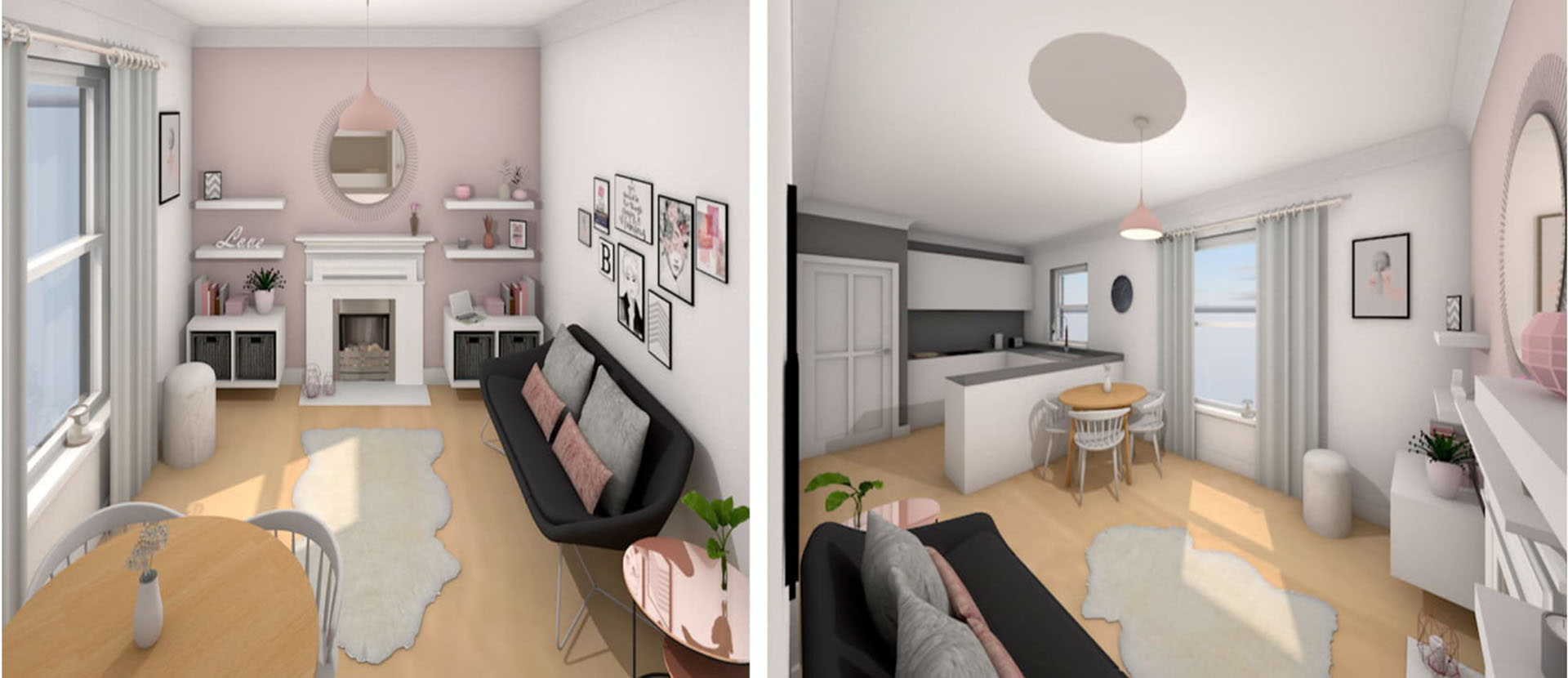 Solent students shortlisted for Amara Student Interior Designer of the Year
Four BA (Hons) Interior Design Decoration students from Solent University have been shortlisted for the Amara Student Interior Designer of the Year 2017/18 award.
12th March 2018
Amelia Fairley, Chelsea Young, Charlotte Louise Black and Daisy-Grace Jenson were thrilled to be selected from hundreds of entries to reach the final 10. Winners of this award could be in with a chance of receiving a £3,000 scholarship and a two-week internship at Amara (first place) or £1,000 (second and third place).
Each entrant for this award was given a brief asking them to design a small luxury living room in a trendy London apartment for a Scandinavian style enthusiast. They were given a hypothetical budget of £10,000, and were asked to produce a moodboard, cost sheet and write-up to explain their process.
Lydia Southwell, course leader for BA (Hons) Interior Design Decoration said: "We are thrilled to have four students in the shortlist of ten finalists. Drawing from trend and client research they have created visualisations which showcase their interior design and decoration skills."
We caught up with the four finalists to find out how they felt when they realised they were shortlisted:
Amelia Fairley
"When I had the email informing me that I had been shortlisted to the top 10 I was completely overwhelmed! Due to the amount of entries they had I never expected to really hear from them again, so when I did with the good news I was completely shocked and couldn't quite believe what I was reading. Then to see my name with my work on the voting page made it all very real and exciting!"
Chelsea Young
"I never realised my potential and what I am capable of achieving until now! It has been a great confidence boost and goes to prove that I can do anything that I put my mind to. It's the best feeling knowing and being able to say that Amara shortlisted me as a finalist in their student interior designer of the year 2017/18. It has given me so much motivation to carry on working hard as there are amazing outcomes."
Charlotte Black
"It feels great to be shortlisted, especially as I had put my own twist on the idea of the 'Scandinavian Design' where I had taken a slight risk in creating something slightly different to everyone elses. Even reaching the final 10 I feel is an achievement."

Daisy-Grace Jenson 
"I didn't imagine to even be in the top 10 so to be shortlisted for this opportunity is amazing, and all of support I've been given is even better!"
Visit the Amara website to vote for your favourite design