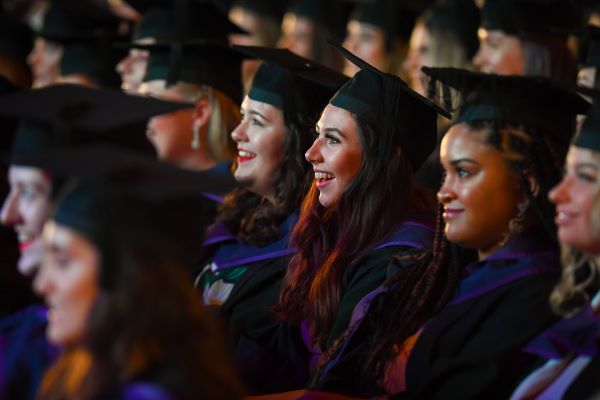 Solent University Gets Ready to Celebrate the Class of 2020
Next week, Solent University students who finished their studies in 2020, will take to the stage at the Southampton Guildhall for their long-awaited graduation ceremonies, delayed due to last year's Covid-19 restrictions.
27th September 2021
Around 1700 students will get the opportunity to wear their caps and gowns with pride as they graduate with degrees and professional qualifications from Solent University during ten covid-safe ceremonies, over five days, from 4-8 October.
The events will showcase the latest graduate talent from the 2020 academic year - ranging from Art Design and Fashion, Sport, Health and Social Sciences, Media technology, Business and Law and Maritime Science and Engineering.
Of the week's ceremonies, Vice-Chancellor Professor Karen Stanton says: "I am so proud to welcome our students back for this long-awaited celebration of their successes. I am delighted we can now accommodate our past students and share the event in-person, as Graduation Week is always the highlight of our academic year. The students have worked incredibly hard, while adapting to a challenging environment, to pursue their goals. I am also thrilled to welcome an exemplary list of new honorary graduates into the Solent community.
"The University takes great pleasure in seeing our graduates enter their chosen industries with their unique talents, an industry-led education and experience which ensures they're ready to achieve their ambitions. I wish them every success in their future careers."
The University will also be presenting honorary degrees to academics and professionals who have made an outstanding contribution in their field of expertise. This year's recipients are:
YouTube star and media company owner awarded in recognition of his success in the media industry.
Gellen Watt – Master of Business Administration
Advertising agency founder and Solent University Graduate, awarded in recognition of his entrepreneurial success and positive influence on students.
Marguerite Arnold – Doctor of Arts
British film and TV editor recognised for her industry impact and influence on the next generation of editors.
Marieanne Spacey-Cale – Doctor of Sports
Head of Girls and Women's Football at Southampton FC in recognition of her impact in sport.
Professor Graham Baldwin – Doctor of University
Vice-Chancellor of the University of Central Lancashire in recognition of his contribution to the higher education sector.
Michael Burton – Doctor of Arts
Co-founder and Director of Burton Nitta in recognition of his achievements in the arts sector.
Ian (Gus) Mckechnie -Master of Business Administration
Administrator in the Maritime industry, and one of the ambassadors for the Southampton City of Culture 2025 bid, awarded in recognition of outstanding achievements in community sports.
Mark Evans - Doctor of Business
Chief Strategy & Development Officer for Telefonica worldwide and Solent University alumna recognised for his impact in UK business.
Michiko Nitta - Doctor of Arts
Acclaimed artist awarded in recognition of achievements in the art sector.
Nina Harstone - Doctor of Arts
Oscar-winning Supervising Sound Editor recognised for impact in the film industry.
Natalie Desty – Doctor of Engineering
Award-winning leader for diversity and inclusion, recognised for her achievements within STEM industries.
Rebecca Kinge – Doctor of Science
Local community champion awarded in recognition of masterminding highly impactful projects.
The University's graduation ceremonies have measures in place to ensure they are covid-safe. Mask-wearing will be encouraged, and a lateral low test must be taken within 24 hours of the ceremony. 
Graduates will be able to share their experience with any friends and relatives unable to attend the ceremony via a livestream on YouTube.
The graduation ceremonies for students due to graduate in 2021 will take place during the week of 31 January - 4 February 2022.