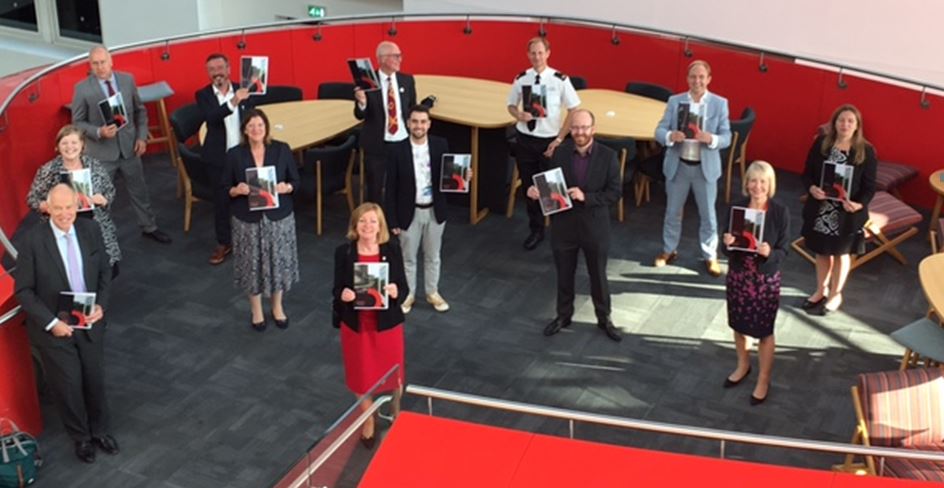 Solent University launch Civic Agreement
Solent University, together with Southampton City Council and other key civic stakeholders including Solent LEP, Business South and University Hospital Southampton, have launched their formalised Civic Charter, which forms the University's Civic Agreement.
20th September 2021
Homepage - News - Featured
Solent University's Civic Charter, the first of its kind for the City of Southampton, outlines how the University will contribute towards its future growth and development.
The Charter identifies four key areas where the University can make the greatest impact - Creating a city of life-long learning, Building a culturally enriched and cohesive city, Championing a healthy and activity community and Driving economic and sustainable growth – by scaling up projects and initiatives that will benefit residents across the city and wider central South region.
One of these initiatives, aligned to the Charter strand of creating a culturally cohesive community, will see Solent work towards securing University of Sanctuary status. This UK-wide initiative aims to ensure universities foster a welcome and inclusive culture for asylum seekers and refugees.
Professor Karen Stanton, Solent University Vice-Chancellor, said: "Southampton and the Central South region have ambitious plans for the future and, as an anchor institution within our community, we are pledging to align our future growth plans to that of our peers. This agreement demonstrates our assurance to working with the City of Southampton to bring about positive change, which is needed now, more than ever before, as we emerge from Covid-19."
The development of the Charter, first pledged in 2019, is the result of Solent University and key stakeholders pulling together to help champion the city's strengths.
Civic Agreements were a key recommendation from the UPP Commission's 'Truly Civic' report on the role of universities in working with their community, which encouraged universities to look at the longer-term impact of their local engagement and to seize the opportunity to work collaboratively with other civic partners.
As well as strategically aligning Solent's community activity, the launch of the Civic Charter also sees the launch of a number of new initiatives, enabling the local community to easily access University resources.
Charities and voluntary sector organisations can now benefit from complimentary use of the Solent's conferencing facilities on the first Monday of every month - with more details and booking information available on the University's website here.
"Our Civic Charter is just as much about how residents can access University resources and expertise as it is about our strategic alignment" explains Karen Stanton. "We're looking forward to sharing a range of new projects over the next few months, all aimed at supporting the city and wider region and offering a variety of public engagement and knowledge exchange opportunities - and we are always keen to hear from the community about how we can make a further difference."
The inaugural Civic Charter has been signed by leaders of 13 other organisations in the city and county, including both local authorities and NHS Organisations. View the full Civic Agreement and how you can get involved here.