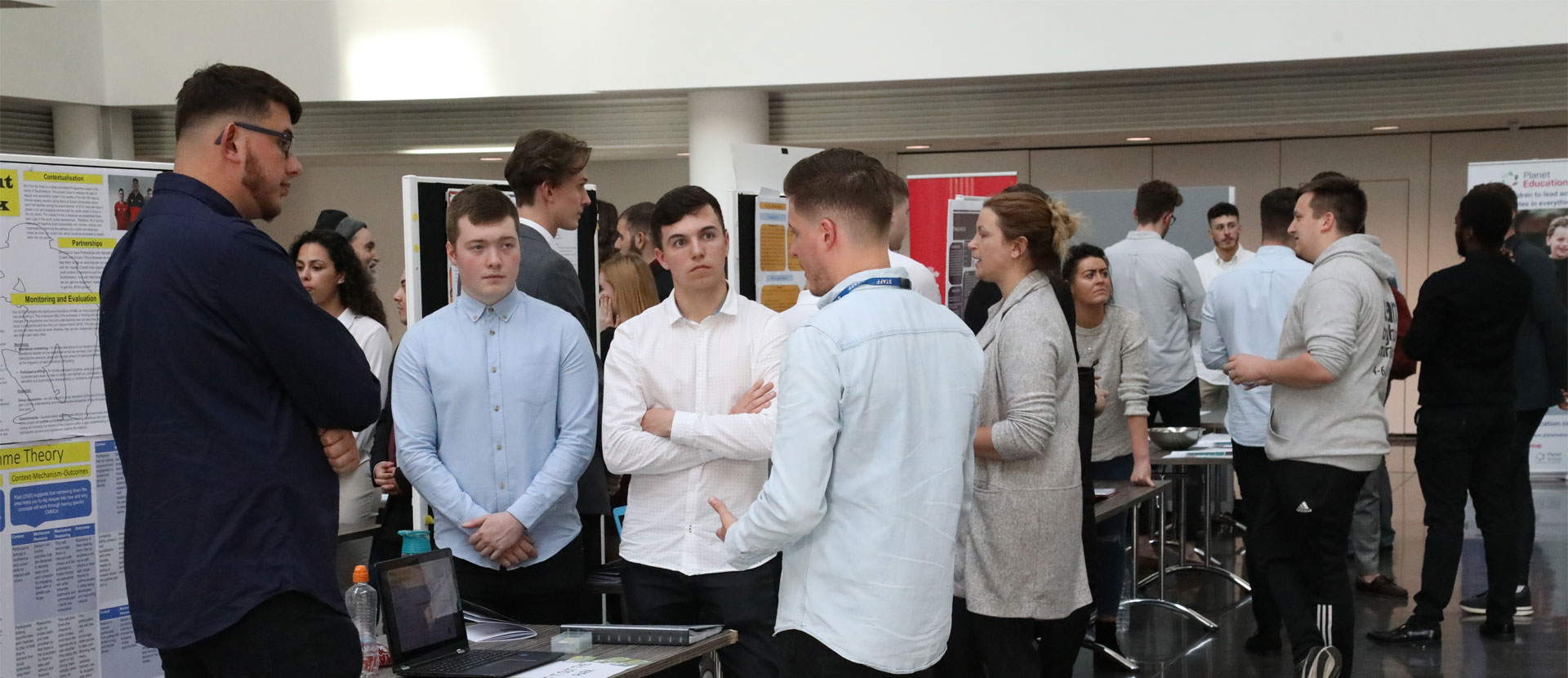 Sport students showcase projects at the Community Innovation Symposium
On Thursday 2 May, Solent University held the eighth Community Innovation Programme (CIP) Symposium – this year's theme was 'Making a difference in the community'.
A number of VIPs attended the Symposium, including the Sheriff of Southampton, Cllr Peter Baillie; Solent's Deputy Vice-Chancellor, Professor Julie Hall; and newly appointed Dean of the School of Sport, Health and Social Sciences, Dr Diane Bray. The event also welcomed representatives from Southampton City Council, community leaders and head teachers from local schools in Southampton.
The CIP is an integral unit of the BA (Hons) Sport Coaching and Sport Development degree and allows second- and third-year students to develop their own innovative project, using sport, coaching or physical activity to engage communities, improve lives and address social issues. Since the CIP began, students have delivered over 150 innovations, engaging with around 2,500 participants. These innovations have helped schools, hard-to-reach groups, the elderly population, sports clubs and youth groups.
The Programme is coordinated by Solent graduate, Connor Willsher. Having worked on a CIP project himself, Connor is passionate about the Programme. He said: "The Community Innovation Programme is a fantastic driving force to help students engage with local communities and provide an opportunity to make an impact to many beneficiaries. This platform encourages students to analyse and understand communities better. It also helps show students how important sport can be and how it can be utilised for social good."
Guests at the Symposium were able to view the latest developments from the students' innovations, which are due to be delivered next year. Guests were also able to meet the students and discuss their projects. In addition, there was a selection of projects recently implemented by third-year students, showcasing their monitoring and evaluation. The combination of projects in all stages meant this year's Symposium fully captured the 'design-deliver-evaluation' philosophy of the CIP.
The students' projects typically centre around five main themes: inclusion, education, disability, sport and EduMove, which combines curriculum subjects with physical activity. The project teams work closely with a steering group, consisting of practitioners from a variety of organisations such as local schools and colleges. The CIP has also collaborated with organisations including Planet Education, The Saints Foundation, Hampshire Cricket, and Southampton CAN.
Dr Kevin Harris, BA (Hons) Sport Coaching and Sport Development course leader said: "The symposium continues to grow every year, demonstrating the impact the Community Innovation Programme has on reaching out to community and industry needs."
CIP practitioner Lakbir Singh, says: "In my capacity as Head of Group Operations for Planet Education and as a passionate practitioner for the Community Innovation Programme, I am delighted to be contributing towards the collaborative work and outcomes delivered by this valuable initiative. As well as educating and equipping students with adaptable skills, the CIP has demonstrated a wider benefit through supporting enhanced integration of diverse communities and cultures throughout the city and the wider region."