Sporting legend awarded honorary degree
Stephen Park OBE, Olympic Manager at the Royal Yachting Association, was awarded an honorary degree of Doctor of Sport from Solent University for his services to the yachting world
19th November 2015
Stephen Park OBE, Olympic Manager at the Royal Yachting Association, was awarded an honorary degree of Doctor of Sport from Solent University on 18 November 2015.
Responsible for managing the British Sailing Team for the Olympic Games as part of the Royal Yachting Association's (RYA) World Class Performance sailing programme, Stephen has an extensive career in the sporting world.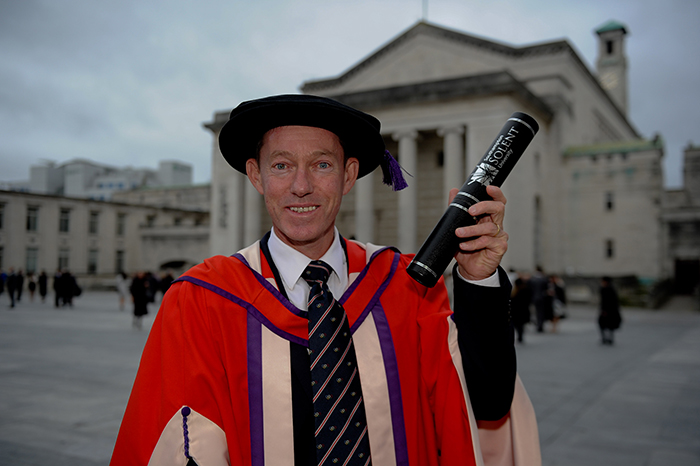 On receiving his award, Stephen says: "I feel very honoured to be receiving this degree.
"My career has clearly been focused on trying to support the delivery of Olympic sailing medals for Team GB, however I am very conscious that none of this would have been possible without such a superb group of talented sailors and a fantastically committed team of support staff, all of whom have ensured that I continue learning every day."
Stephen is currently preparing to lead the British Sailing Team as they campaign towards the Rio 2016 Olympic and Paralympic Games and he has scored a series of notable successes during his career.
As a former sailor, Stephen campaigned for Olympic selection in both the 470 and Tornado disciplines towards the 1992 and 1996 Games, after which he started working on the RYA's Olympic programme and overseeing the RYA Olympic Development Squad.
At Sydney 2000, Stephen coached the British sailing team's 49er squad, in which Ian Barker and Simon Hiscocks won a silver medal. In 2004, he led the British team to Athens as Olympic Manager, in which his sailors won five medals at the Olympic Regatta.
Stephen led the team to even greater success at the Beijing Olympics in 2008. Sailors picked up six medals including four gold, retaining Britain's position as the world's top Olympic sailing nation. This was the best-ever performance by a British sailing team at an Olympic Games and is Team GB's best Games in 100 years.
More recently, Stephen led the British Sailing Team in the Olympic and Paralympic Games at London 2012, in which sailors won five Olympic and two Paralympic medals, including a historic fourth gold for Ben Ainslie, as well as the first Paralympic medals since sailing became recognised in the Paralympic programme in 2000.
Awarded an OBE for services to sport in the 2009 New Year Honours List, Stephen has received multiple awards within the sports industry, including a BBC South Sport Manager of the Year award, and Coach of the Year at the Sunday Mail and Sport Scotland Scottish Sports Awards.
Giving advice to new graduates, Stephen says: "It is the combination of talent, hard work and passion that will ensure your success, so make sure you find a job you love and it will feel like you never have to work another day in your life."
Stephen is also a member of the RYA Olympic Steering Group, Paralympic Steering Group and World Class Performance Directorate.