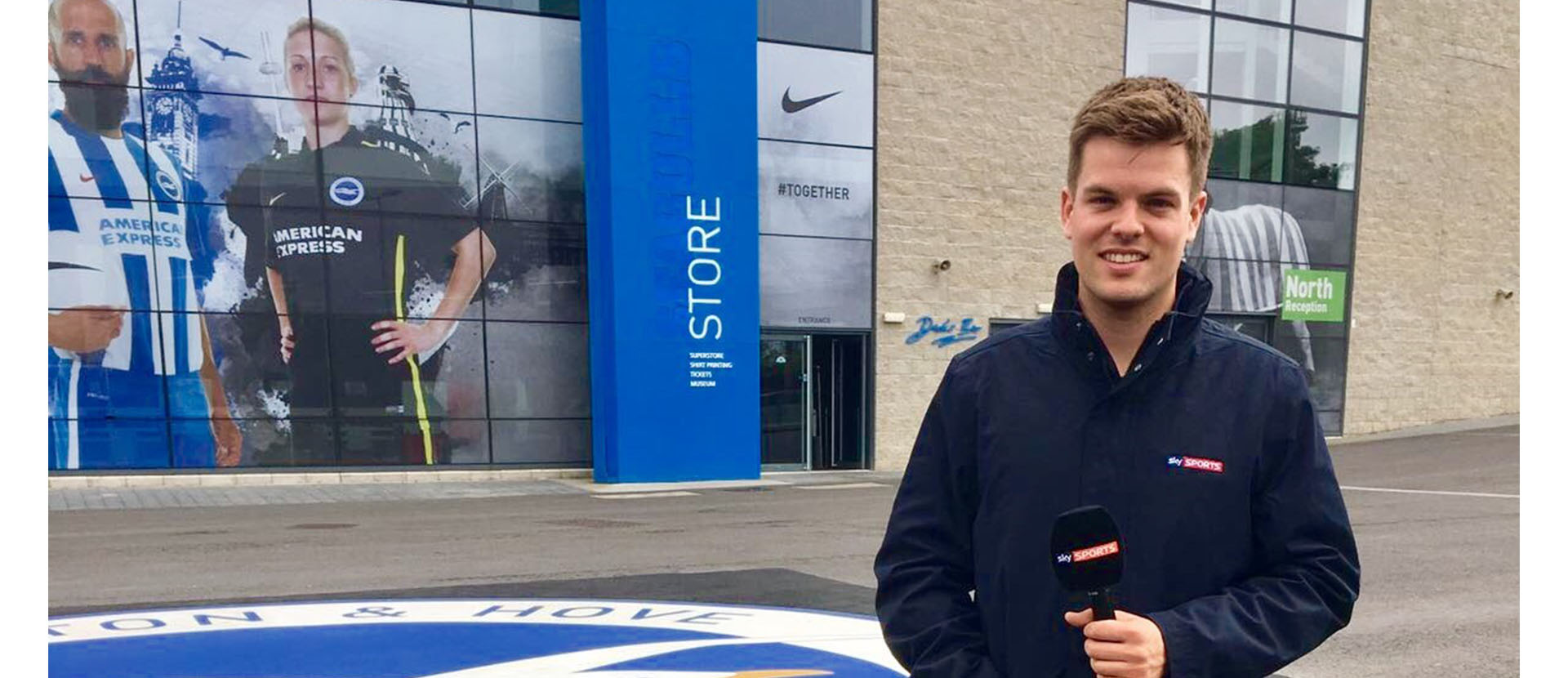 Sports journalism graduate lands dream career at Sky Sports News
Sky Sports success for Chris
9th February 2018
Chris Nightingale graduated in 2013 after studying BA (Hons) Sports Journalism. He now is a journalist for Sky Sports.
We caught up with Chris to find out what his role entails and his biggest achievement so far…
What are you up to now?
I currently work as a journalist for Sky Sports mainly working for Sky Sports F1 and working on Sky Sports news. I do loads more than just writing stories - I present, produce, edit, voiceover, interview, write and listen.   
What is your favourite thing about working for Sky Sports?
I love constantly meeting new people and broadcasting live in a live environment is also a lot of fun.
Why did you choose to study at Solent?
I was looking around universities and when I had my tour at Solent, I felt instantly welcome. The University also had the perfect location, far enough from home but close enough to go back at the weekends. Not only did the location and welcoming faces sell me, but the facilities and standard of teaching meant I knew I could make a success of my time in Southampton.
What was the best part of the course?
For me, the stand out module was studying television. The industry standard TV facilities, and knowledgeable staff who have a background in industry meant I was learning up to date information which would be favourable when applying for jobs. I still use the advice given to me about the industry, particularly about writing scripts in my working life today.
What is your biggest achievement so far?
It has always been my goal to present live and achieving this at the BBC and Sky Sports has made me very proud.
How would you sum up your time at Solent?
It was great! I gained so much experience, friends for life and without my degree I wouldn't be where I am today. I'd recommend the University to anyone who wants a career in journalism. The location of the University is perfect, along with the facilities and having two Premier League football teams nearby is so convenient. 
What advice would you give to current students?
Enjoy it – it goes by so fast and is extremely competitive. Also, work experience is key in helping land the dream job you want.
Find out more about our journalism courses here.