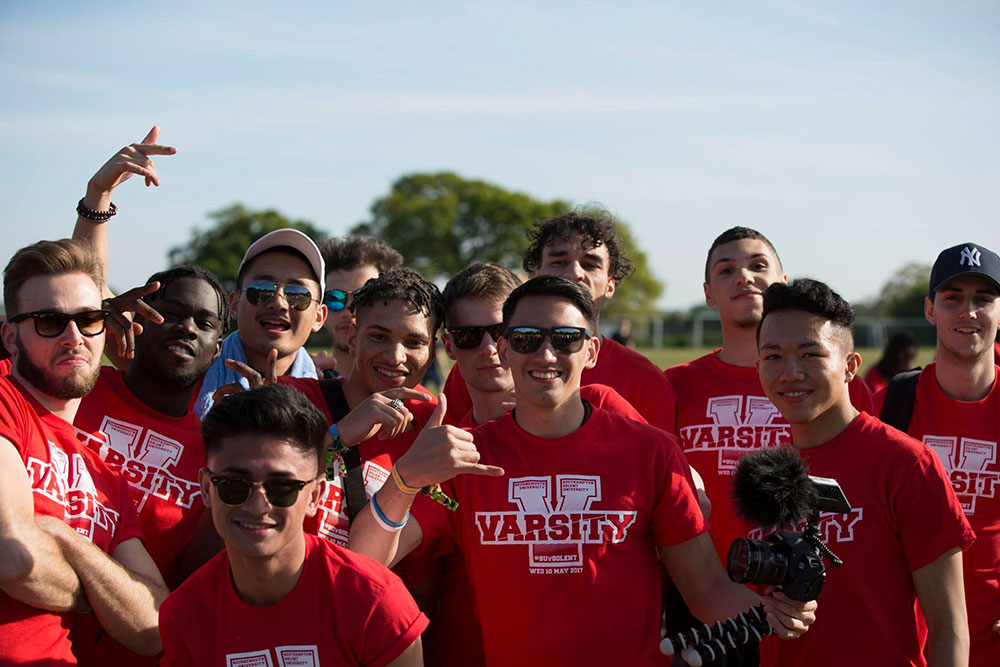 Sports teams shine at Varsity
Rising to the challenge
17th May 2017
The sun was shining on Wednesday 10 May, making it a perfect day for Solent's sports teams to face off against Bournemouth University.
Varsity, an annual event held between the two universities, allowed students from 25 teams to compete, with the majority of games held at Bournemouth Sports Club.
Kate Peckham, Sports Programme Manager at Solent, says: "The day and build-up overall was a great success, with more than 1,700 students in attendance – although we are a little sunburnt!"
By the end of the day, Solent's teams had won a respectable 11 games, against BU's 14. This included impressive scores such as Solent's women's cricket team winning 194 – 76 and American football 22 – 7.
Josh Easton, American football player and first-year BSc (Hons) Adventure and Outdoor Management student, said: "It feels good to get a win! It's been nice weather, a great venue, there's music playing, so the day has been as good as it can be."
Charlotte Berry, in her second year of studying BSc (Hons) Sports Coaching and Development, is the women's hockey captain, and led her team to success above Bournemouth, who are two leagues above Solent.
She said: "It's a great feeling! The team played really well; it was a great team effort. On our last game this season we beat Bath, who got promoted in the league, and the fact we won the Varsity match too just shows how much we've improved since the start of the season."
Well done to all the players! Take a look at the Varsity photos on Facebook, and see the final scores below.
Team
Solent
BU

Football Men's 1st

4

3

Football Men's 2nd

2

1

Football Women's

4

0

Futsal Women's

2

0

Futsal Men's

3

12

Hockey Men's 1st

4

5

Hockey Men's 2nd

0

8

Hockey Women's

1

0

Cricket Women's

194

76

Cricket Men's

 

 

Basketball Women's

23

63

Basketball Men's 1st

72

54

Basketball Men's 2nd

71

35

American Football

22

7

Rugby Men's

7

43

Rugby Women's

15

46

Netball

12

32

Equestrian

BU win

Rowing

2

3

Table Tennis Women's

BU win

Table Tennis Men's

8

9

Tennis

 

 

Badminton

5

3

Squash

1

4

Volleyball

2

3