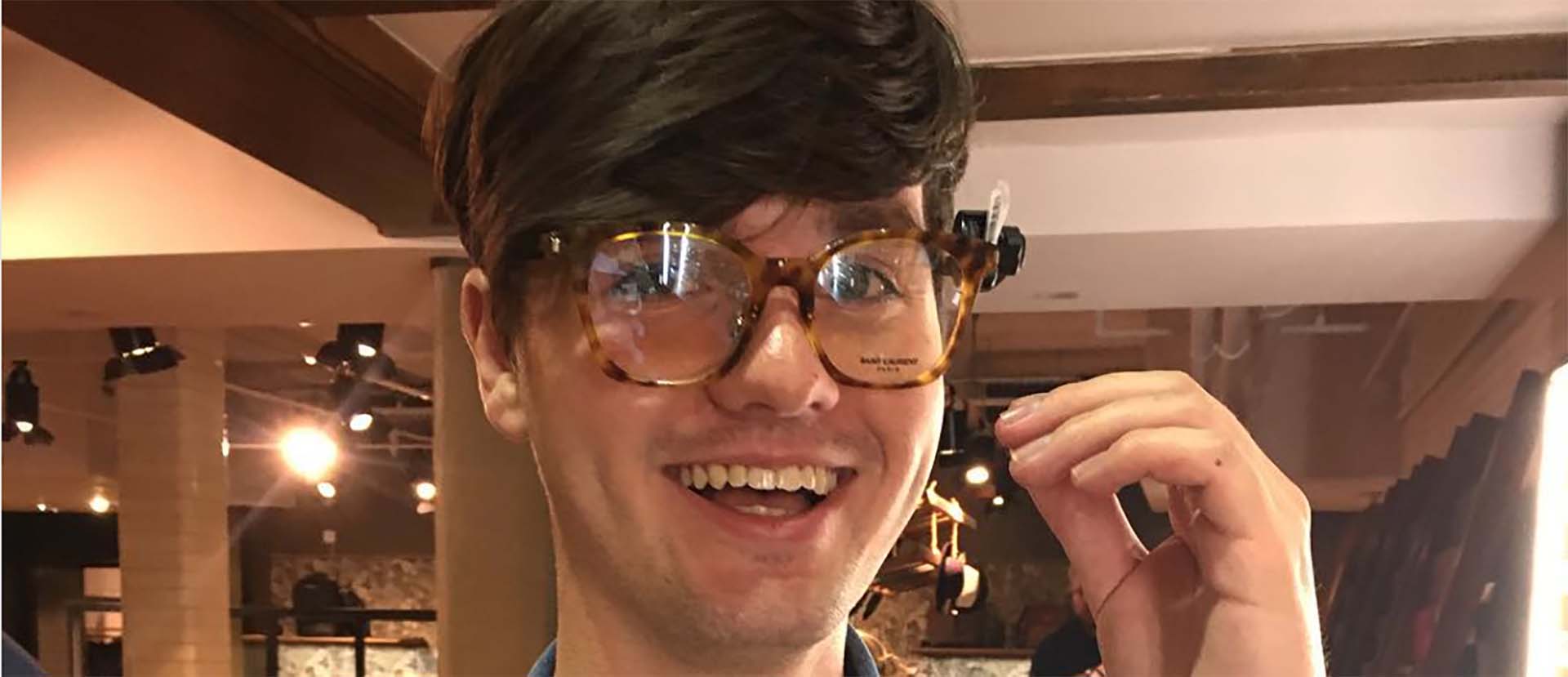 Student gets placements at LOVE, Liberty and Vogue
Jack Bradley had a placement at LOVE, working alongside the fashion and features teams, and attending editorial meetings, before also being offered placements at the in-house PR department at Liberty, and at Vogue magazine.
8th February 2018
Our talented final year fashion styling and creative direction students have been making an impact in the professional world this year, with students being snapped up by magazines, newspapers, PR agencies and photographers for work experience opportunities.
Jack Bradley, studying BA (Hons) Fashion Styling and Creative Direction, has followed in the footsteps of previous fashion students to take up a placement at LOVE, working alongside the fashion and features teams, and attending editorial meetings with the legendary Katie Grand, the magazine's founding editor-in-chief.
This exciting opportunity was quickly followed by a position with the in-house PR department at Liberty. Jack has also been offered a placement at Vogue this summer.
We talked to Jack about his experiences so far.
How did you secure your work experience opportunities?
For LOVE it was a job listing looking for someone to come and intern with them in the fashion team. For Liberty, it was a case of finding the press office details online and e-mailing them out of the blue. With Vogue, I hand delivered my CV and covering letter to the Condé Nast reception desk.
Tell us about what you did day-to-day in the roles.
At LOVE I was responsible for securing pieces for shoots, sourcing props or accessories that designers don't or won't produce, assisting on set, liaising with the PR teams and of course, no fashion cupboard internship would be complete without every intern's favourite job: fashion sample returns...! I will have similar responsibilities when I go to Vogue this year.
At Liberty it was my responsibility to handle call-ins from stylists, selected bloggers, magazines and newspapers, ensure that all samples were returned, handle gifting, and assist with events. For one event I was lucky enough to manage the guest list!
I took on more responsibilities when I stepped into my supervisor's role and that included managing events, selecting and organising bloggers for projects, hosting press appointments, liaising directly with press, intern management, gifting, co-organising press days, and project management.
What was the biggest thing you learnt while on placement?
The biggest thing I have learnt about myself at the internships is just how ambitious I really am. Nothing was ever an issue or too much for me to undertake.
How have your studies at Solent helped prepare you for this opportunity?
Studying at Solent has honestly been the best decision I have ever made regarding preparing myself for industry. The academic team for my course are incredible, unbelievably supportive and have a range of experience that allows for them to understand where we are trying to get to. They helped and supported me in going from professional and creative to a professional creative. I truly cannot thank them enough!