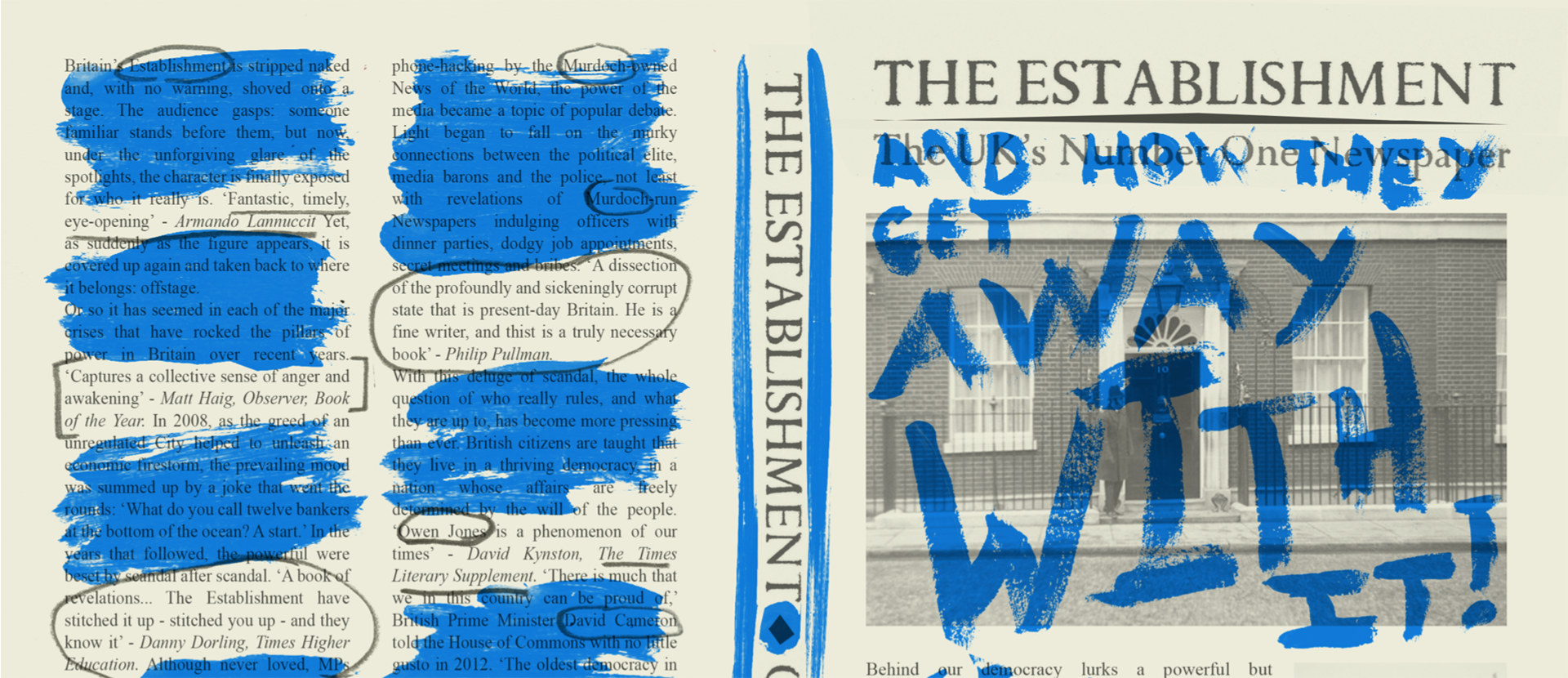 Student shortlisted for Penguin Student Design Award
Third-year BA (Hons) Illustration student Sam Ayres is one of 10 students shortlisted for Penguin's Student Design Award, in the adult non-fiction category.
Judges were looking for a well-executed, striking cover design with a clear market placement for The Establishment, by Owen Jones. An extract from the book reads:
"One day, this Establishment will fall. It will not do so on its own terms or of its own accord, but because it has been removed by a movement with a credible alternative that it inspires. For those of us who want a different sort of society, it is surely time to get our act together."
If Sam wins, he'll be invited to spend four weeks in the Penguin Random House Design Studios on a paid work placement, as well as £1,000 cash. The awards ceremony takes place on Wednesday 19 June.
We caught up with Sam to find out more about his entry:
"As the book is called The Establishment, my mind originally wanted to make clean design. It was actually when a friend showed me a book she was reading about punk zines that I started thinking about undercutting the order and systems chronicled inside the book with a more messy, angry design.
"I've gone for the look of a newspaper for my design, news printers being one of the subjects touched on in the book. I used the letterpress at uni to help give the bigger text a more authentic feel, scanning in Adana prints and multiplying it on a cream background.
"I find white too clean a colour to work onto at the best of times, and as I was trying to drag the text down to the street, making the cover dirty is thematic. The rest of the text is a similar digital typeface, colour-matched to the grey of the letterpress. It's a mixture of the cover copy quotes – from people like Irvine Welsh and Russell Brand – and the first paragraphs of the actual book.
"After I had the base newspaper created, I printed it out, and on a light box 'vandalised' it. On the front I used this to add the needed information in what I hope is a visually interesting way. It shows 'the Establishment' as a subject causing anger, and makes an observer interested in what they are getting away with.
"Having 'the phenomenal best seller' in quote marks gives it a tongue in cheek feel, and having Owen Jones as the writer on the paper tells you a little bit about him as a person; he writes for newspapers such as The Guardian for a living.
"On the back cover I used graffiti to block out the non-essential text, but it left the back feeling under-developed and in need of imagery. Because I didn't want to disrupt the flow I had already created, I decided to use editor's notes as the visual element – it highlights the quotes a bit more than they already were, adds to the dirty feel of the newspaper, and adds an element of this isn't the version of the news that people should be seeing. It's a little sinister that the news, which should be factual and unbiased, needs to be edited and spun to keep a paper's audience happy.
"Solent has been really useful to me in developing my own ways of working. The Below Bar studio space has a really great atmosphere, and the technicians in the print room and 3D room can help you create almost anything.
"Having the space to try out different mediums and styles, while getting feedback from like-minded students and tutors, allows for a great loop of creativity. The talks we have with guest artists are also useful, both for learning the steps to make a career, and creating contacts."
Take a look at Sam's website and Instagram to see more of his work.