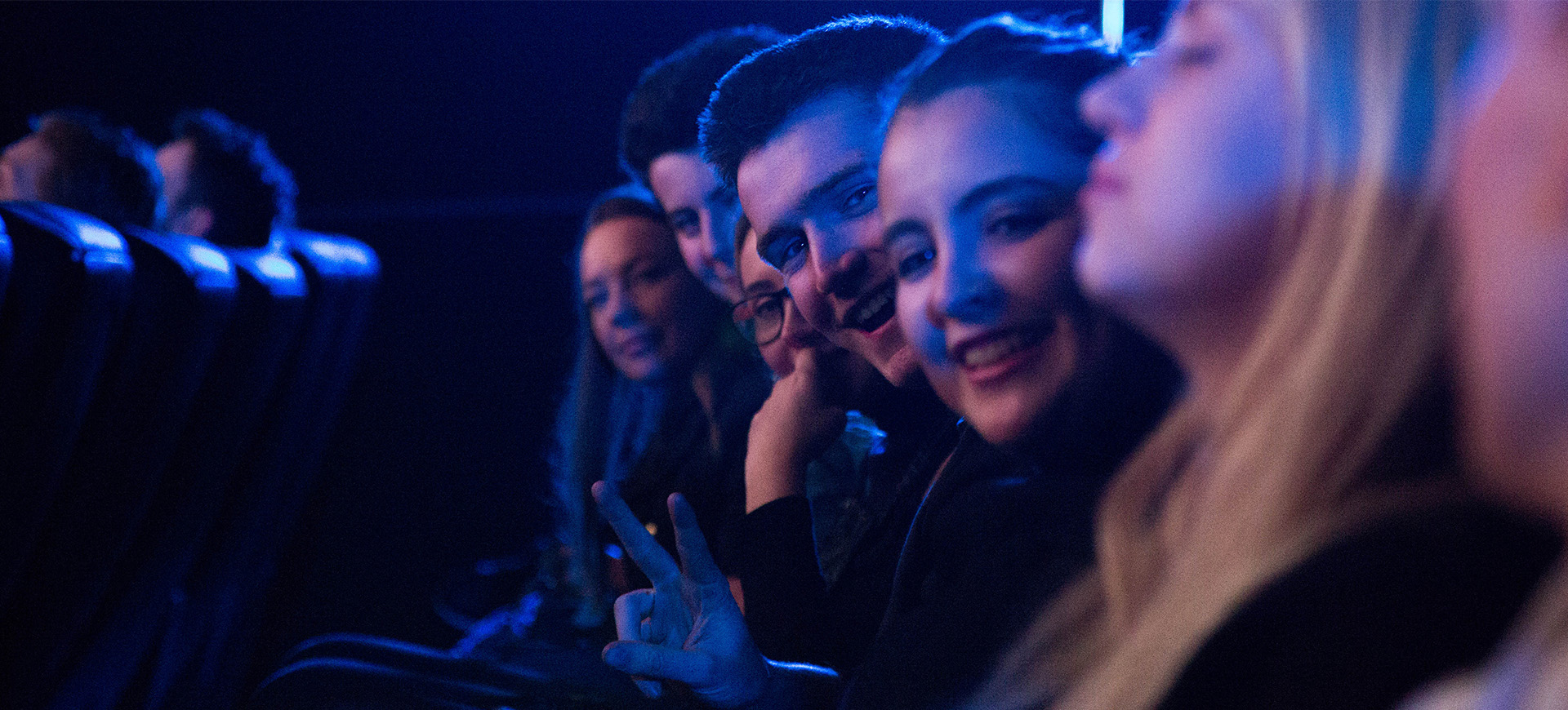 Students' cinema trailer goes global
Students from Solent University have created a blockbuster big-screen trailer which is being watched right across the globe.
14th January 2020
TV, film, media production and technology
Students from Solent University have created a blockbuster big-screen trailer which is being watched right across the globe.
The project, for cinema chain Showcase Cinemas' ground-breaking XPlus experience, is being watched by film fans as far away as Brazil and the USA.

XPlus is Showcase Cinemas' ultimate viewing experience for film fans, offering breakthrough 360-degree Dolby Atmos surround sound and a giant, immersive wall-to-wall screen with ultra-high definition projection.

The cinema group has worked with students from Southampton-based Solent University to produce the epic trailer for its XPlus on-screen advert.
The trailer was shot at the company's flagship Showcase Cinema de Lux site at Westquay, Southampton, and will promote the brand's pioneering XPlus experience.
The project saw students from Solent work alongside Solent alumni and teaching staff from industry to create the trailer, and is one of the largest productions ever undertaken by the university.
The 27 students who worked on the project are all aged between 19 and 23, and are studying a range of television, film and media courses at Solent.
MA Post Production in Film and Television student Akash Beri was the project's editor. He said: "This was a fantastic opportunity to learn in a real-world setting with a reputable client making high-quality, cinematic content. It is also a major boost to my CV and employability as an editor in the industry, proving I can already handle the workload expected of professional editors." 
The team worked on everything from concept through to post-production over ten months to bring the trailer to the big screen. The trailer is now set to air on over 500 screens worldwide, including cinemas in the UK, the USA and Brazil.
Mark Barlow, UK General Manager for Showcase Cinemas, said: "The students from The Solent University have worked tirelessly to help bring this concept to reality through their expertise and knowledge.
"This has been a long, ambitious project for Showcase and we all think the results are outstanding. The new trailer illustrates the many benefits of viewing a film in our XPlus screens.
"We're now rolling this trailer out across our screens internationally so that our guests across the globe can see why XPlus is such a revolutionary cinema experience."
Associate Professor at Solent, Tony Steyger, added: "The University prides itself on offering students opportunities to 'learn whilst doing' as they progress through their studies. This high profile project represents a triumph of this principle for a global audience.
"We are delighted with the results and can't thank Showcase Cinemas enough for collaborating with our dedicated students, production staff and talented graduates. The trailer will be screened globally and is a wonderful example of the creativity here at Solent."
Showcase and Showcase Cinema de Lux are owned and operated by National Amusements, Inc., a world leader in the motion picture exhibition industry operating more than 918 screens in the US, UK, Brazil and Argentina. National Amusements delivers a superior entertainment experience under its Showcase, Showcase Cinema de Lux, Multiplex and UCI brands.
Based in Massachusetts, National Amusements is a closely held company operating under the third generation of leadership by the Redstone family. National Amusements is the parent company of both Viacom and CBS Corporation. For more in formation visit www.showcasecinemas.co.uk, follow @showcasecinemas or search 'Showcase Cinemas UK' on Facebook.