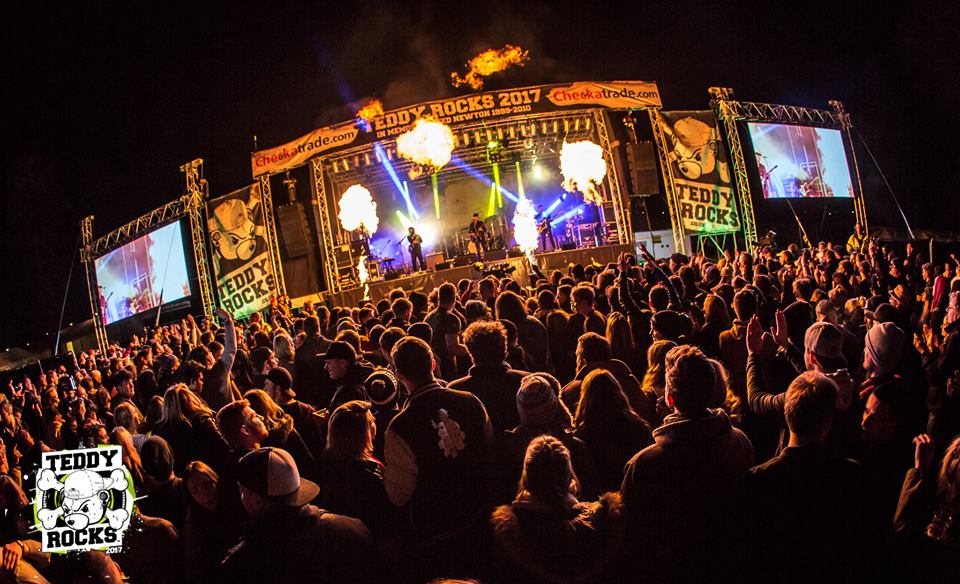 Students contribute to festival success
Filming Teddy Rocks
26th May 2017
TV, film, media production and technology
Earlier this month two Solent third-year BA (Hons) TV Production students organised and carried out the filming of Teddy Rocks, a charity music festival featuring headliners such as Scouting for Girls.
When Adam Gonthier and Luke Tench first got involved with Teddy Rocks in 2013, it was a very small event that had started two years previously to raise money for Teddy 20, a children's cancer charity founded by Tom Newton and his family after they lost his 10 year old brother, Ted, to a very rare bone cancer.
Adam and Luke started by filming a short 'rockumentary' to capture the Teddy Rocks story, and the publicity has helped the festival grow rapidly every year since.
This year, the two enlisted the help of thirty students from various courses at Solent to cover every aspect of the festival. Adam and Luke used the knowledge of the new recruits – and access to the School of Media Arts and Technology's Outside Broadcast truck – to take the filming to another level, matching the new, higher capacity festival site in Blandford Forum, Dorset.
They set up a live-mix on two large screens, and organised live feeds into the VIP bar and lounge area, as well as roaming student news teams to capture the events of the day.
Adam says: "The weekend's filming ran smoothly, thanks to the dedication and professionalism of the team. Luke and I have been part of this event for many years now and what motivates us most is seeing first-hand where the money goes, and being able to help those affected by doing what we do best."
Luke adds: "I will always remember the first Teddy Rocks, as it was the first gig I'd been crew for. I feel like everyone who goes to Teddy Rocks sees the passion behind it and wants to help out in any way they can.
"Having access to the equipment at Solent has allowed us to grow year after year with the festival and push it to be the best it can be."
By the end of the festival, a staggering £76,659 had been raised, all going towards Teddy 20 to provide families and children fighting cancer with a better life, as well as funding research.
Solent Productions' Craig Lees was supervising the event and comments: "It was a great experience for all the students involved and they did themselves proud. It was a perfect training ground for our next outside broadcast at Glastonbury at the end of June, and to help raise so much money for the charity was fantastic."
Adam and Luke have now set up their own broadcast company, called Forum Films. They have already been booked to film at two large festivals in the summer, and have been invited to be the official live film crew for Madness and Jess Glynn as they perform to a sold out arena in Falkirk, Scotland.
Tom Newton, Teddy Rocks organiser, says: "Forum Films has bridged the gap between a pub gig and areal world festival. To watch these guys grow and turn into the utmost professionals has been a real honour.
"They are a huge part of our success, providing the ticket holders with a superb experience and giving us a production standard most small festivals only dream of."
Take a look at the festival highlights videos!
Friday: https://www.youtube.com/watch?v=9kPRx2KJfjQ
Saturday: https://www.youtube.com/watch?v=I_Zrz4hqjZM&t=8s
For more information on the festival, see www.teddyrocks.co.uk or to enquire about work experience with Solent Productions, visit www.solentproductions.com