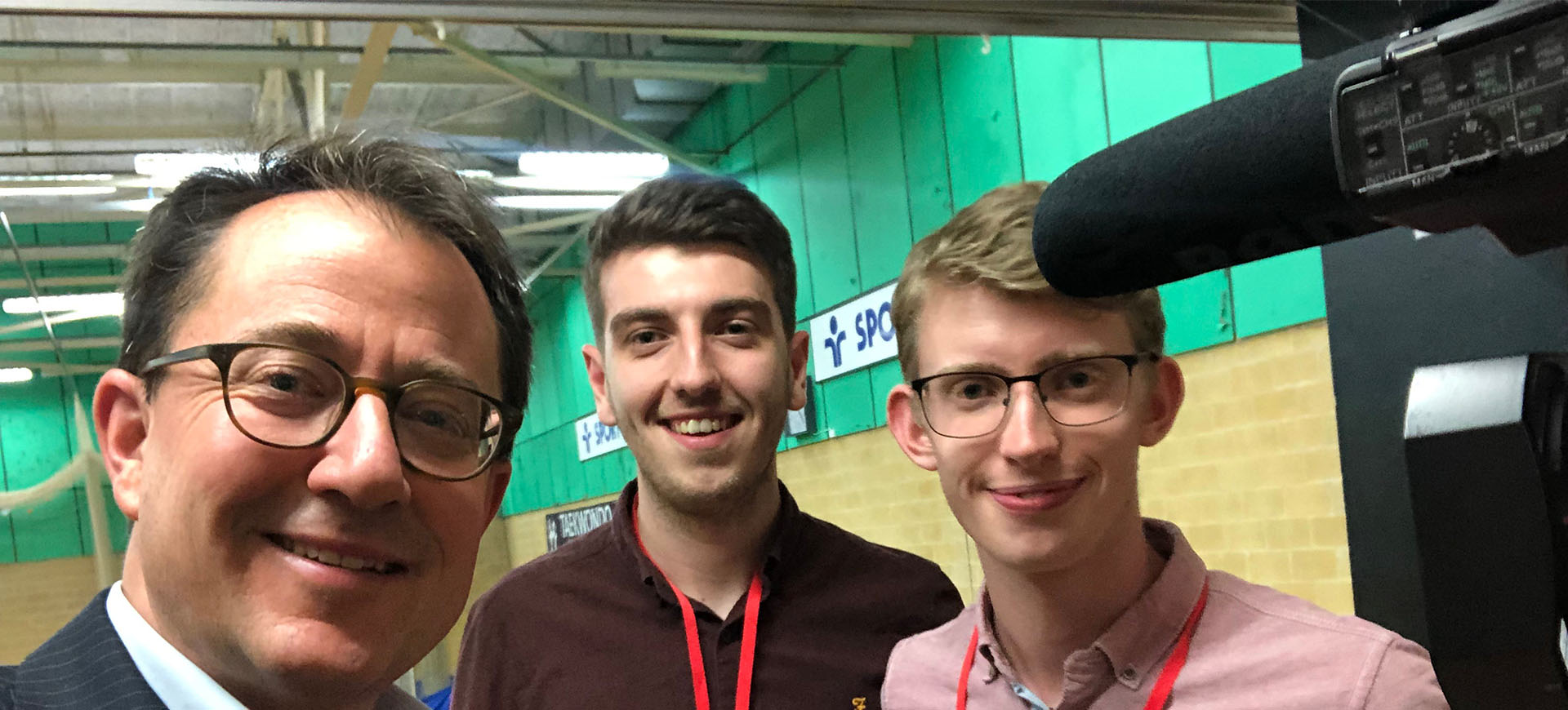 Students out for the count for ITV
Students from Solent University made the news for ITV's Local Election 2019 coverage.
7th May 2019
Four students from the BA (Hons) Sports Journalism degree, and two from BA (Hons) Journalism, were given the opportunity to report at counts around Hampshire for ITV News Meridian last week (Thursday 2 May).
Winchester City Council's switch from Conservative to Liberal Democrats was the big story of the night – and it just so happened to be one of the three counts that our students were covering.
Henry Flynn, 21, who studies BA (Hons) Sports Journalism said: "Our pictures were used at the top of the titles and the opening report, we also had our interviews used as well. It was very exciting to see our work go out on-air."
The students used the university's industry-standard equipment which worked perfectly with ITV's broadcast requirements.
Sports Journalism student, James Taylor, 21, said: "The whole experience showed me that we get taught in class is exactly how broadcasting works in the real-world.
"We have news days every week - where we learn all of the skills we need to chase down real stories under pressure and for live outputs – and this live project has given me taste of what the industry is like."
BA (Hons) Journalism student, Neto Brazil, said: "Covering the local elections for ITV News gave me the confidence that I needed to apply for broadcast jobs. It was a great experience and it will look good on my CV."
The opportunity arose from Solent University's drive for every course to have strong links with their industry.
David Reilly, BA (Hons) Sports Journalism lecturer, said: "This is a prime example of Solent's real-world learning and fantastic industry links.  Getting to report on a major local event for a mainstream broadcaster, while at university, is a huge opportunity for our students but it's also a unique experience which will set them in good stead for the future."