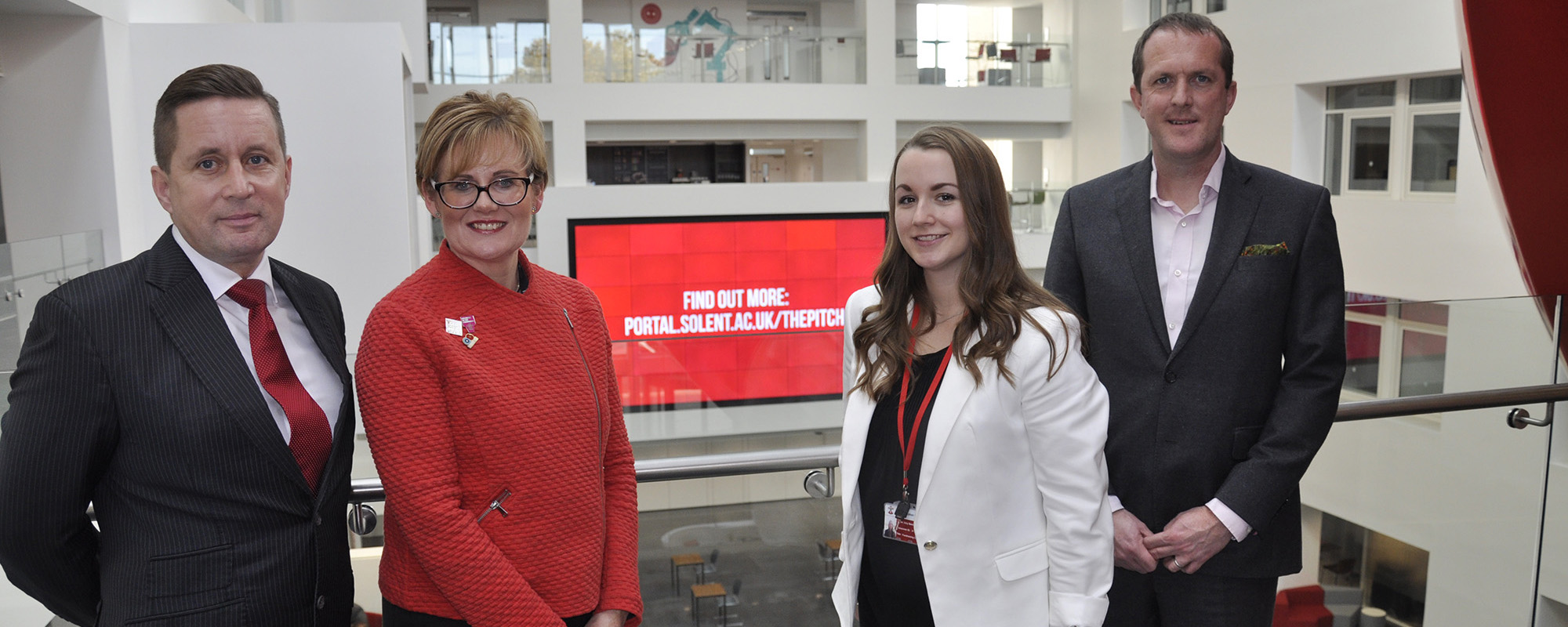 Students pitch to Saints in Dragon's Den-style initiative
The next Lord Sugar?
23rd November 2016
Students have attended an official launch at St Mary's stadium to kick-start The Pitch, a Dragons Den-style initiative.
The initiative, launched by the University, Saints Foundation, Southampton Football Club and official sponsor, Drive Personnel, will help support the students to start their own business.
During the launch, students put their brains to the test in workshops and talks led by Saints Foundation's Amy Bennett and Solent's lecturer Stephen Brown, started forming their business plans, and met the judging panel. 
The deadline for students to submit their business plans for shortlisting is Thursday 1 December – so there's still time to get involved if you've got a great idea you want to turn into reality. There's £1,000 of funding available for up to ten successful applicants, allowing students to illustrate their creativity while raising vital funds for Saints Foundation.
Stephen Brown, senior lecturer in business, says: "The Pitch is a fantastic initiative for students to grow and develop key business skills whilst raising funds for a local charity. Over the last few years businesses have increasingly recognised the need to have a two way dialogue with their community and so it's important that we offer opportunities that allow students to gain this experience."
Southampton FC Chief Executive Officer, Gareth Rogers, says: "The Pitch is about creativity and aspirations, and trying to do things that really push yourself as an individual, and it's great to see that we've got these individuals here today who have come with a huge amount of enthusiasm."
Greg Baker, Head of Saints Foundation, adds: "We're looking for students with new ideas, and that's the beauty of The Pitch, there are no confinements and we hope this can raise a lot of money for Saints Foundation."
To find out more, please get in touch with Saints Fundraising Officer, Amy Bennett on 02380 711977 orabennett@saintsfc.co.uk