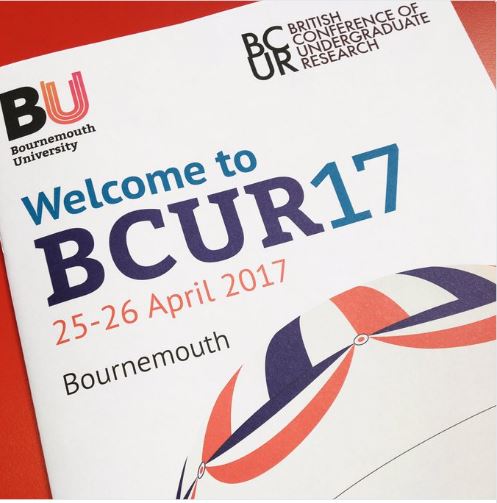 Students present at national research conference
Students showcase undergraduate research
28th April 2017
Solent students presented at the British Conference for Undergraduate Research (BCUR) earlier this week.
BCUR is known for inspiring academics and students with the best of undergraduate research. This year's conference attracted 470 students from 50 universities to Bournemouth University for a two-day event.
Solent was one of the most well-represented universities involved, with a total of 15 projects on display. Students presented on topics ranging from 'how to gamify household budgets' to 'Pokemon Go in the Fashion industry':
Alicia Beesley: RFID technology in retail industry
Liam Charmer, Jessica Gay, Katie Hamling, James Oglesby: Never regret a fashion choice – Virtual mirror technology
Jessica Everitt: Pokemon Go in the Fashion industry
Steven Fegan: Sherlock Holmes: A product of fear in contemporary TV
Elise Frost: An innovative instore insight
Katie Hamling: Digital-pased Personalised depression management system
Jakub Kaczmarczyk: Cloud computing solution for the university
Ana Mojasevic: Attachment styles in dealing with childhood trauma through adulthood
Danielle Ross-Barton: Representation of identity in Alice in Wonderland
Michael Sievenpiper: Gamified budgeting for managing household income
Peter Stott: Examining the generational attitudes on British football supporters' attitudes to homosexuality
Charlotte Stuart: Fatigue response in the lumbar extensors following dynamic exercise using high and low-loads between males and females
Victoria Swain: The new cyborg: contemporary manifestations of humanness through synths on-screen
Jordan Thomas: Manipulation of Sound in Modern Silent Cinema
Benjamin Wareham: Values and entrepreneurial intentions of UK university graduates
Dr Claire Hines, Senior Lecturer in Film and TV commented, "It was an absolute pleasure spending the day listening to quality undergraduate research from different disciplines. Our students were truly excellent and I was proud of the Solent presence at the conference. They answered questions intelligently and confidently".  
Final year student Katie Hamling, whose research was about the digital management of depression, tweeted "Had such an amazing time at BCUR 2017 – it was so insightful speaking to people from different subject areas and hearing their responses." 
Professor Tansy Jessop from the Solent Learning and Teaching Institute commented, "Showcasing student research is at the heart of research informed teaching. A strong student presence at BCUR is an important strategic goal for Southampton Solent, and personally rewarding for both students and their supervisors". 
The full BCUR 2017 programme can be found here.