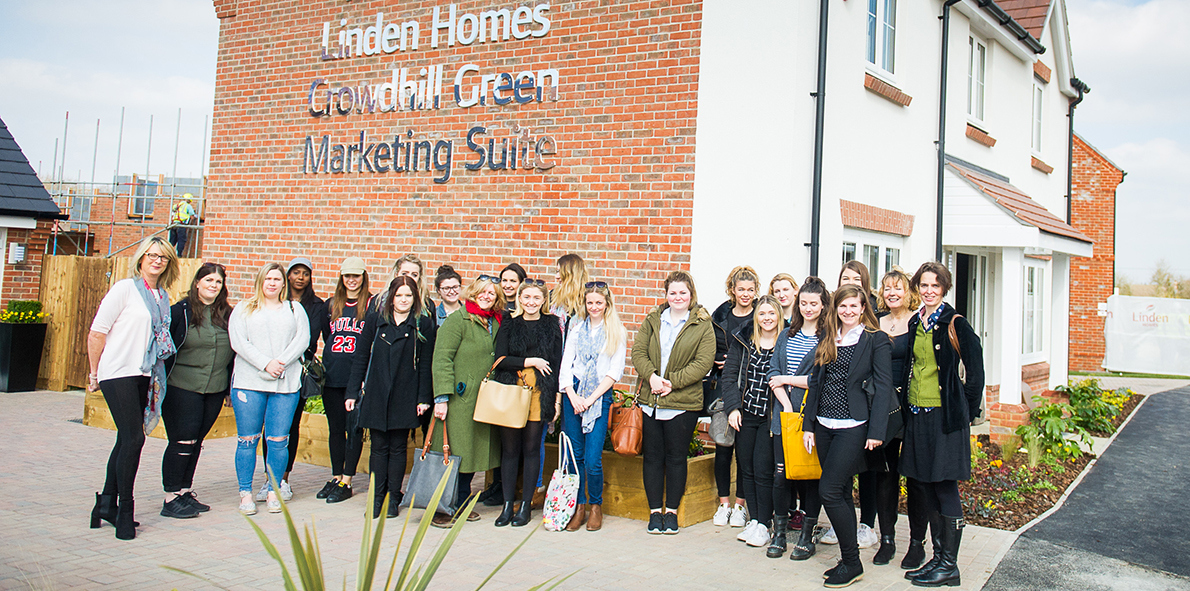 Students show their flair for creative interiors
Experiencing life as an interior designer
5th April 2016
Students studying at Southampton Solent University had the opportunity to gain first-hand experience of what it's like to be a fully-fledged interior designer, as part of an ongoing partnership with Linden Homes South.
The University partnership with Linden Homes provides the BA (Hons) Interior Design Decoration students with real-world experiences and has become an integral part of their three-year course.
Course Leader, Lydia Southwell, say: "It's fantastic to be able to provide our students on the course with real-life learning experiences.
"Our partnership with Linden Homes South really enhances our students learning and will help them when they move on to become professionals in their own right."
As part of their first and third-year projects, students on the interior decoration course were asked to create Show Home designs based on a brief provided by Linden Homes. The brief detailed the location of the homes; the type of customer that was likely to be interested in the home; and outlined the theme. This was followed by a visit to one of their show homes at Crowdhill Green in Fair Oak, to give the students inspiration for their designs.
Getting their first glimpse into the house building industry, the first-year students were asked to focus on a two-bedroom home at the Crowdhill Green development; while a group of third-year students chose to design and style a larger home, as part of their final major project.
Lydia added: "Our third-year students were some of the finalists when we ran this initiative back in 2014, so it's fantastic that the project has inspired them to pursue this as their final major project.
Accompanied by their course lecturers and Linden Homes South Marketing Manager, Susan Whiting, the students were taken on a tour of the site and Show Home to help get an in-depth insight into the project.
"Having the opportunity to meet a client, gain first hand industry experience and listen to a real brief has given them valuable insights into the house building industry and will certainly benefit them as they move on with their careers", says Lydia.
Linden Homes South Marketing Manager, Susan Whiting, provided the brief for the students and was on hand to answer questions during the visit at Crowdhill Green.
Susan says: "It's great to be able to support these students as they start their careers into the world of interior design. It was a delight to meet them and they were very enthusiastic about the project which is great to see.
"We were so pleased to be able to offer them some real world experiences and give them a chance to understand what it's like to work with a client. You never know, one day some of these students could be designing our Show Homes professionally.
"We are delighted to be able to build on the success of previous years, working together and continuing to support the students through our partnerships with Southampton Solent University," She continued.