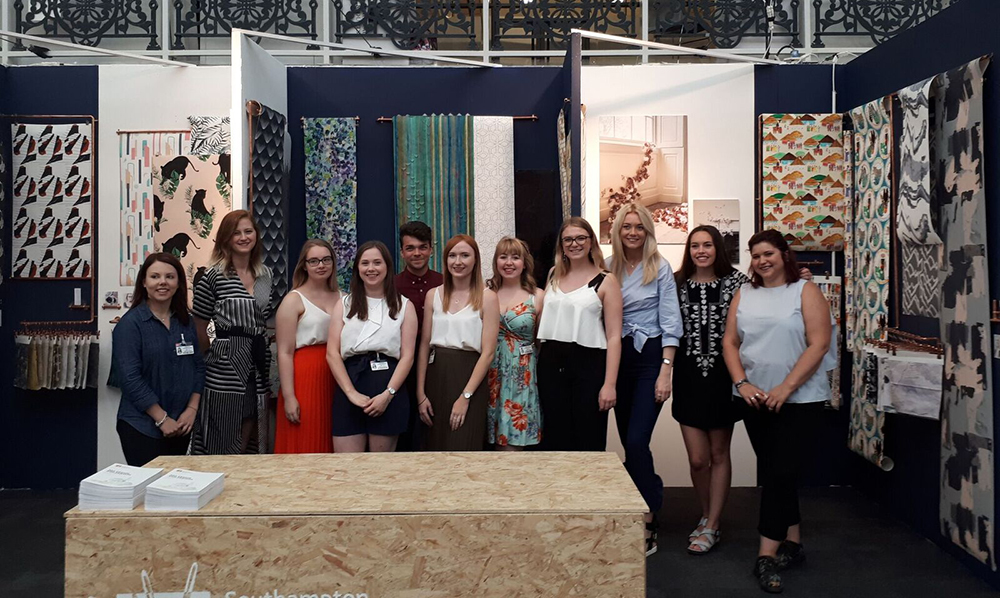 Students show their skills at New Designers 2017
Displaying designs
25th July 2017
Eleven final-year BA (Hons) Interior Design Decoration students displayed their work at the New Designers 2017 exhibition in London earlier this month, where they had the opportunity to showcase their creations to companies such as Ted Baker, Debenhams, Sainsburys, and the Card Factory.
The show took place over two weeks, with the first half focusing on surface design, textiles, ceramics and jewellery, and the second half spotlighting spatial and product design, furniture, animation and illustration. This year's students specialised in surface design and styling, and presented a range of fabrics, wallpapers and concrete flooring samples from their final major projects.
One student – Emma Molley – graduated just two weeks ago, and was awarded the 'Adore' prize from Johnson Tiles for her combination of bespoke handcrafted interior pieces. Of her win, she says:
"I am ecstatic to have won the award! I didn't expect to win anything as the level of competition at New Designers was fierce. It has given me the motivation to pursue my goals.
"My inspiration for the pieces mainly stemmed from previous travel to India about seven years ago. I loved the culture, and had always wanted to use that in some of my designs. I linked this with a want to create more 3D surfaces.
"Society is asking more of designers – people are no longer happy with just flat printed surfaces and textures. By using more touchy feely surfaces, we create more of an emotional attachment to the object or surface and that is what I created within my surface designs."
Solent students have been attending the New Designers exhibition for the past five years, with past successes including a collaboration with Virgin Airlines last year.
Lorraine Purchase, specialist print technician working with the course, says: "The show is an opportunity for students to make connections with professionals and people working in their industry, and was set up specifically to create networking possibilities and so the students can show their portfolios."
Student Danica Younghusband adds: "New Designers was a great opportunity for me to showcase my skills to potential employers and clients. It also allowed me to see what other designers are capable of and gave me inspiration for future projects. This was a fantastic experience and it's given me the drive and passion to move forward in design."