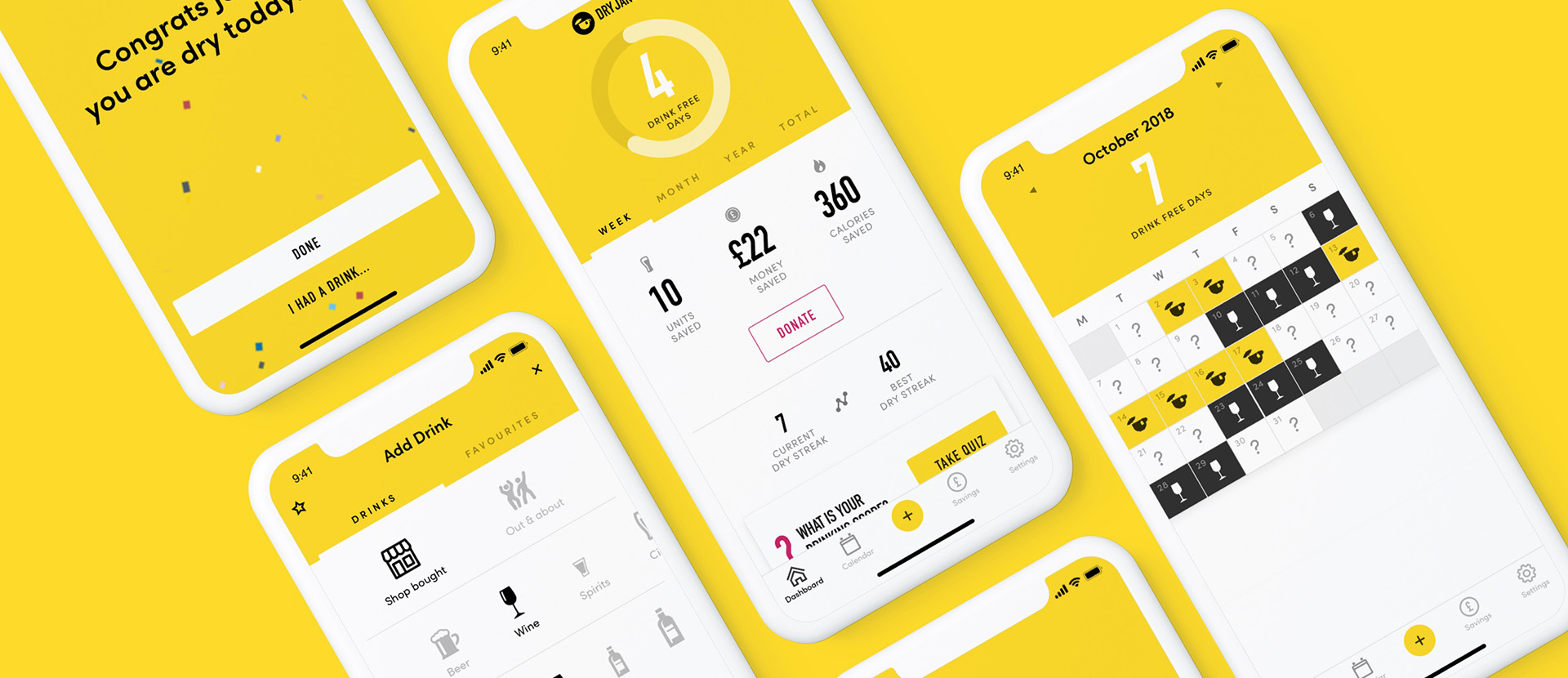 Students support development of 'Dry January' app
Two students from Solent University recently had the fantastic opportunity to support the development of the Dry January app for Alcohol Change UK.
2nd January 2019
Computing and games
Digital design and web development
The app was created by local digital product studio Rareloop, and Steph Barden (Skip), currently in her second year of BSc (Hons) Web Design and Development and interning with Rareloop, and Edoardo Rainoldi, in his final year of BA (Hons) Graphic Design for Web and Mobile Devices (now BA (Hons) Graphic Design) assisted the team in the development. 
We caught up with Skip, Edoardo and Joe Lambert (MD of Rareloop) to find out more about the project.
Skip, tell us about the app and your involvement in the project.
The app is a way to help people cut down on their drinking, which also helps them save money and calories. The app was created for the charity Alcohol Change UK, which is working towards a world free from serious alcohol harm.
I really enjoy getting to work with real clients, as it's something you can't really experience in the classroom. I did quite a lot of testing to make sure everything was running smoothly. I also created a few of the little alcohol icons.
Edoardo, what did you enjoy most about the process of working on the app?
My favourite part of the process was definitely working on the UX (user experience). I have a raw passion for problem solving and I always concentrate on making the products I design work before I even think about the visual design. Working closely with Rareloop's director Joe, we reinvented the user journey and visual design of the app, to give users more features and control through their dry month. Also, seeing the app working after the developers coded the designs was very exciting. I can't wait for people to start using it; hopefully I'll see someone on it out in the street!
Edorado, how do you feel your studies at Solent prepared you for this project?
During my studies at Solent, I worked on a couple of app design projects, which helped me prepare for real-world projects like this one. The working process and method is the same between a university project and a client's brief, so it really helped when it came to apply all of my learning on a working app.
Joe, how have you found working with Solent students?
Working with Edoardo and Skip has been great; they're enthusiastic, keen to learn and a lot of fun to have in the studio. They clearly both have a passion for their respective trades and it's great to see them gaining industry experience on top of their studies.
To download the app visit the app store or Alcohol Change UK.