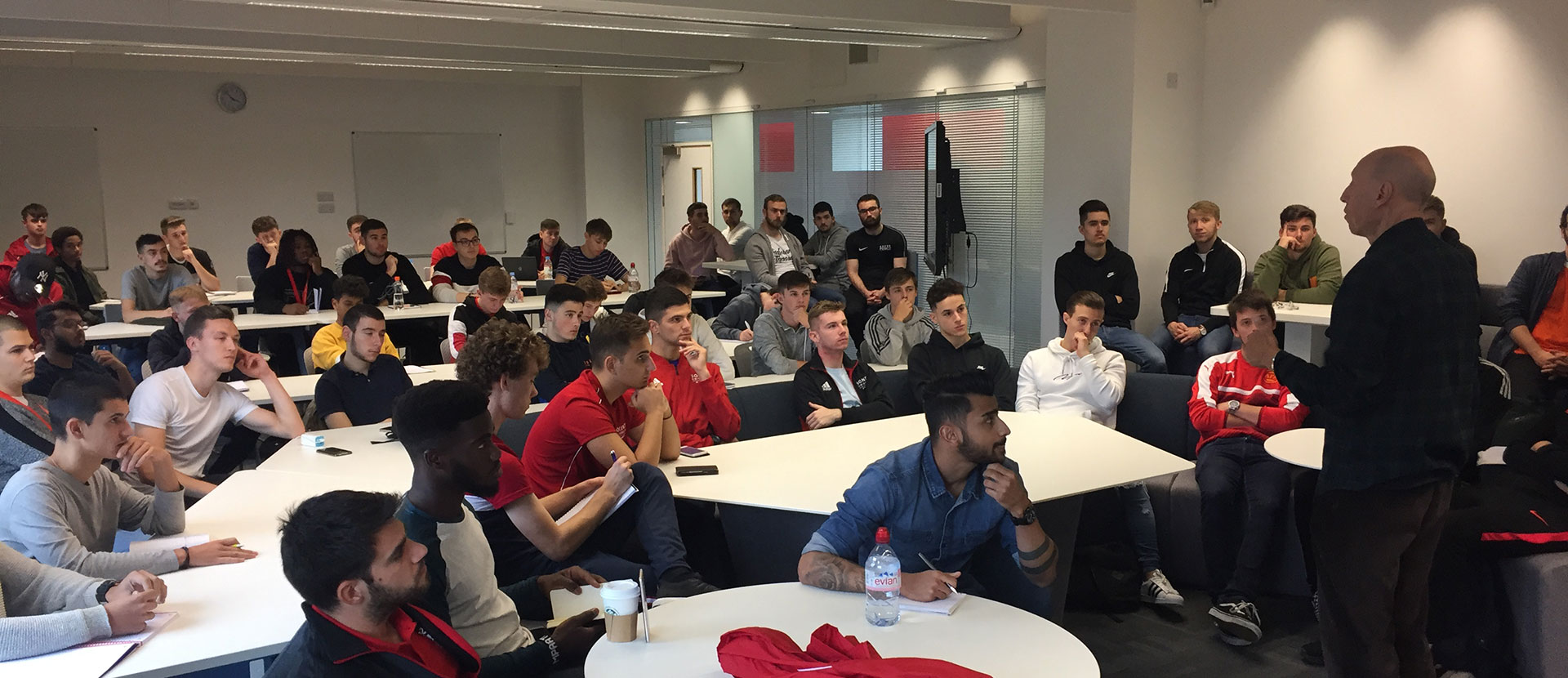 Solent's football programme has a thriving guest lecture programme with speakers from top English and European football teams, to key players within the industry and governing bodies.
24th October 2018
Sport and fitness
Football
The football programme's annual guest lecture series kicked off with a talk from Alex Fynn. Described by The Sunday Times as, 'the spiritual godfather of the Premier League', students from Solent's undergraduate football degrees were captivated by Alex's talk which was entitled, 'The Premier League and the Champions League: Past, present and future'.  Alex was instrumental in the establishment of both the Premier League and the Champions League. As such, he provided a rarely voiced account of the creation of two of the biggest football competitions in the world.
Solent's enthusiastic football students heard about how his proposals - only some of which were adopted, while others were misguided or rejected out of hand - would have benefited both English and European football.  Students also enjoyed Alex's views of the current state of play in both competitions.  Alex tweeted afterwards to say how much he enjoyed the session.
Enjoyable session at @solentfootball yesterday. Informed, appreciative audience. A pleasure to talk to Dr Richard Elliott's Students. Thank you.

— Alex Fynn (@AlexFynn1) October 16, 2018
Guest lectures are an important part of teaching and the student experience here at Solent.  Our guest lectures give our foundation, undergraduate and postgraduate students a valuable insight into the football and broader sports industries to help inform their learning and prepare them for their careers.  Other guest lectures on the football programme have included: former Southampton FC player and Sky Sports presenter, Matt Le Tissier; Premier League, Serie A and Ligue 1 striker, Vincent Pericard; former Arsenal and FA Vice Chairman, David Dein; former Football Focus producer and editorial lead for women's sport at the BBC, Shelley Alexander; Fulham FC academy director, Huw Jennings; and legendary football manager, Lawrie McMenemy MBE. 
To find out more about the activities available as part of our football programme, as well as news on our past and current students and our staff, check out @solentfootball on Twitter.
Our football courses currently include: Football Foundation Year, BA (Hons) Football Business Management, BA (Hons) Football Studies, MSc Football Science and MSci Football Science.