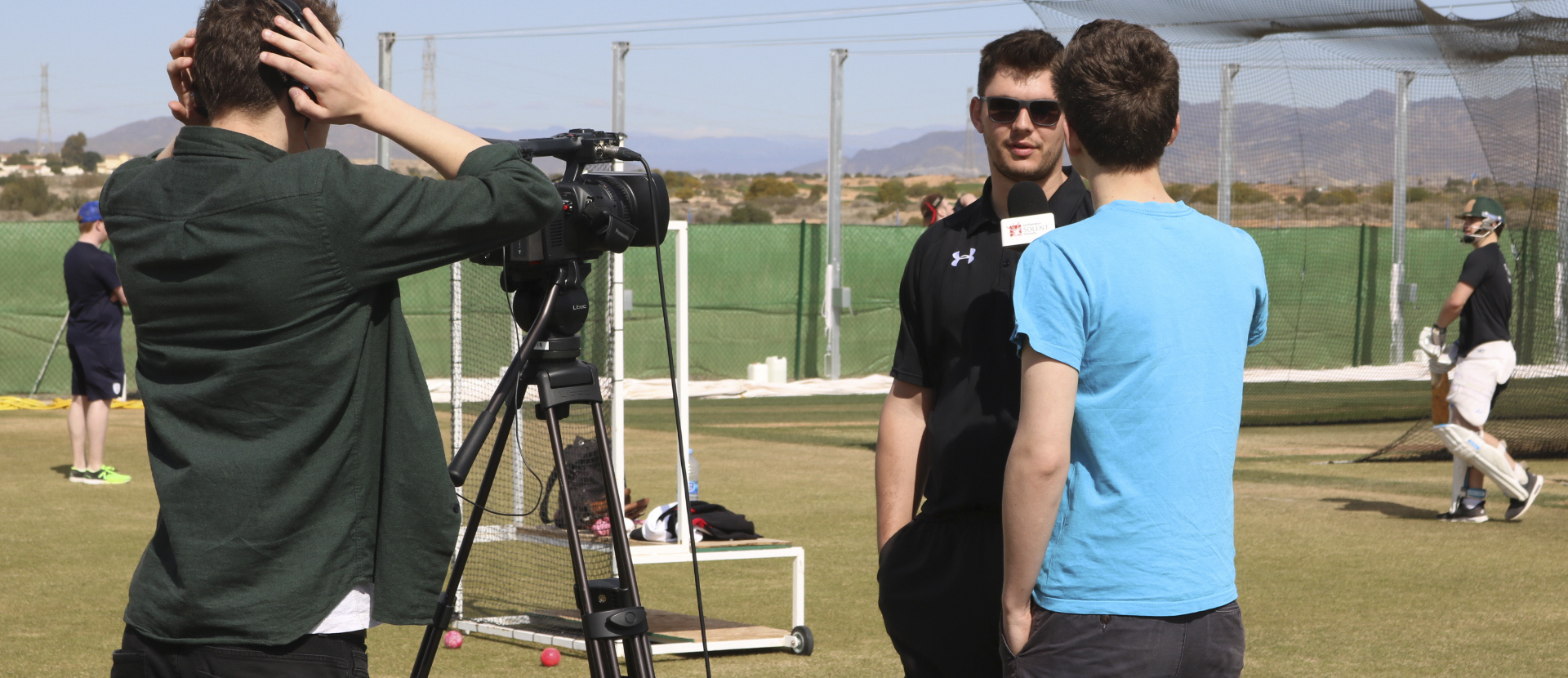 Ten years of launching careers: Sports journalism at Solent
Solent is celebrating it's 10th year of providing specially trained graduates to the sports media industry
7th April 2017
BA (Hons) Sport Journalism here at Solent is celebrating it's 10th year of providing specially trained graduates to the sports media industry. 
By focusing on industry engagement, portfolio development and on-the-job training we ensure that graduates leave the University ready to jump straight into work. 
Follow the links below to find out more about what our students have been up to or visit the BA (Hons) Sports Journalism homepage to take a closer look at the course.
Teaming up with Hampshire Cricket
BA (Hons) Sport Journalism has a long standing relationship with Hampshire County Cricket club. Each year a group of students work with the media team at the Ageas Bowl to provide video content for the club's online TV channel.
"Getting up close and personal with elite athletes and being able to see what makes them tick has been an eye opening experience. Plus, the facilities at the Ageas Bowl are second to none" - Alex Mitchell, graduate
"I can feel my camera skills improving each week and I'm getting more comfortable using additional software to help make the videos look even better." - Joe Wallace, graduate
Working with an international cricket charity
It's been a good innings for recent graduate Jordan Meyer. He passed his sport journalism degree, got his dream job with ESPN and was offered the filming opportunity of a lifetime with a sporting legend.
His 10-day trip to Dubai, Sri Lanka and Bangladesh, saw him documenting a charity's work and their search for cricketing talent.
"To travel to these places and work with one of the biggest sporting names in the world is surely every sports journalists' dream."
Leading the way at local football clubs
BA (Hons) Sports Journalism students are hitting the back of the net with their media work at football clubs in Southampton, producing video highlights, social media updates and match reports for each game.
More than a dozen students have taken up press duties at Sholing FC, AFC Totton, Gosport Borough and current FA Cup stars, Eastleigh.
"Since we started at Eastleigh last year, the number of Twitter followers has more than doubled from 4,500 to 11,000. I think we're doing something right."
Top BBC football writer awarded honorary degree
Philip McNulty, chief football writer at the British Broadcasting Corporation (BBC), was awarded the honorary degree of Doctor of Sport in July last year.
As BBC Sport's chief football writer, Phil has the job that everybody wants - his role takes him all over the world writing about football.
"I was surprised and flattered to be chosen for this honorary degree, but also delighted because, in recent years, I've formed a very close relationship with the media department here at Solent."
Working with shoot magazine
Daniel came to Southampton in 2009 to study on our BA (Hons) Sports Journalism course. Just two years after graduating he is now working as a deputy editor at iconic football magazine 'Shoot'.
For any football fan growing up in the 70's and 80's, Shoot provided essential weekly updates on the Football League First Division and offered a window into the world of football that was rarely seen in TV and radio coverage at the time.
"I love being able to constantly talk, read and write about football all day without anyone telling me to shut up!"
Feeling inspired? Visit our BA (Hons) Sport Journalism homepage to find out more about studying here at Solent.
Want to visit the campus? Take a look at our open days page to find an event that's right for you.