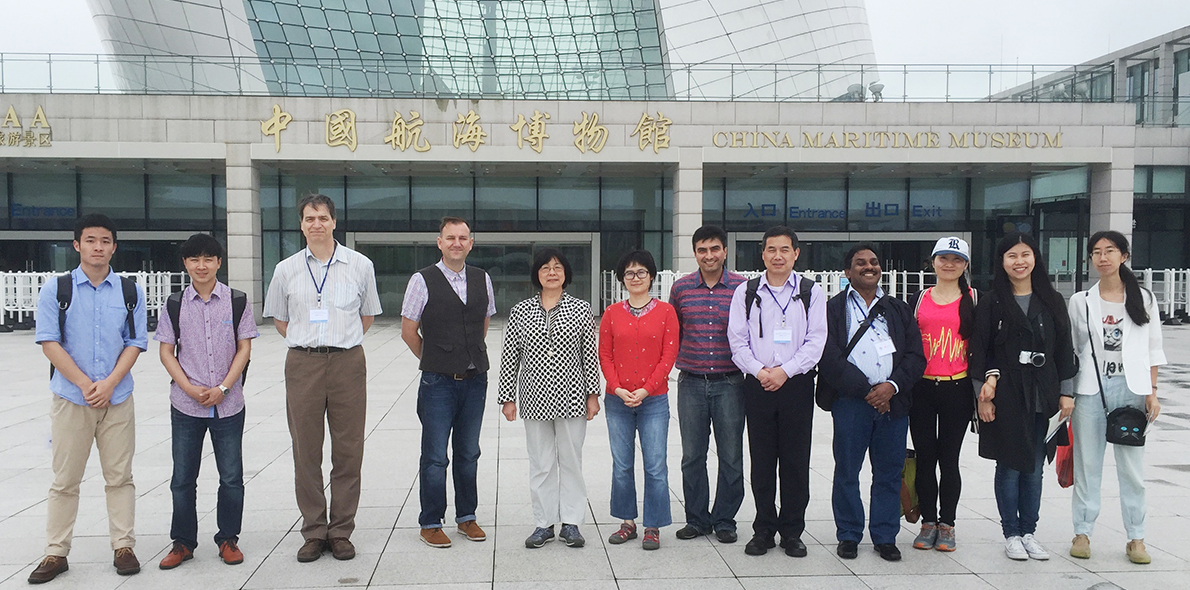 University co-hosts prominent maritime conference in Shanghai
International maritime conference held in Shanghai
20th June 2016
Seafarer learning, technology of the future, gender empowerment, and alternative fuels were just a few of the topics discussed at the recent International Conference on Maritime Policy, Technology and Education (ICMPTE).
Co-hosted by Solent University and Shanghai Maritime University (SMU), the conference attracted speakers from prominent maritime education and training facilities in other parts of China and the UK, including the Jimei Maritime University, Dalian Maritime University, and the University of Strathclyde.
Dr Minghua Zhao, Director of the China Centre (Maritime) at Solent, opened the conference with some key findings from the Gender, Empowerment and Multicultural crews project (GEM), jointly presented with Lijuan Zhao, PhD candidate from Shanghai Jiaotong (Transportation) University, Pengfei Zhang, also from Solent, and Jianjun Wu, from Shanghai Maritime University.
Their research into seafarers' welfare and on-board experiences drew on unique access to data from current and former students at Solent's Warsash Maritime Academy as well as comparable data from SMU and Nigeria's National Maritime Academy. Dr Zhao's presentation discussed the findings of this research in relation to the welfare of seafarers, particularly women.
Alongside SMU's Yanchun Cao and Shuyuan Tang, Dr Zhao and Pengfei Zhang presented their research on the seafarer complaint mechanism in China under the maritime labour convention, 2006. They looked at the gaps in the convention in comparison to international standards and made recommendations.
Captain Wang Deling, and Zhou Shan, both lecturers at SMU, discussed the safety of ships operating in polar waters. They evaluated the risks in terms of escape and survival in case of emergency.
Solent University's Kunal Anand presented a paper on seafarers' perceptions toward higher education, which found that higher education is seen as beneficial only to move to management positions ashore, or as something that is good to have. This differs from their competency-based training, which is felt to be core to seafarers' job requirements.
Dr Simon Daniels, Senior Lecturer of Maritime Law at Solent, gave an interactive presentation on a just culture for the seafarer, discussing seafarers' accountability for risks that accompany their professional judgement, and where they stand in the prosecution of criminal law. He said a strategy for future maritime policy can be developed in criminal accountability that balances justice for the seafarer with the demands that meet the cultural priorities of Chinese society.
Solent University's Gordon Meadow delivered a paper on the cutting-edge technology of the future, having found that potential for unmanned and autonomous control with built in failsafe human intervention could be a picture of the future for the shipping industry. He says the industry faces a transitional stage, which will raise issues in relation to the future competency requirements of seafarers.
Putting forward the industry benefits to implementing 3D printing and additive manufacturing) was Dr Jilin Ye, from Solent. This includes the possibility of more efficient logistics, such as maritime spare parts supply.
Captain Muhammad Shafique explained that LNG, CNG and CCNG may stand as stronger candidates of alternative fuel for emissions control in the maritime industry.
Dr Daniels says: "Our hosts at SMU greeted us with open arms, and Solent's team enjoyed the rich discussion on the wide-ranging, high-impact topics that really matter to the future of global maritime trade."
Other research papers submitted include:
Brief introduction of ancient Chinese maritime trade policies in the Song and Yuan dynasties (960-1368) – Yuan Li, PhD Candidate at SSU's China Centre (Maritime).
Research on the cultivation mode of navigational faculty in Dalian Maritime University – Li Wei, Professor, and Wang Huanxin, Lecturer, both at Dalian Maritime University.
Education programme and marine engineering research in the Department of Naval Architecture, Ocean and Marine Engineering – Peilin Zhou, Professor, and Haibin Wang, PhD candidate, both at University of Strathclyde.
Integrating technology into the maritime classroom – J Cross and J Tucker, both Professors at the Fisheries and Marine Institute of Memorial University of Newfoundland.
The importance of graduate attributes in ensuring safe, efficient and sustainable shipping – Leon E Govender, Head of Department, Maritime Studies, Durban University of Technology.
The ISO14001 awareness training for seafarers – Captain Liuhongtao, Tianjin Maritime College.
Warming trend and potential influence of climate change on marine economy of eastern China – K J Liu, PhD Lecturer, and R X Ke, PhD Associate Professor, both at the Navigation-College of Jimei University.
Study on optimal layout of marine emergency rescue base in Bohai Sea – Youxi Hu and Jingxian Liu, both from the School of Navigation, Wuhan University of Technology.
Collision avoidance by VHF communication and proposed amendments to COLREGS 1972 – Guobin Hou, Captain, Shanghai Rolmax Office, Huijia Gong, Shanghai Maritime University, and Wenlong Wang, Associate, Shanghai Rolmax Office.
The future of maritime education and training in East Africa region – Robert Kiplimo, Chairman and Senior Lecturer and Lydia Muthoni Ngugi, Lecturer, both of Jomo Kenyatta University.
Advantages of poly-profile and communicative approach to the model courses development – Irina Makashina, Professor, Admiral Ushakov Maritime State University.