Find out what Solent's students, staff and alumni are doing for this year's Volunteers' Week.
1st June 2020
Maritime website
Staff - Helping students
Staff - Personal info
The first week in June is an opportunity to thank volunteers at Solent University for their amazing contribution and support. Volunteering helps make a difference to the University, the city and a student's time at Solent.  
This year is no different; while the coronavirus (Covid-19) may mean our usual celebrations can't take place, we still want to acknowledge and thank all our volunteers for their contributions over the last year.  
Individuals are involved with volunteering in various ways at Solent. Alumni and friends of the University volunteer by taking part in our mentoring scheme, providing guest lectures and work placements for students. Staff and students volunteer through our official partnerships and at key civic events throughout the year, including the ABP Southampton Marathon, Southampton Pride, and with local community station Unity 101. 
The coronavirus has affected the way many of our volunteers support students and the local community. However, many volunteers have continued to support virtually, with alumni and staff from our official partners taking part in guest lectures and career talks online.  
We caught up with a selection of volunteers to hear about their experiences of volunteering.  
Stephanie Moore, Solent University Alumna - BA (Hons) Graphic Design, 2009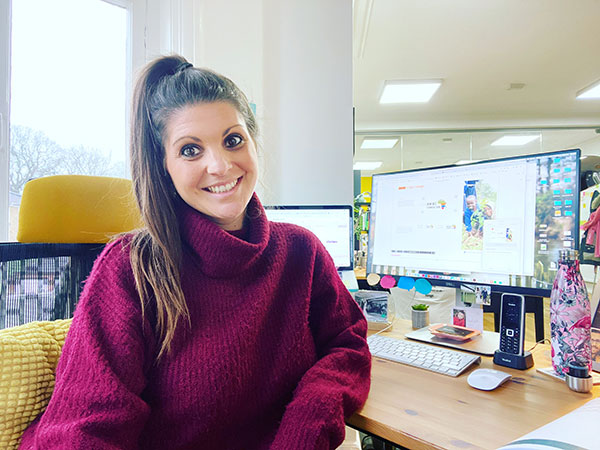 In the last 12 months, over 200 alumni volunteers have donated hundreds of hours to support current Solent students with Stephanie Moore among those. Stephanie supported Solent students by taking part in an International Women's' Day panel.   
Why do you like to volunteer for Solent?  
Solent University has a special place in my heart. Not only did I study here I also worked in the External Relations department covering a maternity position. I wanted to volunteer and share my knowledge to students. 
What is the best part of volunteering? 
The best part about volunteering is feeling like I could help a student with the knowledge and guidance I give them. I graduated over 11 years ago and the 'real world' has changed a lot since then. Being able to answer questions truthfully and honestly is something I enjoy doing and is hopefully valuable to the student. 
What do you do now?  
I currently run my own marketing agency with my husband, who is also a Solent University alumnus. Our business is called hinge. I manage the creative and print side while he manages the digital side.  
Does it help you in your own business? 
Volunteering helps me become more confident within my field. It's also raising my business profile as I am more than happy to mentor and offer work experience, which could lead to a potential job opportunity.
Daniel George, second year student, BSc Film and Television Production Technology
From volunteering as part of a course unit - aligned to our commitment to real-world learning, to volunteering with the Student Union societies - there's a variety of ways students can get involved in volunteering at Solent.  
Second year BSc Film and Television Production Technology student, Daniel George talks about his experience of volunteering:  
"I got involved with Voice FM, and subsequently Unity 101, through Radio Sonar. I was immediately able to get involved helping both stations with technical support and development over the past year. I've been kept particularly busy recently helping Unity 101 develop portable studio kits, allowing presenters to continue broadcasting from the comfort and safety of their homes during the Covid-19 pandemic. It's been a great opportunity to get real-world experience of the broadcast industry, which has already proven beneficial in helping secure a placement with Evertz."
Geeta Uppal, Senior Access and Widening Participation Officer at Solent University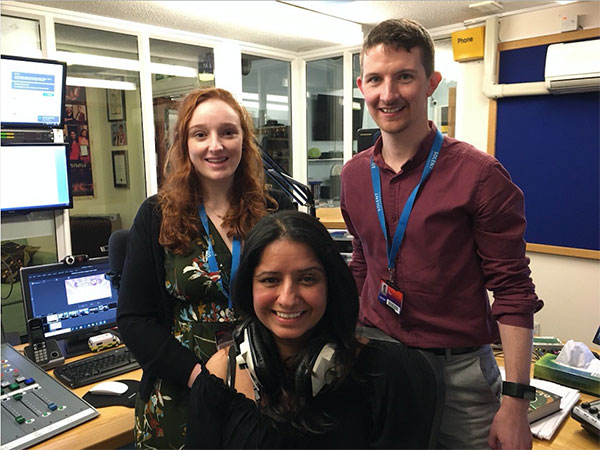 All members of staff at Solent are entitled to a day of paid volunteering leave to make a difference in their community. As well as supporting an individual's development, volunteering also supports the University's Civic Charter. Geeta Uppal is one member of staff who volunteers to support local community radio station Unity 101.    
"I have volunteered at Unity 101 Community Radio station since 2006 as a presenter on various shows including Community Hour and more recently involved with the Drive Time show. For the Queen's Diamond Jubilee in 2012, Unity 101 received the Queen's Award for Voluntary Service and I was one of the presenters awarded the Queen's Award as part of long serving volunteer at Unity 101. 
"As part of Solent's community outreach, I host the Drive Time show once a month to showcase and discuss Solent-based themes with different Solent University staff and students. Topics have included current students sharing their Solent experience, academics talking about the way we teach at Solent, courses on offer, and employability and support at the University."
Start volunteering today! 
Inspired to start volunteering?  
If you are part of our alumni community and interested in volunteering, click here to find out more information on how you can get involved. 
If you are a student, volunteering opportunities are promoted through Solent Futures Online.
If you are a member of staff, find out more about how you can get involved with volunteering in your local community.