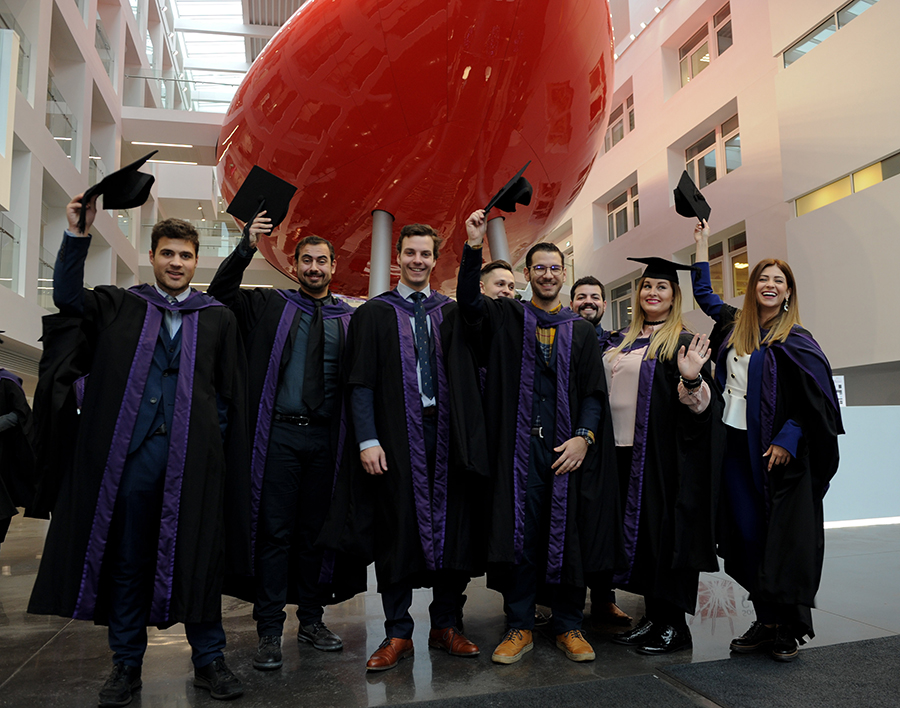 A festive graduation
2nd December 2016
Just over 100 students from Southampton Solent gowned up to receive their degrees at the University's winter graduation ceremony on Friday 2 December.
The University's postgraduate students joined a selection of undergraduate students, who were unable to take part in the summer ceremonies, to celebrate their success in areas ranging from MSc Applied Acoustics and MSc International Maritime Business to BA (Hons) Fashion Graphics and BA (Hons) Social Work.
Speaking at the ceremony Vice-Chancellor, Professor Graham Baldwin congratulated those graduating and said: "I am confident that with the right mind set you will go out into the world and bring not only real economic and social benefit to yourself but also to the communities of which you become members.
"Whatever you do next and wherever in the world your journey leads you are all our ambassadors and I hope at some stage you will choose to return here to your University, but for now on behalf of everybody at Southampton Solent very well done and good luck for a happy and successful future," he continued.
Solent has made great progress in its provision of postgraduate courses. Applications increased significantly and 20 new courses have been introduced in the last few years. Building on this success, Masters' degrees ranging from Post Production in TV and Film, Audio Engineering, Sustainable Building Design and Architectural Project Management are planned for the coming year.
"We are committed to providing the opportunity for more people to progress their education and enhance their potential and we are proud that there are so many of you here today who have seized the chance to do just that," added Professor Graham Baldwin.
The Pro-Chancellor and Chair of the Board of Governors, Jonathan Cheshire, presided over the University's winter ceremony held at the O2 Guildhall in Southampton.