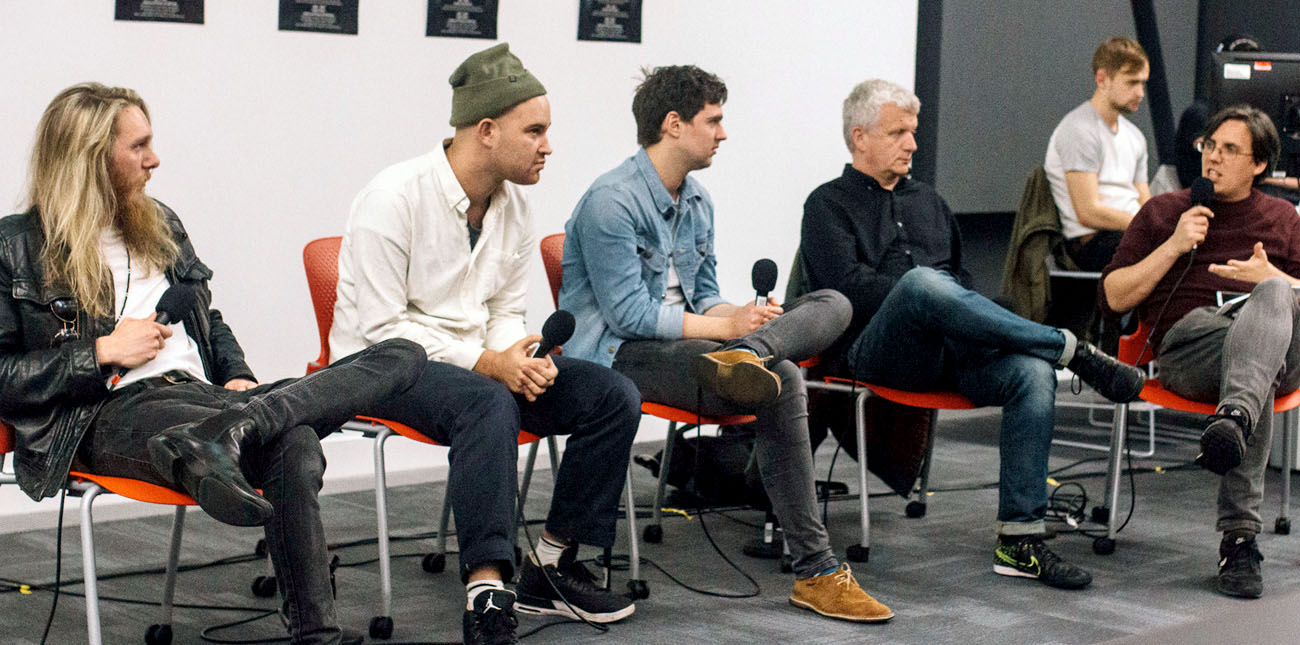 WordUp! 2016: Music, journalism and freelancing
During Southampton Solent's fourth annual WordUp! conference. Students were treated to topics of discussion from a wide array of experienced music journalists.
16th November 2016
This Halloween saw the arrival of Southampton Solent's fourth annual WordUp! Conference, curated as always by Fiona Sturges. This year the students were treated to three separate topics of discussion from a wide array of experienced music journalists and writers.
The first panel, entitled 'A Freelancer's Survival Guide', was a chance for Dom Lawson, Anita Sethi and Charlotte Richardson Andrews to shed light on the turbulent life of a freelance journalist. Lawson, Editor-At-Large for Metal Hammer magazine, summed up his experience by saying: "It's been really up and down for me for 18 years."
This sentiment was echoed by the panel. Andrews – a journalist with too many credits to mention – described the atmosphere as "feast or famine", but was insistently positive about the advantages of working for oneself. Anita Sethi, writer for The Guardian and frequent radio guest for the BBC, dropped the biggest piece of advice of the whole session: "Lonely freelance journalists should get a cat."
The consensus from this panel was that in times of self doubt, pitch harder, follow your passions and ride out the wave.
The second session was an insight into a day in the life of Zöe Howe, prolific journalist and author of books about Stevie Nicks, Lee Brilleaux and The Jesus and Mary Chain. Zöe has also just published her first venture into fiction: Shine On, Marquee Moon.
This hour long talk from a young yet experienced female writer was a perspective on the industry that many of the students in the audience may not have heard. Howe was funny, engaging and full of wisdom. Her advice centred on staying true to one's passions and generally being nice to those you work with:
"Make a cup of tea for someone every now and again, but on the other hand, don't let yourself be exploited or disrespected."
Sound advice from someone that found the creative freedom to release their first fiction book, of which the students were treated to a very small snippet. Zöe's final words to the students: "Do your research!"
The final panel of the afternoon was hosted by Mike Diver, who was accompanied by fellow Vice journalist Sam Wolfson; editor at DJ Mag, Carl Loben; Josh West of GamesTM; and Robert Leedham, editor of Stuff Magazine. 
"Pulp Friction" was a discussion on the relationship between online and magazine publishing, but conversation wandered through themes of how each journalist got started, to clickbait, and the rise and fall of the NME.
Leedham's take on the magazine's decline: "What devalues a free magazine is the content and advertising."
Sam Wolfson drew on his experience in America. As newsstands in the US are only renewed monthly, publications get the chance to put a great deal of work into one issue – "It's something British mags should look at because their objective is very clear." 
The tone was light but the advice was once again valuable. Echoing the words of speakers throughout the day, the panellists at this final session championed good relationships with co-workers and a genuine passion for music journalism.
---
Words by music journalism student Maddy Hardman (@PseudoAgatha). Photography by music journalism student Isha Shah.