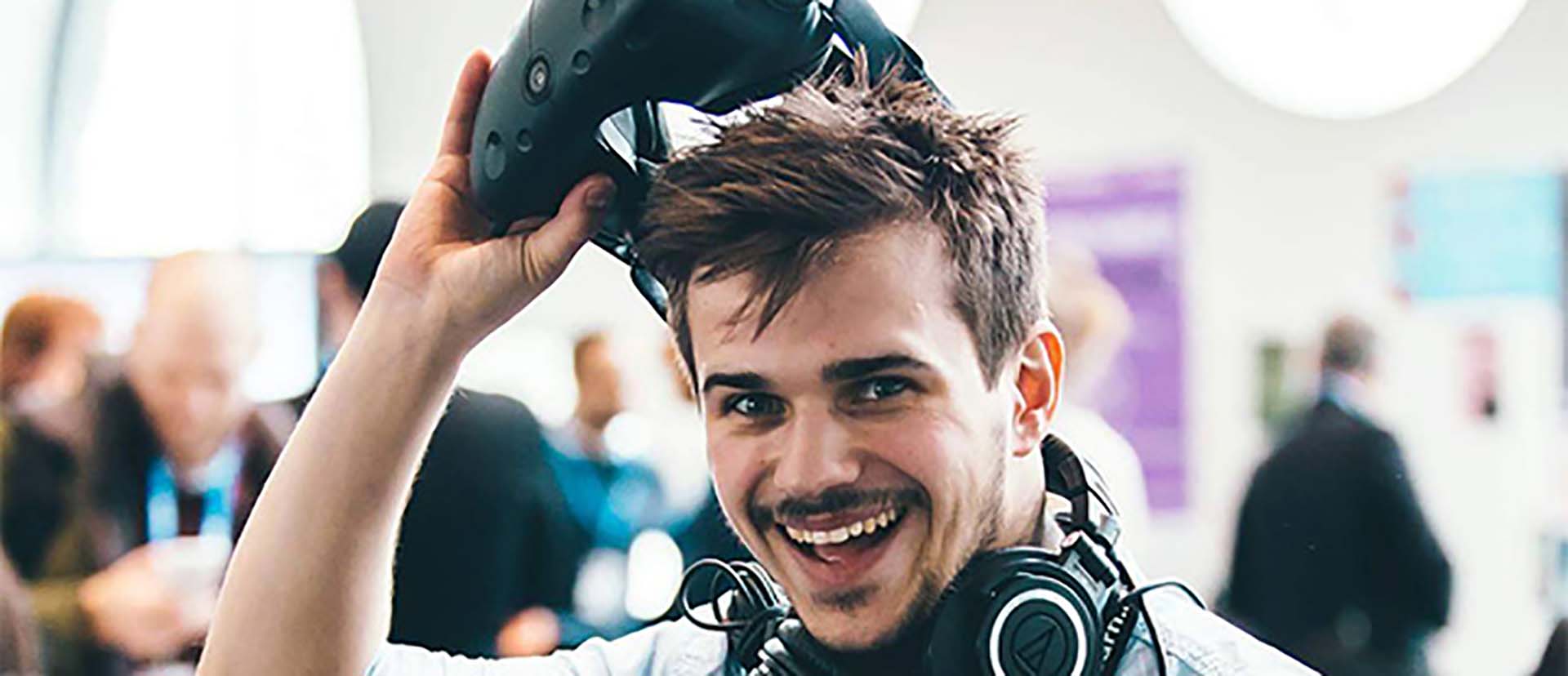 He may have only graduated from Southampton Solent University two years ago, but Albert Millis has gone onto big things. Co-founder and Managing Director of Virtual Umbrella, an award-winning marketing agency specialising in virtual reality, Bertie has wor
29th January 2018
Marketing, communications and public relations
He may have only graduated two years ago, but Albert Millis has gone onto big things. Co-founder and Managing Director of Virtual Umbrella, an award-winning marketing agency specialising in virtual reality, Bertie has worked on immersive technology projects for huge clients, such as Nokia, AT&T, BBC, and the Imperial War Museum.
We caught up with Bertie, who graduated with a first from BA (Hons) Marketing and Advertising Management in 2015, to find out how life as a successful entrepreneur is going.
 What does a normal day entail for you?
A normal day is a rare occurrence. Sometimes I'm travelling for meetings, sometimes I'll be onsite with a client, and sometimes I'll be giving a talk or running a workshop in South America.
No matter where I am, I have to deal with the usual business operations, such as invoicing clients, talking to my staff and calling Jenny, our accountant, to make sure we've got our finances in order.
What do you hope to achieve with your business in the next 3-5 years?
We've been running Virtual Umbrella for almost three years and in that time we've achieved so much already. We've worked with huge brands, iconic agencies and some really amazing start-ups.
We've been featured in Grant Thornton's Faces of a Vibrant Economy, met the Mayor of London, got on the front page of the BBC's website, been featured in numerous other publications and developed a great reputation for working hard.
Our goal for the coming years is to expand our team and refine our services so we can continue doing what we love.
How has your degree helped you in your career?
My degree had a heavy focus on key transferable skills and this really helps in my day-to-day life. My current job means I don't use the degree-specific skills often, but I use the transferable skills every day.
Having a degree opened up do many opportunities that I wouldn't have had previously. It gave me the confidence to take risks, believe in myself and follow my own goals.
What skills are essential for students to succeed within marketing?
Learn how the popular tools work, and find out the way agencies work when creating content. This can go a long way when interviewing with potential employers as it shows you have a commercial aptitude in addition to your key transferable skills.
When working in-house with a company, you'll end up wearing many hats, so having a basic understanding of Adobe's creative suite and knowing how to use social media tools will really help you to stand out as a valuable member of the team.
What are your top three tips for students looking to start up a business?
Go out and deliver value. The most important thing you can do when starting a business is to go out and get work. When you start making money, that's the point you have a business. Until then, it's just an idea. The website and business cards can wait.
Don't be afraid to make mistakes. If you do make a mistake, be humble, apologise, and learn from it. Being an entrepreneur is a journey – it's got ups and downs, and it's not an easy career choice.
Ask for help if you need it. Entrepreneurs and business owners are some of the nicest and most down to earth people you can meet. They've all been through struggles too, so most of the time they'll be happy to share advice and stories with you in exchange for coffee or beer.