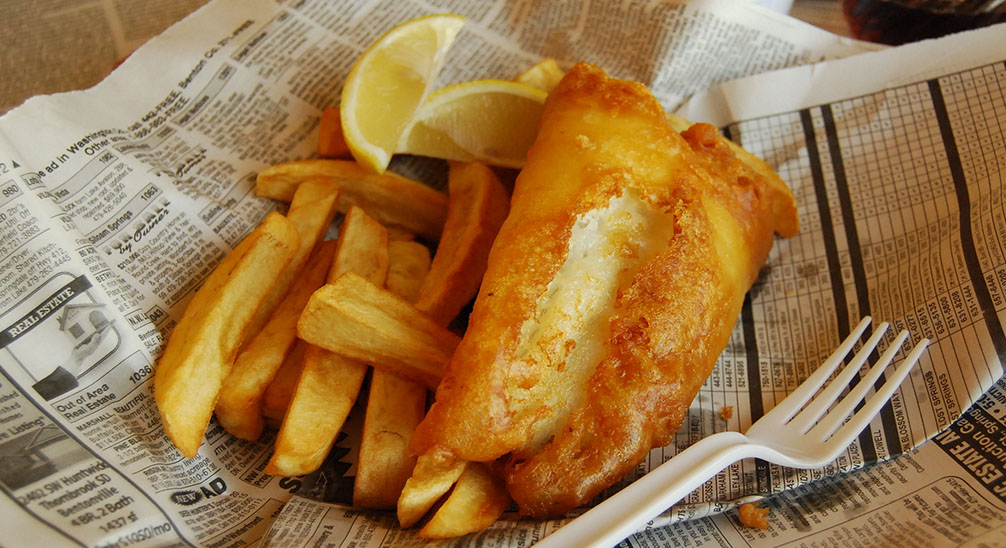 Ali's guide to a healthy chippy
In honour of National Fish and Chip Day, Dr Ali Hill shares her healthy recipe for the perfect chippy
1st June 2018
Health, psychology and sociology
Dr Ali Hill is a registered nutritionist and course leader for Applied Human Nutrition
All the major milestones in my life have featured fish and chips. The day I was born, that's the first meal my mother had in hospital. On my wedding day, the chippy was the only place to get an evening meal. When we bought our first house, we didn't have anywhere to cook so it was our first dinner, and it's what we ate on my 30th birthday, which we spent at the beach.
Having a healthy diet doesn't mean that you have to cut out types of food completely. Just a few simple changes can make food much better for you, and you don't have to sacrifice on taste! Here's my healthier take on how to make fish and chips at home:
You don't need to use batter or a deep fat fryer for tasty fish. Use flour, eggs and then something like panko breadcrumbs if you like breaded fish. Panko breadcrumbs are good because they're crunchy, or you can also use polenta for a similar texture. In both cases, you can add spices to the breadcrumbs/polenta to give it more taste, which also means you can use less salt. Chilli, smoked paprika, black pepper or lemon pepper all work well. You can also check the Good Fish Guide to make sure the fish you're buying is sustainable.


When it comes to cooking the fish, you've got a couple of options. You can oven bake it, but you might find that the fish flakes too easily. Or you can add a tiny bit of oil to a frying pan – spray oil can be useful here, and you don't need to add too much because the fish itself with have some fat in to help it cook.


For healthier chips, I'd recommend leaving the skin on - you get more fibre and nutrients - and oven baking them to use less fat. I find that if I put potato wedges on foil with a bit of spray oil, it stops them sticking – plus it lowers the calories! You can also add lots of different flavours here, again meaning you'll need less salt – try black pepper or chilli if you like a bit of a kick to your chips. Just cook them at 200°C for about 30 – 40 minutes.


My husband's a northerner, and I think a divorce would be on the cards if I didn't serve this up with mushy peas. And it's a great way of getting an extra portion of veg in. You don't need to add lashings of cream to get the same creamy texture. You don't even need to add salt when you cook the peas. Just put them in the food processor with a dash of lemon and some mint.
It's our 10th wedding anniversary in three months. I suspect we'll be having fish and chips!