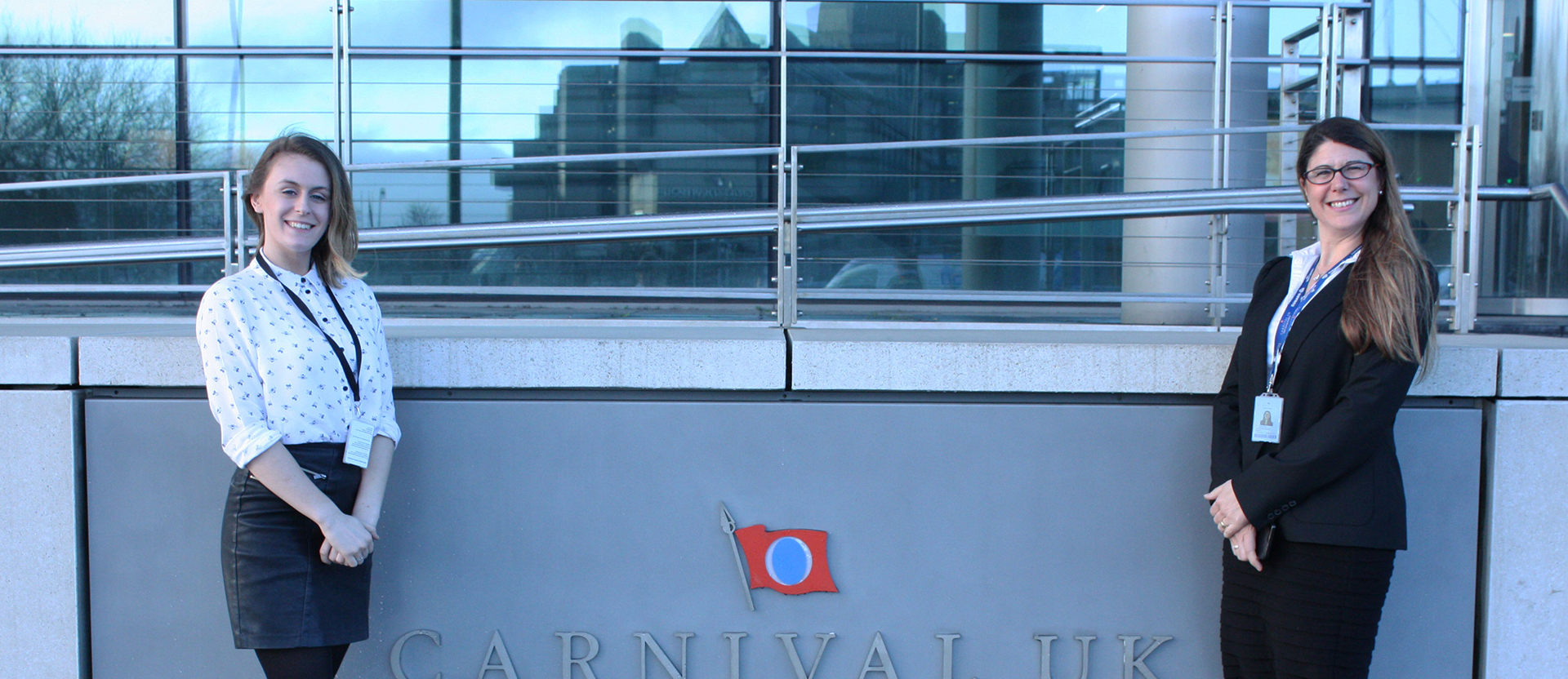 All hands on deck for Solent graduate at Carnival UK
We caught up with Molly Sutton, a Solent graduate who is working at Carnival UK on a 12-week graduate assistant internship.
16th March 2017
Solent University has been working with Carnival UK in a number of ways, including providing professional mentors for our students across a range of business areas, work placements for our students, and job roles for our graduates. In January 2017, Carnival UK employed Molly Sutton, a BA (Hons) Television and Video Production graduate, as a graduate assistant for a 12 week internship.
During her internship, Molly has been working on a number of areas within the business, including project managing the 'Look Book' a Cunard training manual for staff. This has involved sourcing the copy, managing a budget and dealing with different areas of the business.
Both Carnival UK and our graduates benefit from this relationship. Carnival UK can access the fresh ideas and talent that graduates bring, and graduates are able to gain valuable real-world experience.
We caught up with Molly to find out how she's getting on in her internship.
Can you tell us why you applied for the graduate position?
"I thought it was a great opportunity to get my foot in the door with such a reputable company. At the same time I was getting support from Solent, as they offer training workshops before and during your internship that really, really help."
Can you tell us what sort of projects you've been involved in?
"I was initially hired to create the 'Look Book', a Cunard training manual that's sent out to their ships for all crew members, whether they are starting in a new position or they are new on board. I've also been in every weekly team meeting and through that I have got involved with everything else that was going on, including new projects here and there, which is good."
What skills are you using from your degree in your current role?
"I use communication skills a lot, as I have to liaise with different aspects of the Carnival UK business, such as going to the marketing department for specific photographs that I need, or the uniform department for the basics. So a lot of communication skills are being used. I also use project management skills because my official role is project manager, so I have to be in charge of a budget and everything else that comes with project managing."
What's the value of doing a short-term internship?
"You have to take that risk and take on a 12 week internship because it'll just enable you to learn much more about what it's like to work in a big company. You're learning while building your career, which I think is really, really beneficial. The support from the Solent Futures team is great while you're doing this because I've got trust in them that after the 12 week internship I'll be ready for employment."
We also talked to Florencia Santana, Carnival UK's hotel fleet training consultant, who said: "The experience was seamless. We partnered very well with Solent and we managed to have our graduate Molly very quickly. It worked out very well.
"The benefits for a company to work with a graduate is having someone with an injection of freshness, new ideas and recently graduated. The project that Molly is dedicated to brings a new eye and a very, very creative approach, so it was a huge advantage to hire a Solent graduate."
When asked if she would recommend hiring a graduate in the future to other businesses, she replied; "Absolutely. Not only have we built a great relationship with Solent, but it also gives us the chance get to know the graduates and build relationships with them for the future."
If you are an employer looking to work with us to provide placements or internships to our students or graduates, please contact employers@solent.ac.uk.