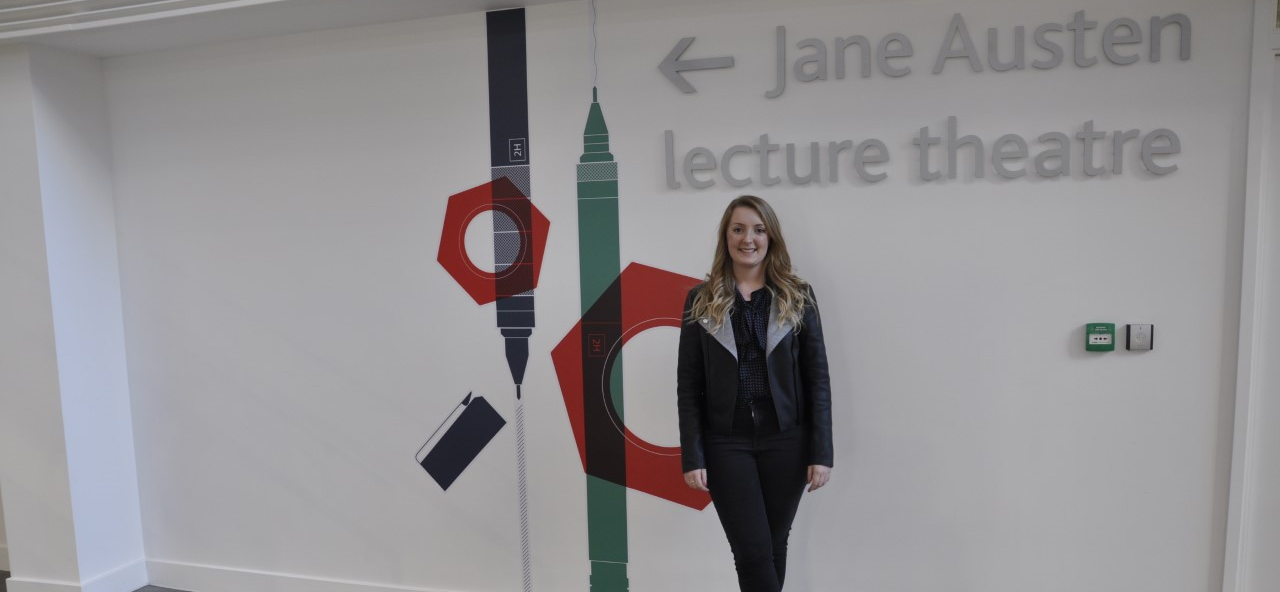 Alumni update: what it's like to work at Michael Kors
The Kors of Jemma's success
23rd January 2017
Jemma Hill, a BA (Hons) Fashion Management with Marketing alumna, graduated in 2016, and is now working in travel retail. She is a junior account executive trainee for one of the biggest companies in fashion right now, Michael Kors. Through her hard work and perseverance she managed to kick-start her career days after her graduation. We caught up with her to find out what it's really like working in the field and get a little peek into her day-to-day life.
What do you do on a normal day?
I get to the office by 9 am and check my emails as I normally have lots of them. I'll also do follow-ups, checking whether shipments have been delivered on time, reviewing weekly performance, proposing re-orders, talking about any upcoming initiatives we might be planning and just doing anything I can to help drive the business. I do the same thing in the afternoon and leave at 6pm.
What is the best thing about your job?
The opportunities and responsibilities I have because I'm still technically an intern. I'm training to be a junior account executive but despite that, I already got to travel. I go to Paris a lot of the time as we have our head office there, where I help select the products for the next six months coming. Soon I'll even start travelling to the airport locations so it's really exciting. Currently I'm an account executive responsible for Edinburgh airport so everything you see in there was selected by me.
What training have you been given?
It's kind of a 'throw you in the deep end and see how you swim' approach. Of course I had training on all the software they use but the role in general is more learn-as-you-go.
What skills do you need to succeed in this role?
Focus, attention to detail, dedication and a drive to succeed.
What's the most exciting thing that happened in your career so far?
I helped do the first ever visual merchandising summit. We invited all the Visual Merchandisers from the region – Tukey, India, Russia, Middle East and more to come to London. It was a three day event and we trained them. I helped organise the whole thing and I prepped all the material needed which was very exciting.
What challenges are attached to your role?
You have to be dedicated since it is very challenging, stressful and high pressure. If they want something, they want it now and they want it done to perfection. I work 9-6 so my days are long and I get very tired but the expectation is to deliver 100% all day every day.
Is working in fashion as glamorous as people think?
Yes and no. It is glamorous sometimes as you get the clothes, the discount and I get to travel to so many places and visit fabulous restaurants that I would never try otherwise as they're so expensive, but it's not as easy as it seems. For example, I'll be waking up at 4am to get to Paris and sometimes I'll work weekends if there's important deadlines. You have to prepare yourself to sacrifice your own time and sometimes money and effort to do these things.
In a few words, how would you summarise your job?
Challenging, in-depth, complicated, high-pressure but very rewarding.
How did you find your course at Solent?
The course was amazing, there are great resources such as Drapers and WGSN which are expensive programmes you would need to pay for if you weren't a student, and at Solent it was all available for free. The lecturers were brilliant and very helpful as well which made the whole experience perfect.
Was coming to Solent worth it and would you recommend it to people?
Definitely. It's not all theory and it's vital. We learn what we need to lean and then we get the practical and business side of it. The life projects are amazing and the lecturers have real industry experience so they can guide you and help you. I definitely recommend Solent to anyone.