Award-winning author appointed Doctor of Arts
Southampton-born Philip Hoare has received an honorary degree of Doctor of Arts from Southampton Solent University, in recognition of his contribution to the creative industry.
19th November 2015
English and journalism
English
Journalism
Southampton-born Philip Hoare has received an honorary degree of Doctor of Arts from Solent University, in recognition of his contribution to the creative industry.
Philip is an internationally recognised author, presenter and curator, and lives and works in Southampton.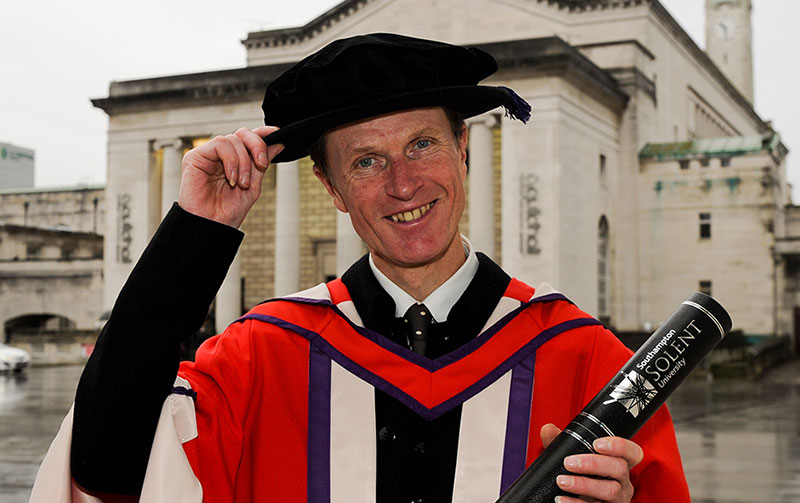 On receiving his award, Philip says: "As a son of Southampton, I'm delighted to receive this honour. I'm particularly pleased to be associated with Solent University's School of Art Design and Fashion – a discipline all too often seen as expendable in today's financial climate.
"Without art, we would be deprived of our human voice. And we need that voice now, more than ever."
With a passion for punk and the independent music scene, in his early career Philip worked for Virgin Records, managed the Pale Fountains, ran his own record label, Operation Twilight, and wrote for magazines including Blitz, iD and The Face, as well as The Observer and The Guardian.
Philip is an award-winning author with seven non-fiction books to his name to date, and is also an experienced broadcaster and film-maker. He wrote and presented Travels with Pevsner: Hampshire and the Isle of Wight and the BBC One film, Royal Victoria Hospital, based on his book, Spike Island. He also wrote and presented the BBC Two film The Hunt for Moby-Dick, and directed three films for BBC Four's Whale Night.
As a regular contributor to The Guardian, New Statesman, Literary Review and the Sunday Telegraph, Philips writes reviews for the Sunday Times, New York Times and Times Literary Supplement, and features for the Daily Mail and The Observer.
He also writes on contemporary art for Frieze and has contributed essays to catalogues on Peter Doig, Gabriel Orozco, Linder Sterling, David Bowie and Jonny Hannah, as well as being the co-author of Pet Shop Boys: Catalogue.
Co-curator of the Moby-Dick Big Read, a free, online rendition of Melville's classic, with readings by numerous celebrities, Philip was co-curator of the National Portrait Gallery's photographic exhibition, Icons of Pop. More recently, Philip has worked on exhibitions including Cape Whale and an upcoming festival, The Tale, for which he is artistic director.
In giving advice to today's graduates, Philip says: "Make it new. Be yourself. Long live the revolution of the spirit! And save the whales while you're about it."
Philip is a Professor of Creative Writing at the University of Southampton, and has been Writer-in-Residence at the Ruskin School, University of Oxford, and Leverhulme Artist-in-Residence at the Marine Institute, Plymouth University. He is Special Ambassador for the international charity, Whale and Dolphin Conservation, and each year works as a volunteer on the Dolphin Fleet whale watch in Cape Cod.
Philip is the author of seven works of non-fiction: Serious Pleasures: The Life of Stephen Tennant (1990); Noël Coward: A Biography (1995); Wilde's Last Stand: Decadence, Conspiracy, and the First World War (1997); Spike Island: The Memory of a Military Hospital (2000); England's Lost Eden: Adventures in a Victorian Utopia (2005);Leviathan or, The Whale (2008), which won the 2009 BBC Samuel Johnson Prize for non-fiction; and The Sea Inside (2013).