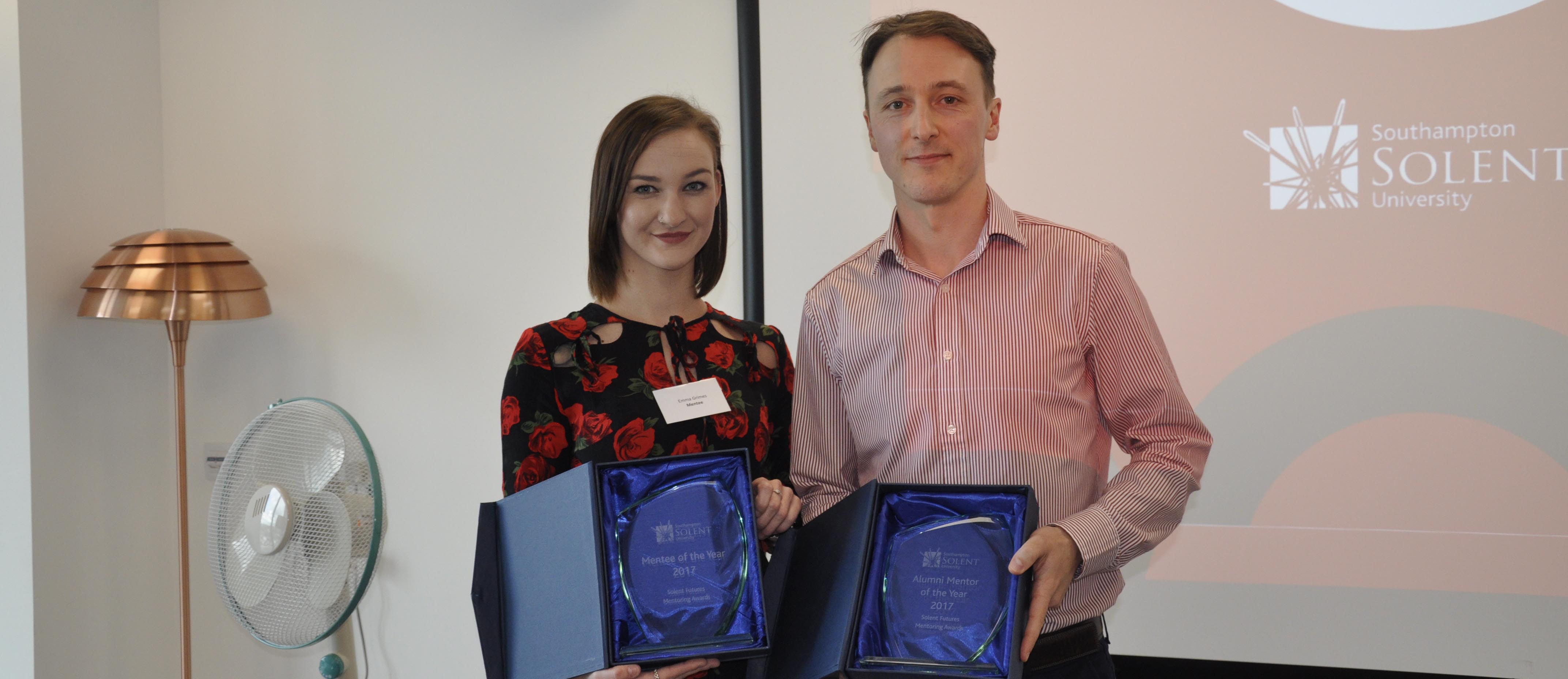 Celebrating our mentoring programme success
Annual Mentoring Awards
2nd June 2017
Last week, Solent Futures hosted the annual Mentoring Awards.
Each year, the award ceremony is an opportunity to recognise the achievement of students, recent graduates and local businesses from across Southampton who participate in Solent's mentoring scheme.
We caught up with some of the winners including mentee of the year Emma Grimes, third-year BA (Hons) Marketing with Advertisement Management student, and her mentor, Tim Skelton-Smith, Solent Alumnus and PR & Corporate Communications Manager at Old Mutual Wealth...
Tim, you graduated from Solent in 2001, what made you decide to come back and mentor?
The transition from student to work can be tricky, as can securing your first role after university. I felt I'd gained enough experience of employing people that I could hopefully offer a good steer. I was also keen to give something back to Solent.
How does it feel to win an award and receive recognition?
I was delighted. I'm really pleased that Emma felt I helped her gain some experience in the workplace and secure a job. Ultimately it's all down to her, but I'm glad I could help a little.
Why do you think the mentoring scheme is so beneficial?
I think it's beneficial for mentors and mentees. For mentees it gives them access to guidance, which perhaps prevents making a few common mistakes, thereby moving them towards their first role more quickly. I think it's also useful to have an independent voice outside of your usual sphere of activity to instil confidence as much as anything else. The job application process can be quite brutal, particularly when you are trying to get someone to give you an opportunity. As a mentor, I had the chance to renew and reassess my own communication skills. So much of it is about listening and just providing nudges where they are required.
Do you feel you were given a good mentee match?
Yes. I think it is important to match to the mentor's job role with the mentee's area of interest as closely as possible to allow the mentee to draw on that direct experience.
Have you learnt anything useful from taking part in the programme?
It reminded me how much attitude and perseverance can replace what someone might lack in experience. It's a hugely rewarding process and I was delighted that Emma was so successful, with three job offers.
Emma, what made you decide to enrol on the mentoring programme?
I wanted a professional mentor so that I could speak to someone who is already in the field that I want to work in once I graduate. I also felt that although I had an understanding of how marketing works, I lacked the confidence to explain this to interviewers.
How has the mentoring scheme helped you during your time at Solent?
I feel as though the mentoring scheme has helped me immensely, not only boosting my confidence but also giving me real work experience, which I can refer to in interviews. When I had job interviews coming up I told my mentor about them and he would help work with interview skills and introduced me to others within the company that could also help if the upcoming interview were not within his field. My CV was also looked over by my mentor and he gave me lots of tips on how to make it better; I feel this directly helped me gain more interviews. But mostly it has boosted my confidence so much and introduced me to so many like-minded people that made me feel as though I knew what I was talking about in my field. I now feel more confident about going out into the real working world.
Would you recommend other students take part in mentoring?
Yes I would recommend the scheme to anyone that has a bit of drive and ambition, as I don't think the scheme would work as well with people that want things handed to them on a plate. I think you get out of the scheme what you put into it. I am really grateful for my mentoring as I think it was a key element in my being successful in gaining graduate level employment and majorly boosted my confidence.
Which key piece of advice will take from your mentor?
To continue to believe in myself and that I will get to where I want to be in the end.
You will be graduating this summer, what is next for you?
I have already got a graduate level job which I start in June on a marketing graduate scheme in Hedge End, which I am super excited to start!
The Professional Mentoring programme is set up to match students and recent graduates with professionals from local businesses to support with the transition between education and the start of their professional career. The support involves a minimum of six meetings that provide developmental steps that can include advice and knowledge around CVs, interviews, applications, networking, and professional etiquette.
Dan Czaicki, student employability adviser at Solent University is responsible for the programme: "We are extremely lucky to receive great support from the local community, which enables us to match students to professionals from a plethora of industries.
"The celebration event is a way in which we thank our mentors and mentees for the time they dedicate toward the programme. Our mentors kindly give up their time voluntarily to support students at the University and the awards we provide are to acknowledge all of the hard work that takes place."
Find out more about the mentoring programme and how to get involved.