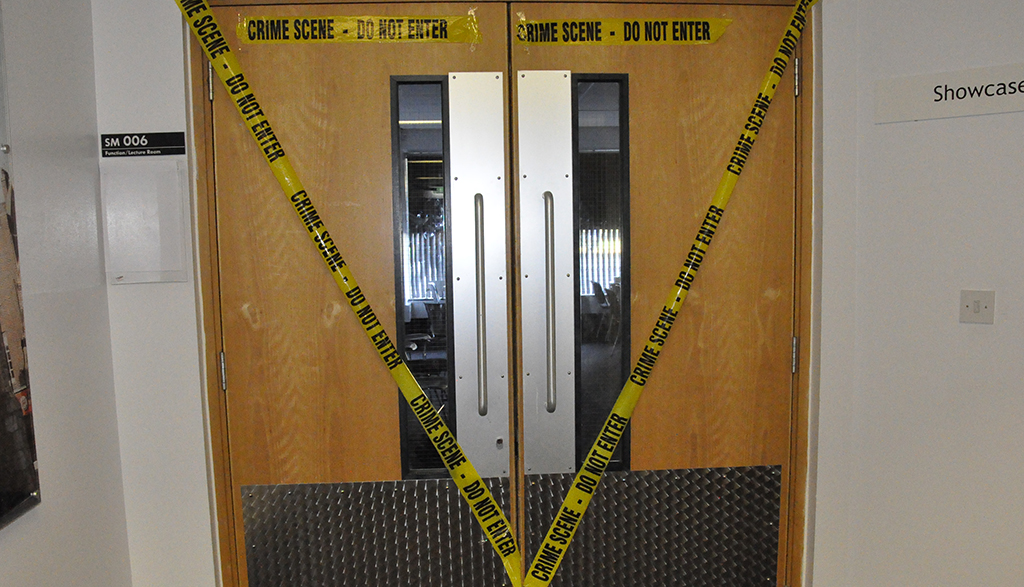 Students analyse makeshift murder scene
31st October 2017
Criminal investigation students had a lesson with a killer twist last week, after they were tasked with being first responders to a makeshift murder scene.
For the sixth year running, second-year students were challenged with not only a dead body and evidence, but also pressure from external sources.
This year, the faux crime was a drug deal gone wrong. Students had to analyse evidence such as an overturned chair, a murder weapon, a mobile phone that kept ringing, and information on the victim's computer screen.
Students also met 'Professor Foxworth', a character played by Des Thomas, former head of detectives and detective training at Hampshire Police. As part of his role, Des tested the students' reactions by pulling a toy gun on the group. The students then had to decide the best action to take.
Student Ewelina Olszewska says: "The experience was unforgettable. It empowered us to be responsible first responders on a scene and made it clear that I have chosen the right course to pursue my dream career as a Crime Scene Investigator."
Student Laura Savin adds: "The most useful aspect of the exercise was that we had to count more on our spontaneity than on our theoretical knowledge (for example when Des came into the room with a fake gun). I think practical exercises are really rewarding because it forces us to be in the moment and to face the situation like we will have to do in our future career."
The day was held with the help of the Hampshire Police, which supplies the items used within the crime scene and provides expert advice on how the scene should look.
Solent's Head of Law and Criminology, Simon Fox, is a former police officer and current police consultant. He says: "I try and make my lessons interesting and inspiring. Although the principles we teach are fairly straightforward, in this situation we can increase students' anxiety level to test how they respond.
The students can apply what they've learned in the classroom but also deal with events that may occur in a real life situation." 
Sarah Dorricott has played the murder victim for the past three years, and graduated last year from BSc (Hons) Criminal Investigation with Psychology. She now works at the Crown Court as a court clerk, which was her aim throughout her time at Solent.
Sarah says of the day: "It definitely helps knowing that everything you're learning in lectures is practical knowledge, and can be applied elsewhere.
This unit was the most interesting part of my course. Seeing the other side of crime, and why and how crime happens is fascinating."