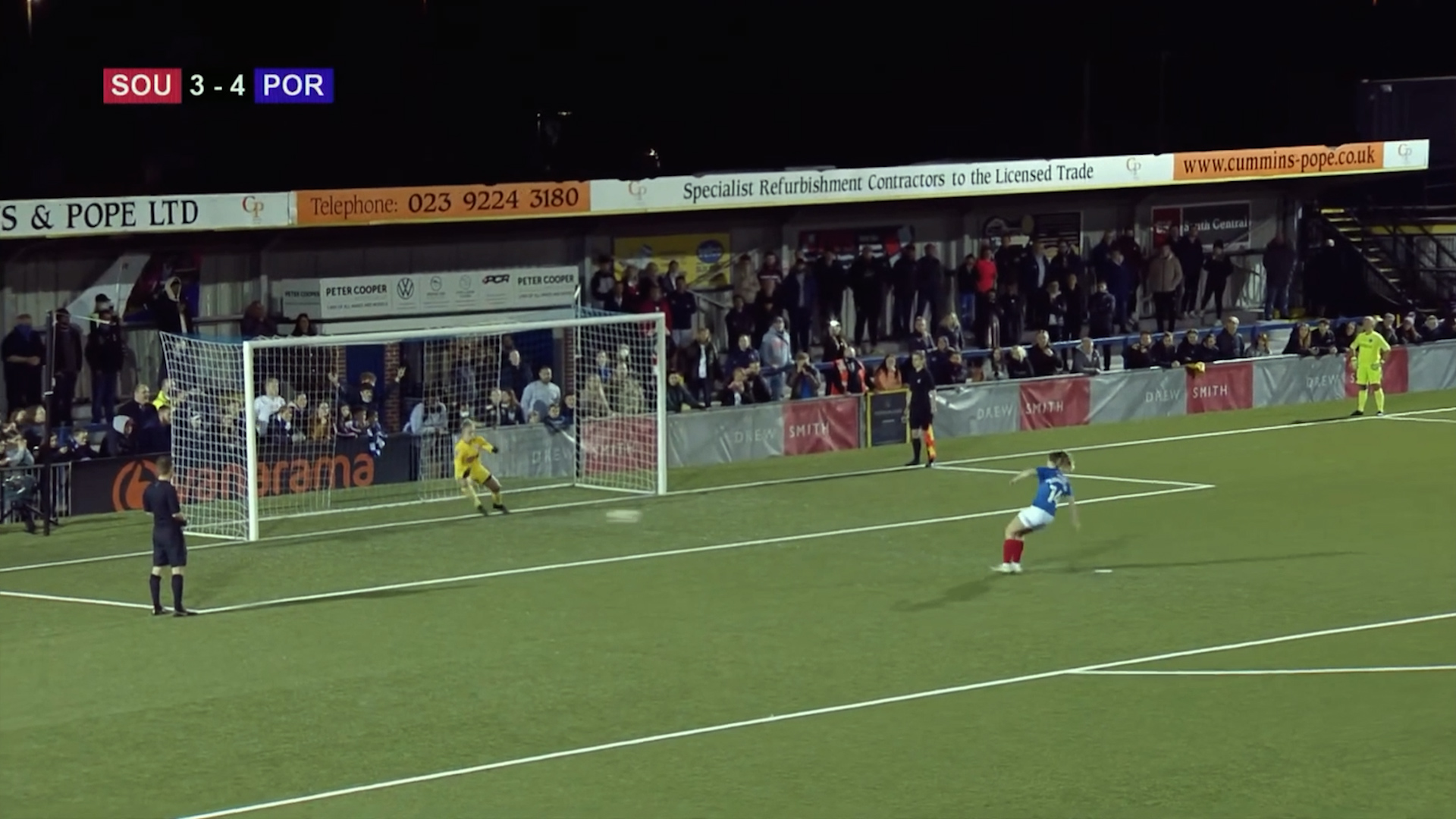 Football fever – Hampshire Football final's broadcast by Solent students
Solent students had exclusive access to the Saints vs Pompey Women's final as well as Bournemouth vs Eastleigh Men's final, and collaborated with a variety of roles from filming and live editing, to journalism and presenting - with all the content being streamed live to YouTube.
6th July 2021
Journalism
English and journalism
Media film and tv technology
TV, film, media production and technology
Television production
With Covid restrictions meaning spectatorship was not available to everyone at the football grounds, Solent University students employed their skills to create a production team to stream the football games, live to YouTube, by collaborating across courses including MA Sports Broadcast Journalism , BSc Live Event Technology and BA (Hons) Television Production
It was also an opportunity to take the new Solent University 'OB truck' out on the road - a custom built outside broadcast vehicle which allows students on media courses to work in a real outside broadcast environment utilising industry standard vision mixing equipment with vision feeds from roaming cameras and high quality audio.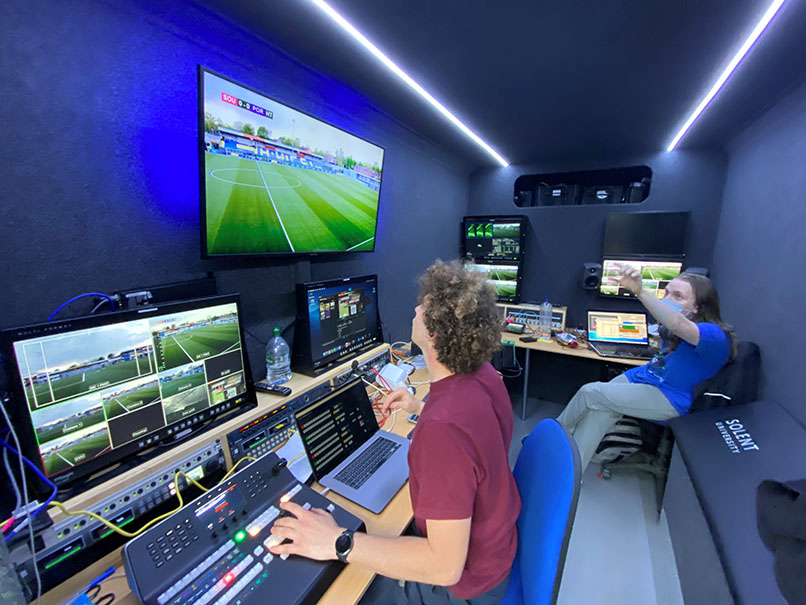 Students took on roles commentating and presenting using their journalism skills to research the teams and the players to deliver high quality content to the fans. Working closely with the official football media teams, they produced broadcast level packages to be included in the live stream.
MA Broadcast Journalism student Mark Fennah who took on role as commentator, talked about how his experiences on the course is preparing him for industry; "My lecturers have helped me understand you can just get out there and talk to people and gain confidence - as soon as one connection is made, that opens the avenue to so many other people, and it really helps in making you a better person as well. The amount of experience I've had this past year and knowing how to make good TV, knowing how to make good radio, knowing how to talk to people in a professional environment as well – I feel it has made me a better person".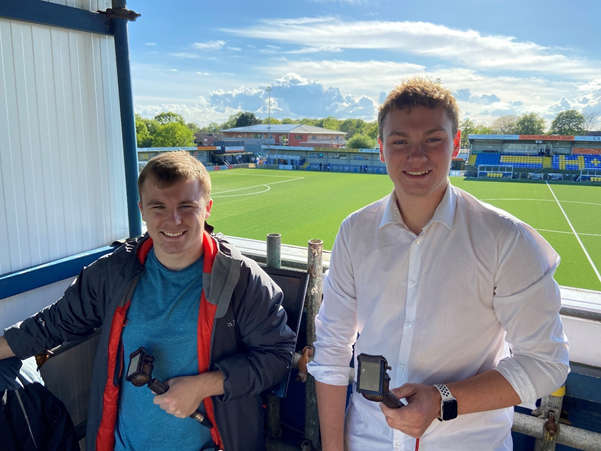 The journalism students were supported by the Media Technology and TV Production students who operated six cameras at the centre line, 18 yard lines, behind goals, touchline wireless and shoulder mounted for interviews. The footage was fed to the OB truck to stream the game live, as well as incorporating slow-motion replays and pre-produced video segments.
Course Leader for Television Production, Stuart Ray said; "It's a fantastic experience for the students – we also do a lot of music festivals and this is a much more complicated set-up. So, to make it work, which we have done, is a real achievement. Another thing that is good about an event like this is that there are lots of students from different courses all working together for a great piece of course interaction, with lots of different students".
Television Production student William Edwards-Shambrook explained the different skills that can be developed from such experiences; "It's all about communication – having that line from the sports journalism producer, to the director in the van and that comes through the headset to us, (camera operators), and then we can know what we're doing. It is that constant channel of always communicating. I've also worked on other events, and by doing all different roles I've been learning the chain, so, knowing who needs to talk to who, knowing how to work with talent and presenters and knowing how to work with directors and the best way to work with them".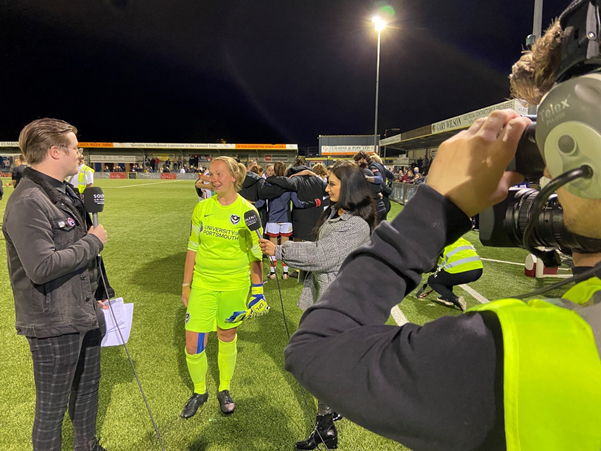 Course Leader for MA Sport Broadcast Journalism, David Reilly said an experience like this is also all about confidence; "You can't find out if you can actually commentate or present live unless you do it. You can talk about the theory in class, you can practice a few pieces to camera when you're doing the pre-recorded, but it's different when your pitch-side, with fans and footballs flying around - so confidence is a huge part for our students and just letting them know they can do it, so they can get their confidence up and go to employers and say; ' I've done this, I'm ready for work'."
You can watch video that shows more about the student's experience here;
You can watch the actual game and see the final result for the student's work here;