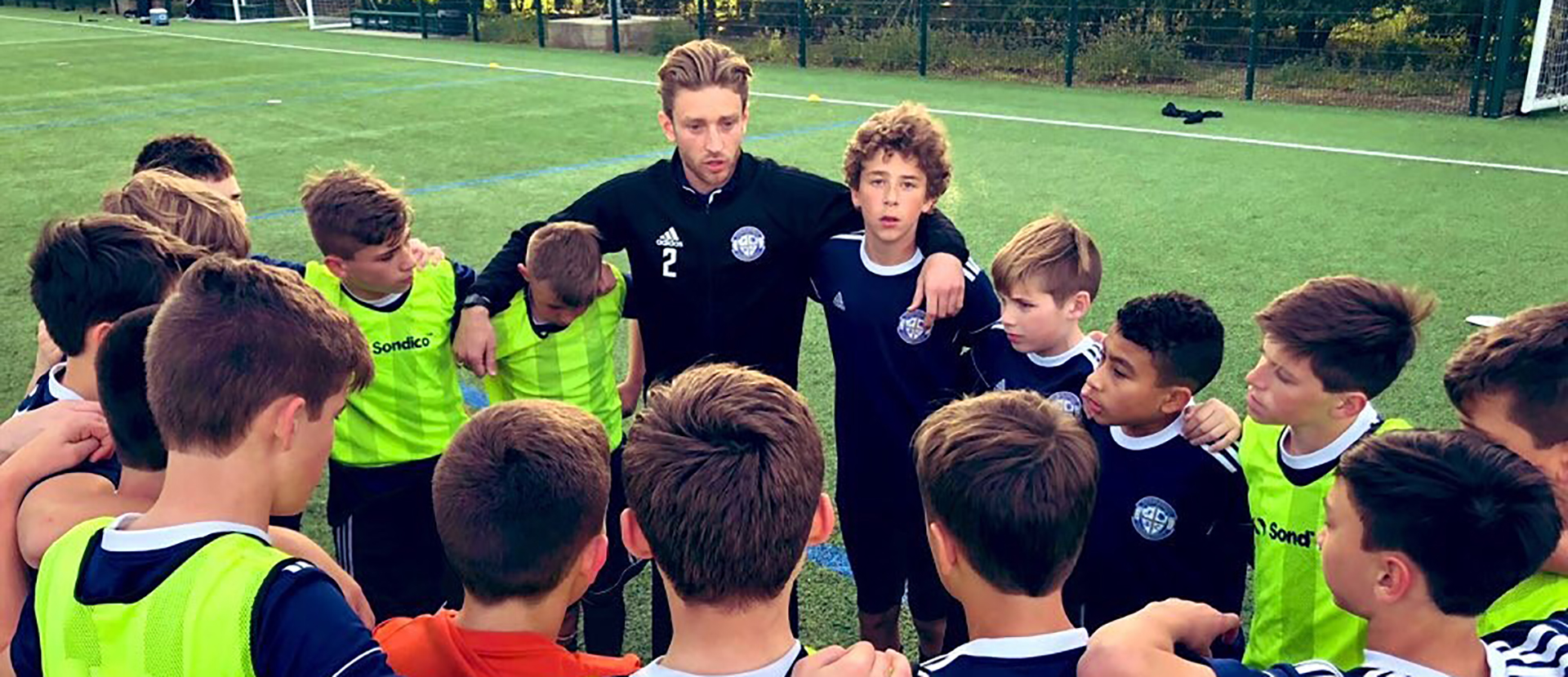 Football students take charge of US juniors team
Two Solent University BA (Hons) Football Studies students recently had the opportunity to play an integral part in the UK football tour of a school from America.
22nd May 2019
Two Solent BA (Hons) Football Studies students recently had the opportunity to play an integral part in the UK football tour of a school from America.
Second-year Julian Stahler and third-year Stuart Holland were invited to coach and manage the young football players from the Scholar Athletes Leadership Academy (SALA) from New Jersey, who were in the UK on a football tour as part of their integrated footballing and academic programme.
SALA is an innovative educational experience where students combine football development with their academic studies, using an individualised self-paced programme of academic study alongside high level football training sessions.  
Julian and Stuart spent a whole week with the team and staff based at Reading FC, leading training sessions, managing matches, facilitating classroom analysis and feedback and travelling with the group on excursions. The team played matches against MK Dons, West Ham and Derby as well as experiencing the amazing facilities at England's training base St George's Park, a tour of Wembley stadium, sightseeing around London and watching Championship and Premier League games.
Stuart says: "It was a brilliant week, and I was really impressed. I was able to lead without intervention, which was a fantastic experience, and the children were really engaged with the whole process."
Julian adds: "The SALA experience not only allowed me to gain valuable insight into the professional academy systems within England, but also gave me a first-hand look at the journey a coach must take in order to work within professional football academies in England, as well as developing relationships within these academies."
As a result of the tour, Solent University and SALA have created a unique link where students can travel to SALA in New Jersey to teach and coach at the school and experience US soccer culture, helping to shape the young players' footballing futures, as well as enhancing their own coaching CV.
In addition, SALA students can make the return trip, experiencing higher education in the UK at Solent University as well as broadening their own footballing experiences. Solent students will also link up with the team on a regular basis when they tour the UK, helping to broaden the US students' experiences and facilitate their learning and strengthening the continued partnership.
SALA's Director of Education, Sam Gough, an ex-footballer and high-level coach himself, says: "This is such an enriching partnership, both for our SALA students and the young coaches from Solent University.
"This week has been a tremendous experience for all of us and I cannot commend Julian and Stuart highly enough for their hard work and commitment both on and off the pitch, demonstrating high levels of professionalism to our young players. I am hopeful that this new innovative partnership will have wide ranging and long lasting benefits for all involved."
Henry Dorling, Senior Lecturer in Sport Coaching and Development, who facilitated the partnership, adds: "This is just another example of how Solent University brings unique, real world experiences to our students to prepare them for their chosen career."
Find out more about SALA and their innovative education model