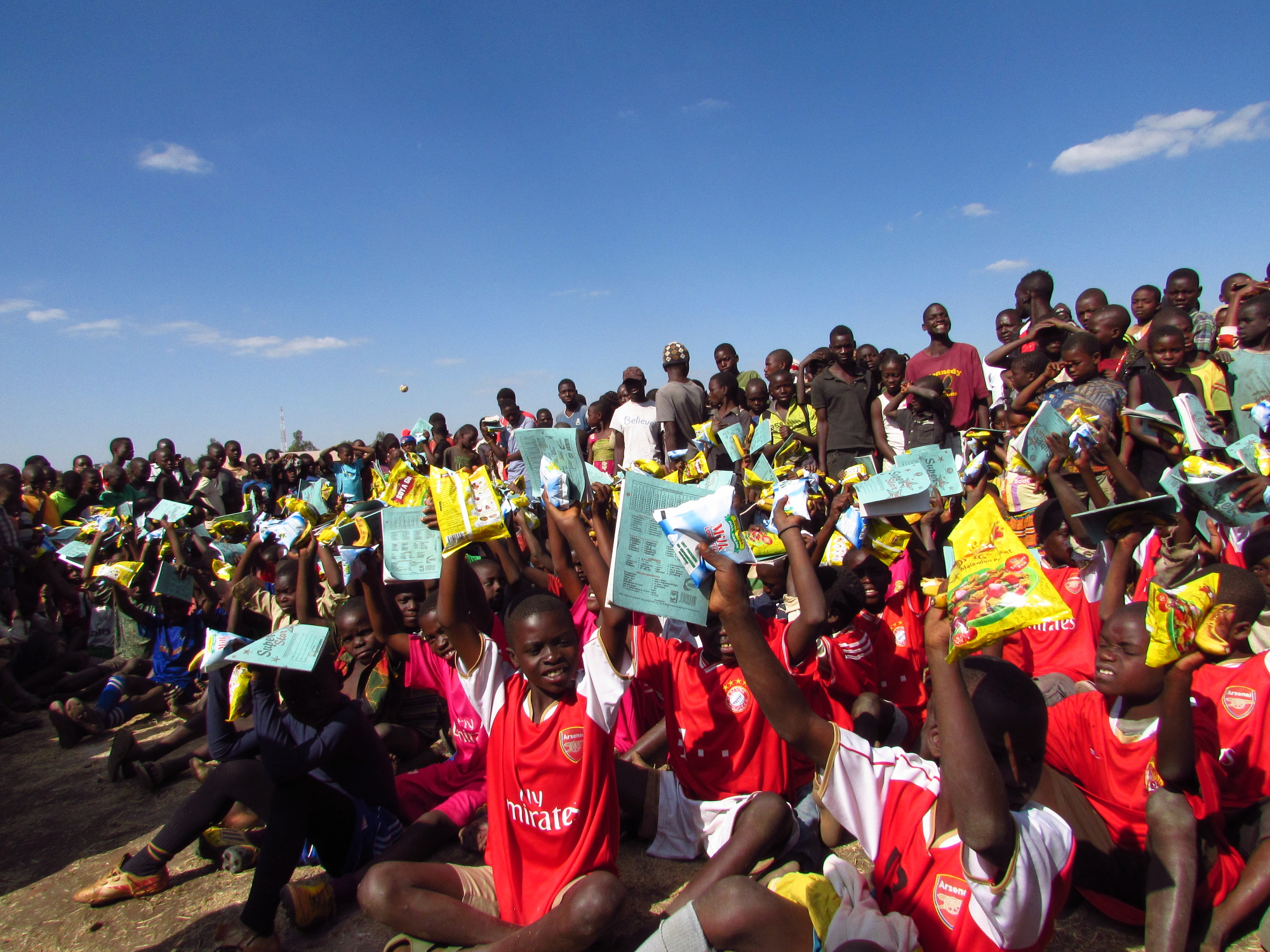 Alumnus, George Maguire is creating opportunities through football for some of the world's poorest children.
7th February 2017
Sport and fitness
Football
Modern football is a billion-dollar industry, drawing vast swathes of national and international attention. Newspapers devote a dozen pages a day to articles on Premier League, and every four years, when the World Cup rolls around, the whole globe goes football mad for a couple of weeks. The top tier of footballers are global sensations, earning more in a year than most people will see in a lifetime – they're national icons and role models, something for the young to look up and aspire to.
But not in Malawi, the poorest country in the world. Not yet.
Solent alumnus George Maguire is looking to change that. In 2014 he and fellow Brit Alex Scott started Chigoli Academy – a grassroots not-for-profit based in Lilongwe, capital of Malawi, and designed to provide professional football coaching to talented Malawian youngsters – and at the same time, to bring education and opportunity to children who lack any real chances in life.
"Malawi is a country of challenges," Maguire says. "You're working in the poorest country per capita in the world, so there are deep-seated reasons why players in Malawi and South East Africa don't make it into top leagues around the world.
"To me it's one of football's greatest riddles to be solved – how to take a gem of a raw player at 10 years old and protect and nurture them into a world-beater, a well-educated role model and an international citizen of good character when born into abject poverty."
"As the modern game continues to develop at a frightening pace – analytics, sports science, nutrition – the developing world gets left further and further behind. How can we bridge that gap?"
Life for Malawians is tough. 2.8m of the population faced hunger in 2016 following two poor rainy seasons. 10% of the population live with HIV and most live below the poverty line ($1.25 US per day). Half of children don't grow fully due to lack of nutrients in their diet, and one in five face sexual abuse by the time they reach 18. It's a tough place to grow up, with few opportunities for an individual to develop to their potential.
Maguire first came to Malawi in 2008, four years after graduating from Southampton Solent University, then called Southampton Institute. He was working in corporate events management, dissatisfied with where he'd ended up, when he had the chance to step back into sports when he was asked to manage a corporate social responsibility project sponsored by his then employer. That event was Malawi's biggest ever school primary sports competition, involving 5,300 schools and 80,000 children.
The seeds of the idea to develop footballing talent in Malawi – the idea that's now Chigoli – were born. "Some of the players were sensational," Maguire says. "Completely raw, clearly not having been properly coached and lacking a lot of tactical discipline a number of the players were fantastic scoring some unbelievable goals on pitches readers in the UK can barely imagine.
"Holes in the pitch, birds eye chilli plants growing on the left wing, maize husks used to mark out the touchlines, goats and cows being walked across the pitch mid game – in one game I saw a great one-two played off a cow…
"This was grassroots football in Africa – bare footed, aggressive, competitive, quick; some of the players' natural ability shone. The realization that there was literally no pathway for these players at youth level in Malawi planted the idea and that nobody was investing in them proved opportunity."
Maguire remained based in Malawi for a year or two, and met Alex Scott there, but in 2009 the credit crunch forced him to return to the UK.
"I ended up working in a pub in London wondering how I could ever get the idea going again. Since then I've thought of little else, with everything I've done since working towards creating a structure that gives the footballing talent in Malawi a chance to shine.
"[Alex and I] spoke many times over a beer and premier league game about what should happen in Malawi. How the pro clubs have literally no youth structures below u20 at all, and how much of a waste that is. How unfair the world is in terms of where you are born. There reaches a point in all conversations where you reach a point of action."
Making a difference
Back in the UK, playing for a side in Bristol and telling stories of his time in Malawi, Maguire picked up on a way to get back out there.
"[The team manager] said it sounded amazing and beautiful country and we should try and get the team to go. Words are easily spoken. No one wanted to go for all sorts of reasons. But the idea came to life. I thought maybe I could find enough friends or ex-players I know who might want to go. Not the case. Therefore I had to create a company to start promoting it to people I didn't know."
African Football Tours was born, with the first small pilot tour taking place in June 2011. Four more followed, and by then Maguire was based back in Malawi, teaching to make a living as he followed his dream. But he was making progress. At the African Football Executive Conference in Johannesburg that year, he was asked to speak on football in rural communities in Malawi.
He spent some time working with an organisation called Play Football Malawi, working at a community level, but his vision of a hub for talent development in Malawi went further than that. After discussing the challenges with Alex, the blueprint for Chigoli began to emerge and the two of them started planning their first squad and talent-identification process in late 2014.
"The natural response upon first arriving here is to try and help everyone"
The key, to Maguire, was to focus on those whose ability deserved matching opportunities. "The natural response upon first arriving here is to try and help everyone," he says. "There are some huge international NGOs trying to 'fix' poverty in this country. Rather than try and help every one of the eight million children in Malawi under the age of 14, we invest holistically and heavily into children's lives that we believe have a chance to make something of themselves."
"We're aiming at putting players into South African professional football and some children into US based private high school scholarships in the next five years. Those are opportunities they could never have dreamed of, or even begun to access without the program and support of Chigoli.
"For me the key point is that the players have to earn their opportunities. Given the level at which they start and the world they've grown up in, anyone who makes it truly deserves it. In turn we hope to create role models to inspire future generations. Malawi doesn't have a Drogba or Weah to be a role model to their people … yet."
From the ground up
With no formal youth leagues in Malawi, Maguire and his team run around ten community-level tournaments a year in order to identify prospective academy players. They review around 2,000 players this way, and further broaden their scouting efforts through active talent spotting and a network of feeder clubs.
Players who show potential are invited to trials where the Chigoli team further assess their academic and footballing abilities, as well as starting to build a picture about their character. Good prospects are then offered extended trials with the Academy. "There are some tough calls to make," Maguire says. "We only want to sign outstanding talent with potential, so it's a selection process with high expectations and standards."
The coaching team is a blend of European and Malawian expertise – head coach Thom MKolongo is a CAF (Confédération Africaine de Football) A licence holder and former Superleague of Malawi winning coach, while the team also boasts former Scottish Women's Premier League goalkeeper Caitlin Macmillan. Together the Chigoli team have developed a coaching curriculum that is a mixture of whole-team, position-specific, technical and tactical sessions, as well strength and conditioning.
"People stop us in the street to say how amazing the football our teams play is – it's very different to the way most Malawian teams play."
Chigoli today has 45 players in the Academy, in three age-based squads. The youngest players are 9 years old, the oldest 14 – but they all play one or two years above themselves, to try to make games competitive and challenging. "We've won every tournament we've ever entered in Malawi," Maguire says, "but there isn't much organised football here. Transport costs make it very difficult for teams to afford to travel to compete.
"Still, our match record shows that our programme works. We're in discussions to join a central region FIFA-backed u16 league this year, which will be our first competitive league. Moving forwards we will enter the FMB U20 league in the Central region with an u17 side then they will graduate into a men's squad that will compete in the men's football structures in Malawi."
Maguire isn't forgetting the women and girls of Malawi, either, though conservative social pressure puts further hurdles in the way of would-be women footballers. "We have three female players between 12 and 13 years, who play down an age group with the u12s. We aim to grow the number of female players involved moving forwards, eventually becoming their own squad in a few years' time. We're also planning to put a women's team into the league structure in Lilongwe in the future."
More than football – a better start
Two years in, Chigoli is expanding – and aims to be as self-sustaining as possible. "The first year the costs were lower; Alex and I could basically fund the operation ourselves, supported by some local fundraising. Year two has cost a lot more, with private school fees to pay, more children involved in the academy and a larger training programme."
While private school fees may make up a significant portion of Chigoli's costs, the educational opportunities provided to Academy players can be life-changing. Maguire says: "After a year proving their commitment to Chigoli, we offer players scholarships till they finish secondary school into local private schools. This hugely increases their prospects for the future – whether football happens or not for them – taking them out of government schools with average class sizes of over 100 students, inadequately resourced and often outdoors due to a lack of classrooms (making it impossible in the rainy season to learn or teach).
"The feedback we get from parents is all about how their child is 'better' at home or working harder at school."
"We offer additional support to children with learning issues through extra tuition, and then teach maths and English to players at the Academy each week. We have three qualified teachers, including two Malawian secondary school teachers and a retired Malawian headmaster who helps with pastoral issues. In the medium term we would like to bring in a youth counsellor to work full time with our squad and run the character development part of our operation."
For the most part, though, the children in the programme know they are onto a good thing. Attendance rates are strong, and the Academy has only had to release a handful of players due to disciplinary issues. "We've created a solid mindset in our oldest players," Maguire says, "and this is having a trickle-down effect into our younger squads. They know we are firm but fair. Players sign up to a code of conduct from the start so they know what is expected of them."
While it's too soon yet to see where the Academy will lead its players, Maguire and the team are seeing the effects already.  "We've had players move from other cities in Malawi to be part of our work, living with family they had in Lilongwe. We've also put a cracking player from DRC [Democratic Republic of Congo] into a boarding school in Lilongwe, moving him out of the refugee camp outside Lilongwe. His mum was in tears seeing the school he moved to.
"Even little things can make a difference, like taking the squad to Lake Malawi, 90km away, was huge – 70% of the squad had never left Lilongwe before we started."
It's a promising start, but Maguire is keen to build on those foundations – both figuratively and literally. The Academy is looking to secure its own pitch in Lilongwe, and in the longer term, to develop its own residential Academy complete with school and lodgings. "We are very keen for this to be a green development, built using local materials and techniques and powered by solar – which would really set us apart in the world of football which isn't the greenest of industries. We would even look to have that facility as self-sustaining as possible in terms of food production!"
Making a difference
Part of that expansion is bringing in enthusiastic talent to help realise the Chigoli vision. Amir Mounayer, a 2015 Solent graduate, originally hails from Jerusalem but come to Solent to combine his passion for football with academic study on our BA (Hons) Football Studies and Business. He spent a little time travelling after graduation, but then came across an online ad for an internship at Chigoli. "I have always wanted to help others since I was a kid," Amir says, "and I always wanted to come to Africa and help children with football and education."
Moving to new place is always going to be different, and the first few days were a bit of a challenge; new country, new environment, not knowing much about the area, language barriers… "I knew it is going to be different but I didn't really know until I was actually in Malawi. 12-18 hours a day without power…! It was difficult at the beginning but then you get used to it and it has become part of the daily routine."
Amir says his working week is unlike anything he's experienced. On Thursdays he helps coach a soccer school; from Friday to Sunday he's leading Chigoli's under-11s, developing sessions in training and coach them; on Mondays and Tuesdays he often accompanies head coach Thom MKolongo on a round of Chigoli's feeder teams, observing and supporting them with equipment, coaching sessions and advice.
Amir is also working with Thom on creating a girls' football tournament, so the rest of Monday and Tuesday are taken up with meetings and planning… as well as helping spread the word through social media updates on Facebook, Twitter and Instagram.  "It's full-on really, but I'm loving it so can't complain!"
As rewarding as the work is, Amir says working in Malawi has really opened his eyes. "The challenges that I face on daily basis is knowing how Malawians live, knowing that more than half of the population would go to bed hungry or not knowing where or when they will eat again. You start questioning… can I make a difference? I would like to think I am, but I don't really know… and then I start asking myself why the people with power don't do anything about it.
"Being here made me realise a lot of things about life and how human treat each other, and to be honest I don't think I will get past that because it will always be on my mind."
Helping the people who need it most
That kind of attitude is what Chigoli was built on, says George Maguire. "Amir's doing a great job since he got here in September. Passionate and motivated, he's getting stuck in helping on the administrative side as well as the football side of what we do. He's got a great attitude and work ethic."
As Chigoli grows, Maguire is looking for more passionate young graduates like Amir, willing to step out of their comfort zone and get some truly unique real-world experience on their CV – whether as a volunteer or an intern. "If football is your passion and you understand that the world is a deeply unfair place, then get in touch."
But Chigoli is also looking to build relationships with potential business partners and sponsors. While donations, soccer schools and football tours provider operational funding, they're in discussions with a few private sector companies in Malawi and are keen to build word-of-mouth and connections further afield. Maguire says: "We see Chigoli as a fantastic sponsorship opportunity for businesses or philanthropists, to really make a difference to the people who need it most."
If you would be interested in finding out more about Chigoli's work, or how you can get involved, visit www.chigoli.org or email George Maguire at george@chigoli.org