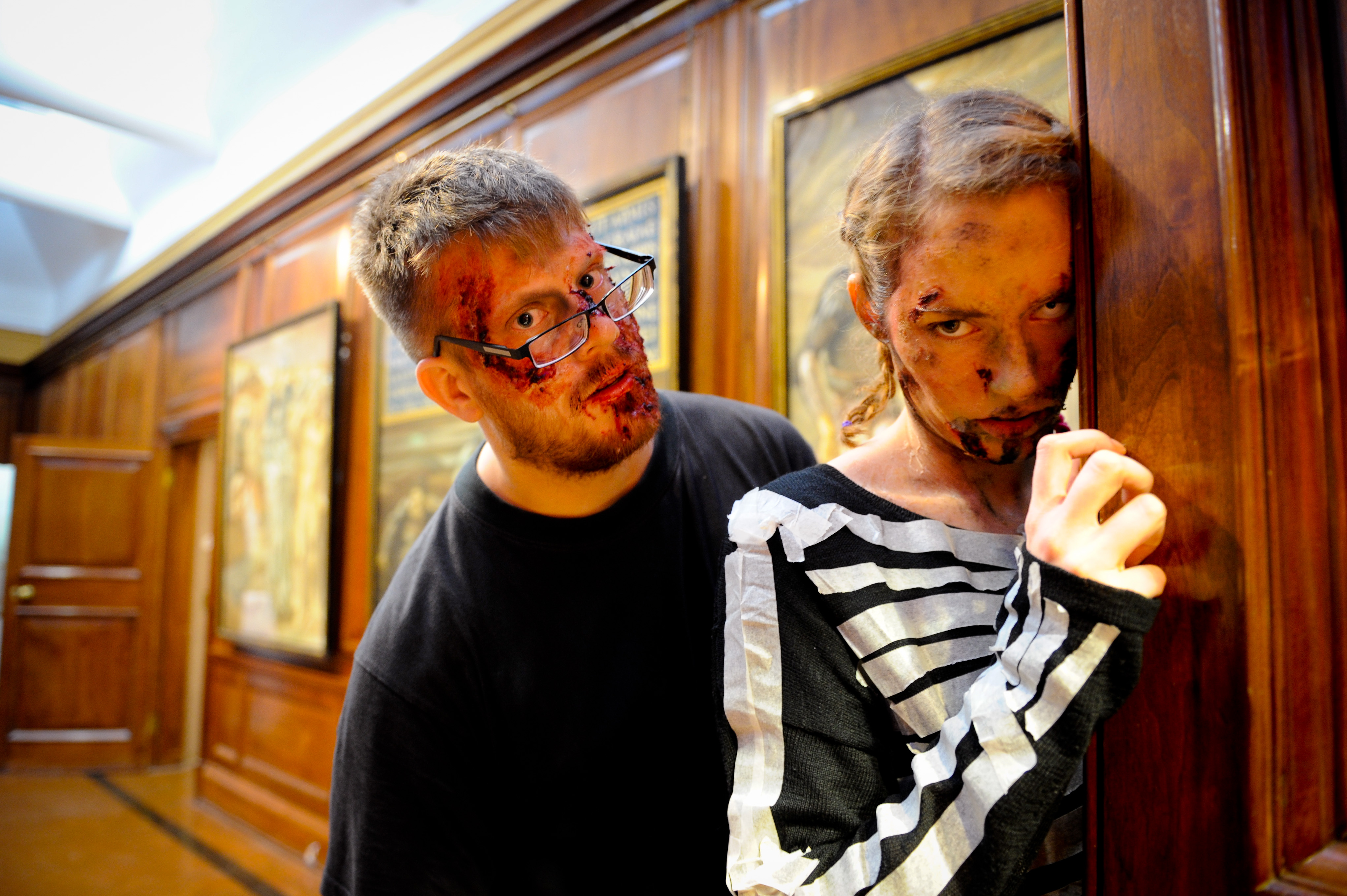 Halloween workshop gives Southampton a fright
Student zombies stagger through Southampton
4th November 2016
Enrichment Week got off to a spooky start this week with a selection of students putting their talent to good use to create a 'Workshop of the Dead.'
With the support of Maki Suzuki, one of the prestigious artists from Abake, part of the British Art Show 8 (BAS8), students created costumes and make-up to celebrate the day of the dead before parading through the streets of Southampton.
Mandy Jandrell, course leader for BA (Hons) Photography, initiated the idea to encourage students across Solent's School of Art, Fashion and Design to work closer together.
"This is the first time we have run an event of this kind and the original thinking behind the Workshop of the Dead was to encourage students to come together and set something up which could be really collaborative. We also wanted to help students network with peers they may not usually cross paths with to form relationships which they can take forward," Mandy said.
"We are very lucky in Southampton to have the BAS8 here, so it was a great opportunity to ensure that our students take full advantage and learn from the amazing work created by a number of artists in the City at this time."
"We looked at a range of artists who were taking part in the BAS8 and identified Abake, in particular Maki Suzuki. A lot of the work they produce encompassed aspects of performance, sculpture and people working together; those were all qualities we wanted to encourage our students to work to and take away with them," Mandy continued.
Image above and below: Martina Baycheva a third-year make-up and hair design student creating a skeletor look on Maki Suzuki. 
Following a morning of creating costumes, students crept through the streets of Southampton towards the Southampton City Art Gallery where Maki presented some of his work which is currently on display.
"The aim is for the students to have a guided tour of the British Art Show 8 but this group will be a little different from any other group because we will do this in living dead costumes," Maki explained.
Here is what the students had to say about the day…
Juanrie Strydom, third-year BA (Hons) Photography student who took part: "Workshop of the Dead was a good opportunity for me to collaborate with my fellow students and to try and embrace the fact that art is not just visual, but is also about how we work together and create the process. I loved working with other students across the courses to create something amazing."
Alice Howes a third-year photography student was transformed by Kaitlyn Berry, first-year hair and make-up design. "I really love special effects so I thought the workshop would be a great way to practice and also get to know more people on my course," said Kaitlyn.
British Art Show 8 began October 2016 and will continue until January 2016 across various venues in Southampton.
Image above: Pier Olsen, third-year photography student was transformed by Frankie Smith a first-year make-up and hair design student.