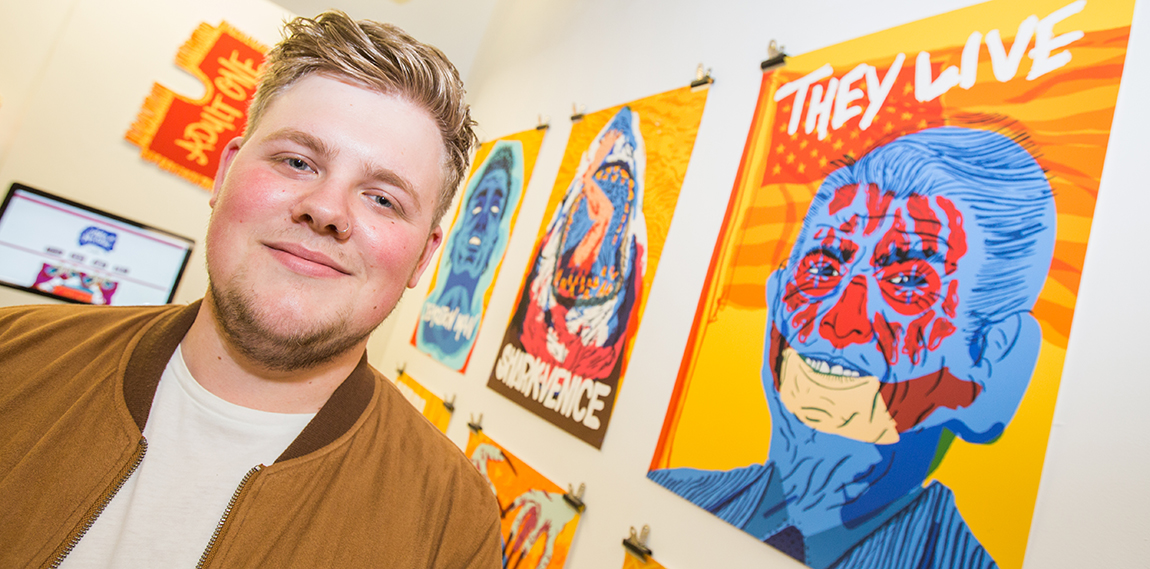 Illustrating the beauty of bad films!
Charlie's 'Rotten Tomatoes'
2nd September 2016
Bad-film buff Charlie Gould, 22, turned his love of B-movies into an award-winning final major project that also helped him graduate with first class honours this summer. He was winner of the Cake and Ale Press Award for text and image.
We talk to the Farnborough BA (Hons) Illustration grad about the good, the bad and his far from ugly future!
Tell us a bit about your final major project
It's all about what I love - really, really bad films! It's very self-indulgent admittedly but it's also a lot of fun. I've had the chance to choose some of the worst films ever made, and try to make something 'good' come out of them.
What was the inspiration behind your project?
This project really stems from how I always seem to gravitate to things that are a little different; things that aren't polished, a little rough around the edges; these films are the perfect example of this. They have an average Rotten Tomato score of 44%, which is considered 'Rotten', and I love them for it.
What have you enjoyed most about your time at Solent?
Everything. I've enjoyed the city, the University, the members of staff who have done nothing but support myself and my work throughout the last three years. There's not been a single time I didn't enjoy being at Solent I even enjoyed writing my dissertation!
But, I think if I have to bottle it down to a single thing, I would have to say the print room at Below Bar Studios. All I ever wanted to do was screen print, and that's exactly what I did, and then some!
What's next for you?
I'm going to continue to produce work, reach out to agencies and companies I'd like to work for, and continue to do what I enjoy doing. Laurence King publishes like my stuff and are keeping my details in case anything pops up, which is great and I recently illustrated the catalogue cover for Sea City Museum in Southampton, which will be out in October.
What advice do you have for students?
Make mistakes. You'll probably learn something, even if it is just to not do that particular thing again. Be willing to take the critique from those around you and use it appropriately to better yourself. But probably most of all, listen to people, and engage with them… and don't take yourself too seriously!
You can see more of Charlie's work on his website .