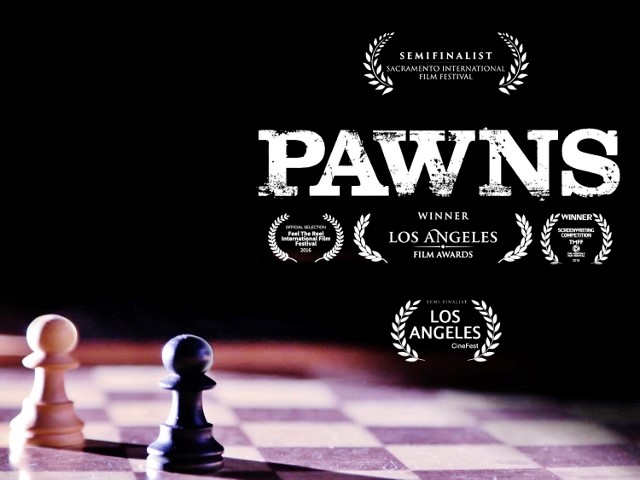 LA award win for Solent film production student
International success for student film script
23rd March 2017
TV, film, media production and technology
David Barbeschi, a final-year BA (Hons) Film Production student at Southampton Solent University has had major international success with his short film script, PAWNS, which has already won first prize in two international festivals including Los Angeles Film Awards and Glasgow, Monthly Film Festival.
David created the piece as part of his third-year final major film project at Solent. He has the role of co-director, producer and writer on his production team.
We caught up with him to ask about PAWNS, his passion for screenwriting and his experience of life at Solent…
First of all, congratulations on your success. Please tell us about this exciting project…
This short film script revolves around a young WWI British soldier who after experiencing the carnage of the battlefield, finds himself sharing an enclosed space with an enemy German soldier. Such an unexpected situation gives them the opportunity to look past their differences and realize they have more in common than they think. 'PAWNS' has been appreciated by the jurors because of the message it delivers - the emptiness of war, friendship and values, respect and redemption - and because of the importance our development team gave to the historical aspects of this film, the trench raids, and the violence that ensued, often to defend the interests of men who would never set a foot on a battlefield.
What is it about screenwriting that fires your passion?
When it comes to creating a script, I base most themes on stuff I live through in real life. In my scripts you're always going to find an older brother/sister character, for example, since that is a role I play in real life. The love triangles, the main character's aspiring yet self-deprecating nature, his or her conflicting ideologies with one of the parents, these are all aspects of either myself or my past experiences that were turned into words on paper, and later into an image on screen.
Tell us how you have experienced your three years at Southampton Solent University?
When I think about Solent's Film Production course, I think about the fact that back in 2014 when I started, I had no idea how filmmaking worked, however, due to the hands-on approach the course takes, I was able to improve to the point where I am having this current level of success. If filmmaking is your calling, you're enthusiastic and you wish to contribute to the industry, this course will work with you. You will not only improve, but you'll succeed. The tutors are always there for us (and I literally mean always!). They are a huge help, and without their support, some of us wouldn't have made it to the third-year.
David Alamouti, Course Leader and Senior Lecturer in BA (Hons) Film Production said: "We are very proud of David for the awards he has so far picked up for his third-year script, which is a very mature and relevant war story. David's progress on the film production degree has been very promising."
Other Solent students involved in the making of PAWNS include Tyrees Addison-Lamptey who co-directed and Charlie Kelloway, Director of Cinematography. Sound Design is Lina Peertum, Editor, Erwan Tortevois and Graphic Design is Radostina Pancheva. PAWNS will be completed later this year.
Stephen Desmond, Senior Lecturer in Film & Television, added: "David is a powerhouse full of enthusiasm and energy. He plans to complete an MA in Screenwriting in the United States and has received offers of places at some fine institutions. We wish him every success and he will remain part of the University global film community once he graduates."
PAWNS has been accepted into the official selection of three festivals, including the semi-finals of the Sacramento International Film Festival and Los Angeles Cinefest. We look forward to seeing what's next for David…
Find out more about our TV, film and media technology courses here.