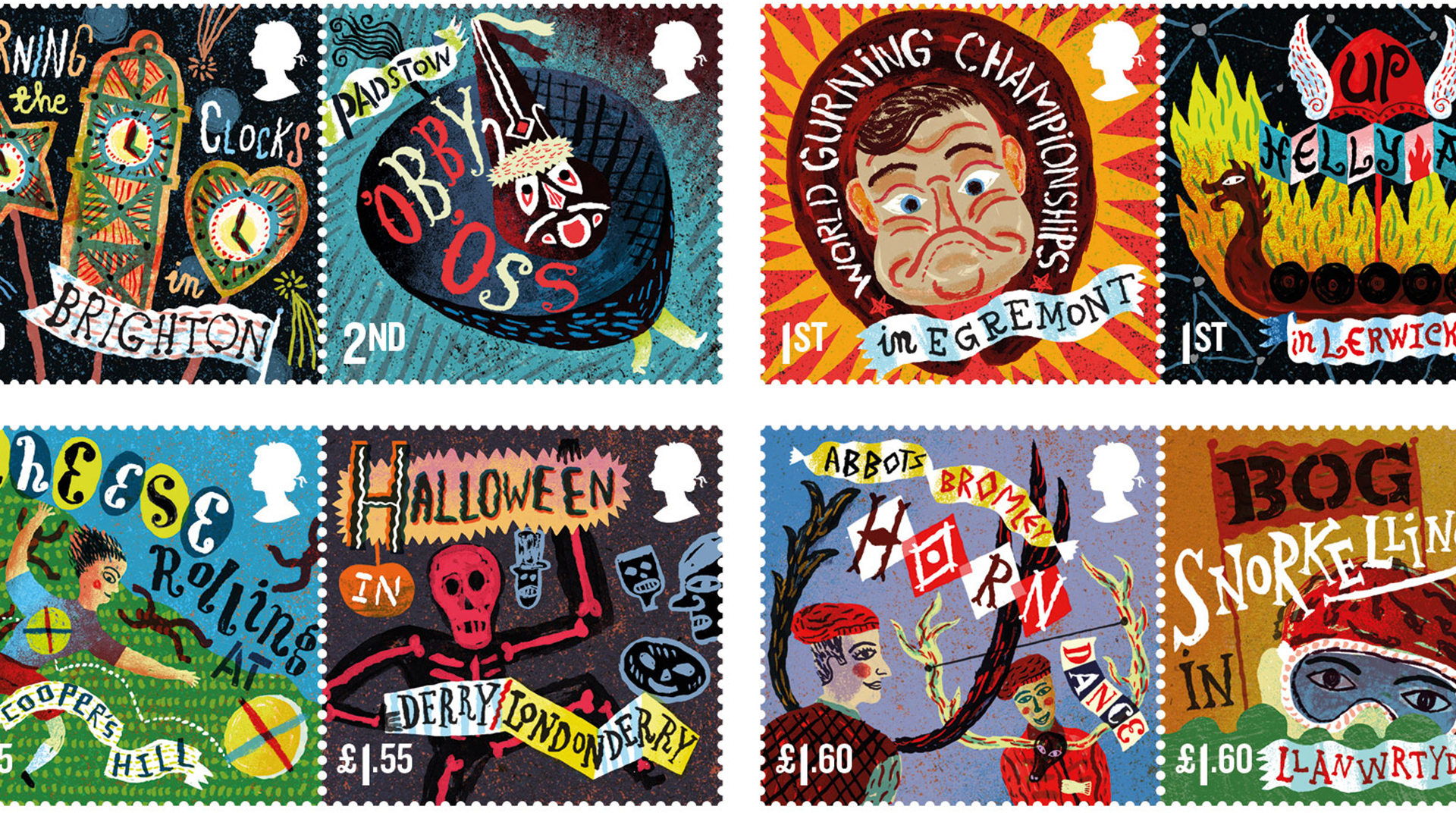 Lecturer creates designs for Royal Mail stamps
Jonny Hannah took inspiration from folk traditions to create unique illustrations for a Royal Mail stamp collection
11th December 2020
Art and design
Applied art
Visual communications
Jonny Hannah, senior lecturer for BA (Hons) Illustration is also a renowed artists and was recently commissioned by NB Studio to create artworks for a set of 8 stamps for The Royal Mail. The project, is called 'Curious Customs' and celebrates the UK's quirky traditions – from Bog Snorkelling to Cheese Rolling. Jonny also created additional artworks for the presentation packs including an illustrated map of the UK and illustrating a poem written for the project by Matt Harvey. We caught up with Jonny to learn more about the project.
How did the project come about?
My agent called and asked if I wanted to do some test designs for a new set of stamps royal mail were wanting to produce, called curious customs.
What was the brief for the project?
To illustrate a set of folk customs that happen around the UK. My job was to bring them to life as a small image, with text too.
How did you go about working on ideas, was there something in particular you were trying to achieve?
To fit as much on as possible. It's a small space and I don't do subtle, so getting the action (all the customs have a physical aspect to them) in there was important and where they take place too, such as the Horns Dance in Abbotts Bromely.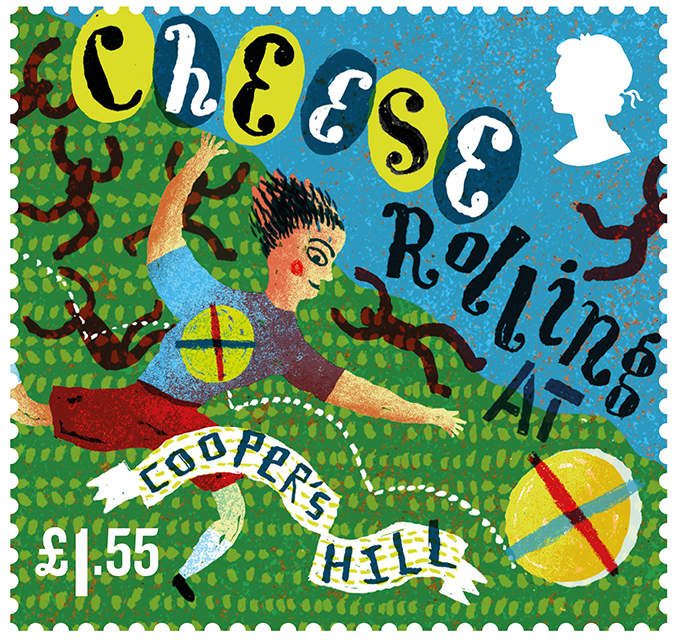 Can you talk a bit about your creative process?
I start drawing with a pencil, or brush and ink, to start to work out the composition. Then after I've tried that for several hours, I begin to take them to the next stage of drawing them again, so they communicate better. I then turn them into a final image, by scanning all my hand drawn elements into photoshop, and start to add colour too.
What did you enjoy most about working on the project?
The customs. Folk customs are by the people, for the people, sometimes even throwing the health and safety rulebook out the window. Some date back centuries, some were created ten years ago. It's basically punk-rock public entertainment.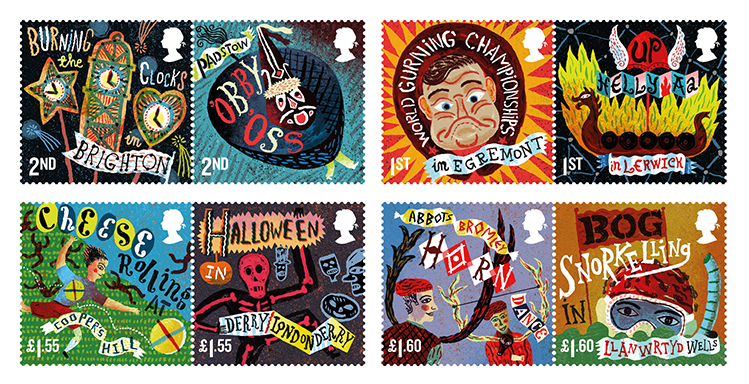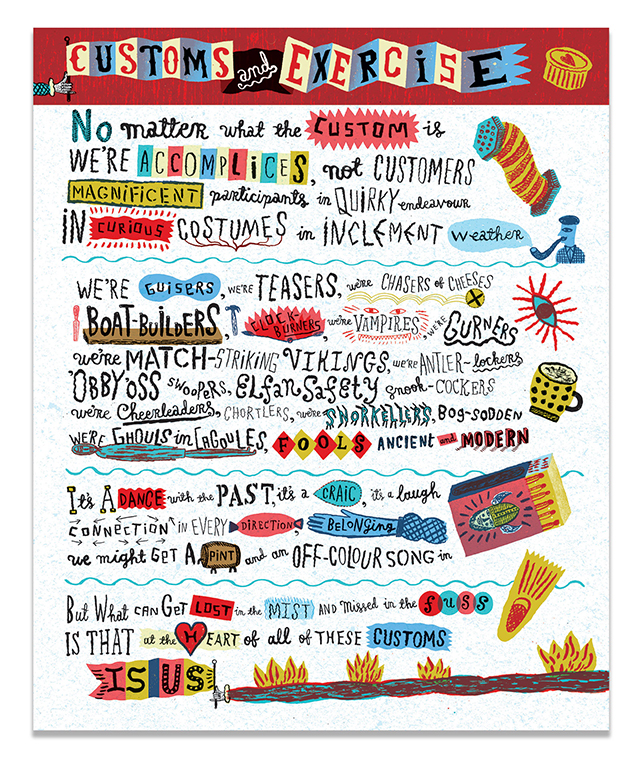 What is your working relationship with the agency, do they commission you for work usually?
It was the first time I'd worked the design company, NB, based in London. They were great to work for.
How did you feel when the project won awards for different awards shows?
Awards are always nice to get, but not that important. Having your work out there, in print, is the really satisfying part.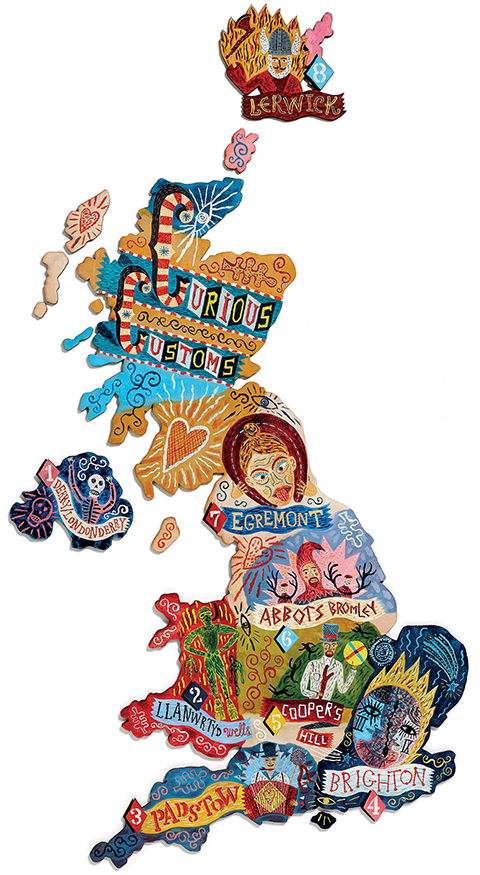 You can see a video from the project and more information here