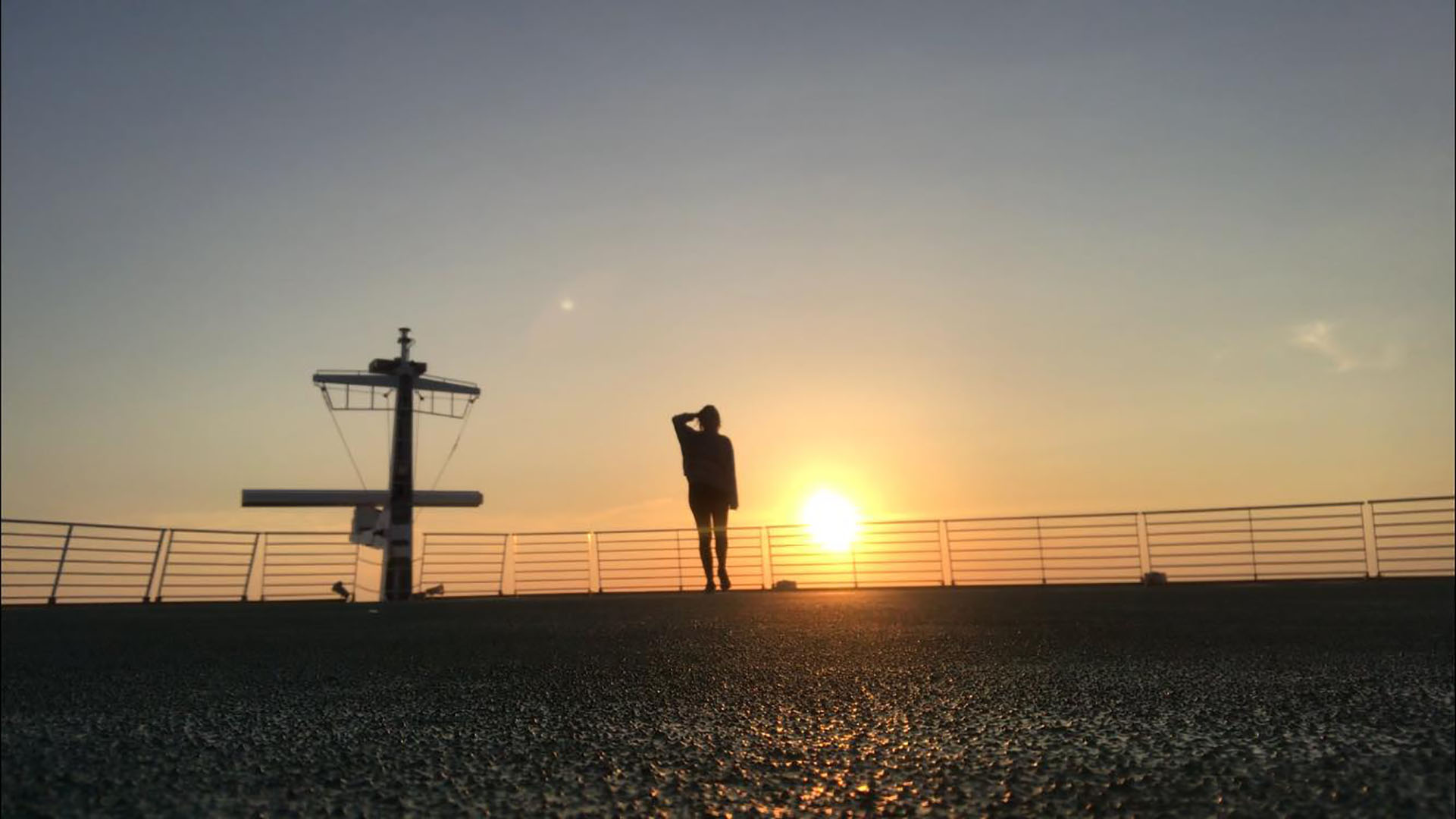 Living the life of a cruise broadcast technician
4th February 2019
TV, film, media production and technology
Within two months of graduating from BA (Hons) Film and Television in 2016, Alice Stansfield was offered a job as Media Entertainment Specialist (formerly known as broadcast technician) aboard Royal Caribbean's cruises.
We asked Alice to give us an idea of her life on the seas.
Working in this job, I can honestly say that every day is different. Sea life is crazy to adapt to, yet here I am, about to join my fifth ship in three years.
The last ship I was on was at the end of 2018, on the brand new largest cruise ship in the world, Symphony of the Seas. This ship has a slightly more consistent schedule than most because it was so new, so the system runs a bit smoother in some respects.
Day to day
Because I live/eat/work/play on the ship, I can easily check on our team's TV channels while having lunch in the crew mess or bar. I regularly check in the office to see if there's any equipment that needs maintenance or any projects that need a re-edit.
As Symphony was brand new in March 2018, it had never been filmed before, so on any days I don't have a live show to record, I collect B-roll and make brand new advertising videos for the spa, restaurant and other areas on board.
Events
I film The Morning Show with the Cruise Director and Activities Manager, which is for guests to watch on our RCTV channel – Royal Caribbean TV – to introduce them to the cruise. It airs between midnight and noon, so it's my job (alongside my team) to shoot, edit, upload and schedule the show.
Once that work is complete, nearer to midnight I begin setting up the live wireless recording equipment to capture The Big Balloon Drop, a weekly cruise event to mark the beginning of the cruise. Thousands of balloons drop at the stroke of midnight, accompanied by the live ship band on the royal promenade.
My team and I live stream this event to television. On some cruises I'm the one filming this among the guests (and balloons!), and on others I'll be in the TV office live switching it and using the robotic cameras to put the finished product on television.
I have a similar set up throughout the week, preparing equipment for live shows including 80s dance party, parade and Aquanation. The latter event involves setting up the camera and tripod, then connecting it to the large screens in the aqua theatre so during the show I could film the performers live and stream them to the side screens. Throughout all live performances, the broadcast team and stage staff use wireless communications to ensure smooth running of all the shows.
Life on board
Throughout the day of course I can visit my friends in their working departments and discuss our plans for the next port day or night ahead. More frequently it seems my time is taking up with buying or making fancy dress outfits as sailors love a theme night - and I'm not complaining!
The other lovely thing about the community on ships is everyone really is away from home so the ship and crew have to become your home and family, so we going to extra lengths to ensure that.
During my Symphony contract I took part in a management training course which gave me a manager certificate. Since we have a large amount of time away from home, the internet, and land I try to learn something new every time I go away or build on a hobby. You're surrounded by people from all over the world; it would be wrong not to learn something!
See below for one of Alice's videos about her experience on Symphony of the Seas: