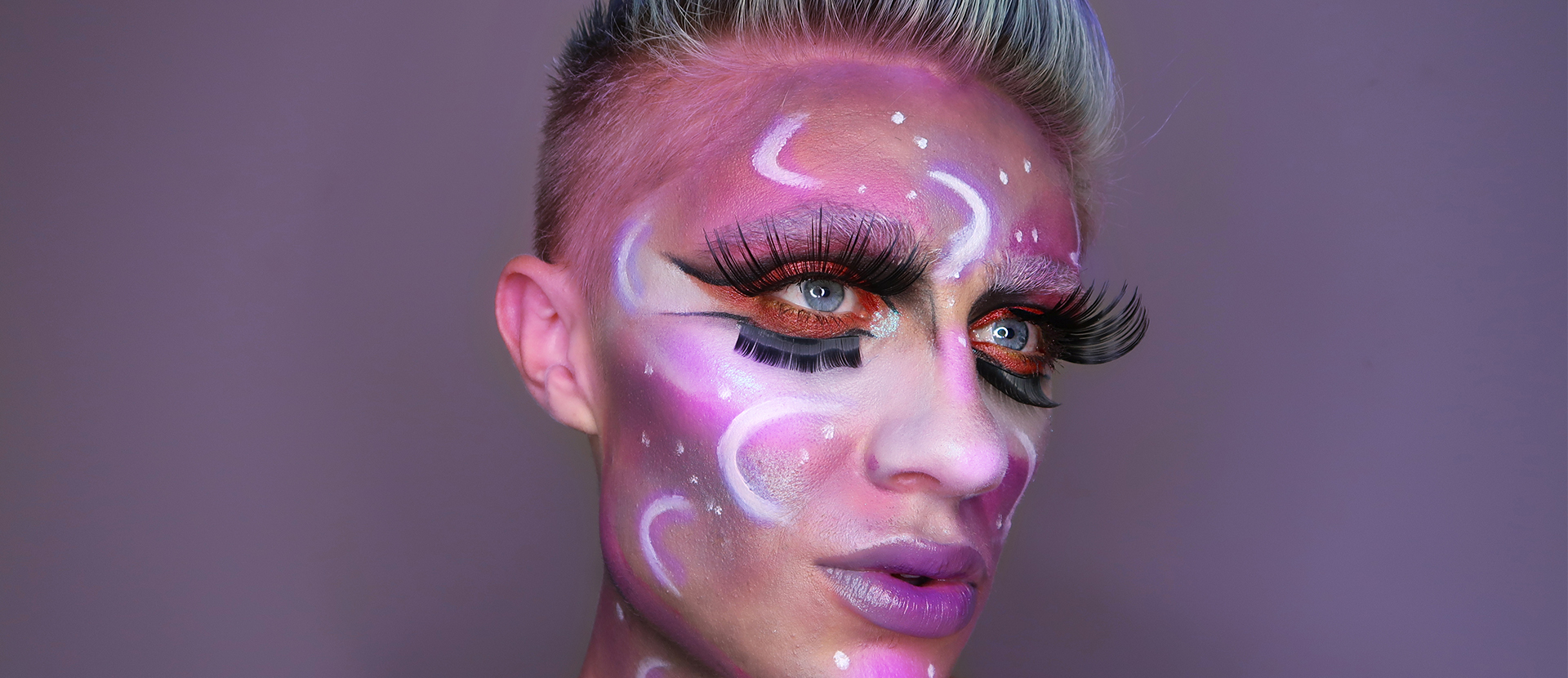 MA student creates make-up brand for male consumer
Ryan's make-up style for men
12th September 2017
MA Creative Direction in Fashion and Beauty student, Ryan Payne, 22, showcases his final project, a make-up brand for men, at Solent's Diverge graduate show this week.
We caught up with Ryan to find out about creating a unique brand, how the MA has helped him to target a niche market and his success so far, through the power of social media…
Please can you tell us a little about your project?
I have produced a make-up brand concept, focusing on the queer culture. Creating a make-up brand is something I've been wanting to do for years.
Where did you get inspiration from?
Having a strong passion for make-up and being a male make-up artist, I discovered there isn't a brand which really targets the male consumer. After researching into this further, there clearly is a market out there. I therefore decided to launch a brand which is kitschy and vibrant and celebrates the queer and gay culture - appealing to a niche consumer.
What made you decide to do the MA?
I started doing this MA knowing my end goal would be to produce a make-up brand, however I wanted to further gain knowledge and experience before investing my time into this project. The MA has allowed me to explore pitching concepts and how to analyse market research, whilst understanding the importance of targeting your consumer.  
How has life at Solent prepared you for the future?
Life at Solent has given me the confidence and skills I will need when creating a successful brand. I am also very fortunate that from learning about the power of social media, I have managed to build up a following and brand myself, gaining a platform on the internet reaching thousands.  
What is next for you?
My goal for the future is to continue with my make-up brand, using social media to help it develop. I want to carry on growing my own following on social media inspiring people within the gay and make-up community. I have also just launched a range of t-shirts with my boyfriend. Being around in the world of social media - who knows what the future holds! 
What tips would you give to other students/prospective students?
It's okay if you have no clue what you're doing in life, as that will come with time. Do what you love to do and focus on that. Focus on what makes you different and what you bring to the table. Don't focus on what everyone else is doing, remember we all want to get good grades, but more importantly - produce work which represents what you're about and put your own stamp on it.
You can view Ryan's t-shirt collection here.