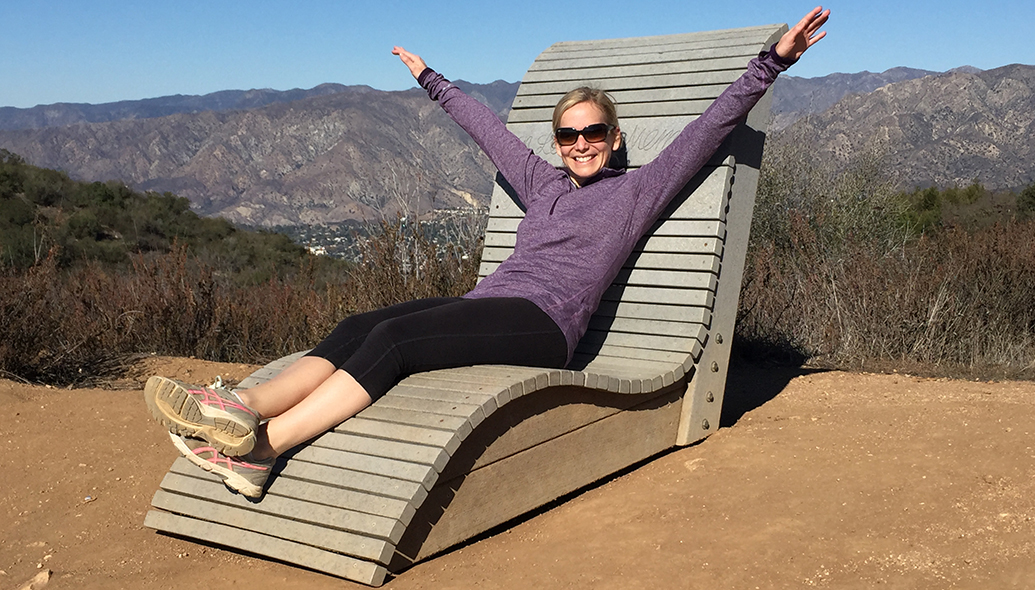 Media graduate's LA story
Alumni: Anna Scott says 'Good Morning' LA!
25th January 2016
TV, film, media production and technology
After working on UK national television for 14 years, BA (Hons) Media with Cultural Studies graduate Anna Scott decided to set sail for America. She's now working on the Warner Brothers lot producing daytime show 
The Real
, which airs on Fox.
Anna, who graduated with a 2:1 in 2000, took time out of her busy schedule to tell us what it's like working in LA; how work experience helped her land her first job; and how working on a film starring Susan Sarandon led her to the best doughnuts in New York!
When did you move to the US and what are you doing there?

I moved to the states in Feb 2014. I live in Studio City, which as you can guess, is close to a lot of the big studios! I work as a producer on The Real, which is a daytime talk show, filmed on the Warner Brothers lot and aired on Fox.
How did the opportunity to work in America come about?
I was working for ITV's Lorraine show in the features department. I was really lucky to be heading up a couple of strands which were filmed in LA: The 'Hollywood Diet' and the 'Racy Reads' competition. I met the regular LA (then) Daybreak and Lorraine crew on those trips, and found out there was the opportunity to freelance for the ITV LA Bureau. From there I reached out to various production companies and got the potential job offers I needed for a visa.
What have been the biggest challenges for you, career-wise and State-side?

The biggest challenge for me stateside was after having been established in the UK and working on a national TV programme, realising that you need American credits or contacts to open doors for you over here – regardless of your experience. My first six months were a struggle to even get interviews! I was lucky that I did have a couple of contacts over in LA, but it was a challenge to find work initially.
Learning the TV terminology in the states has been challenging, everything is different! It has been a learning curve and I do get lost in translation at times!
One of my biggest challenges career-wise was working in New York as a location manager on a low-budget feature film with Susan Sarandon. Co-ordinating on a daily basis with the New York Mayor's office, the NYPD and the TV and movie unit, to secure parking, road closures and police presence for stunts, as well as getting location permits and finding holding areas for a crew of 60, was tough work. I lost half a stone in a few weeks through stress! But it all worked out fine in the end, and the NYPD cops even shared their expert knowledge on where the best place was to buy doughnuts!
What are the projects you are most proud of so far?

I worked on GMTV/Daybreak/Good Morning Britain and Lorraine for 14 years, on and off; I met some amazing people and visited some fantastic places. I'm really proud of my work for the breast cancer campaign 'Bin Your Bra'. This included pre-recorded and live pieces, but most importantly helped raise awareness of breast cancer. It was inspiring meeting the women who had fought and won the fight against this disease, and I felt honoured to tell their story.
I'm also proud of the 'Racy Reads' strand, which was a writing competition to win a book deal with Mills & Boon. I was part of the judging panel, as well as heading the strand and directing the shoots in the UK and LA. It was great to be part of something which genuinely changed the winners' life. The winner, Anouska Knight, was a housewife and got signed for a three-book deal with Mills & Boon; she's now a full-time writer.
I didn't realise it at the time but I was so lucky to work on a daytime talk show, where you learnt to do all aspects of producing: script-writing, pitching ideas, researching, budget management, directing VTs and live OBs, cutting rough edits and overseeing the final cut with a craft editor. It gave me great experience with which to tackle a variety of other projects.
What does a working day look like for you?

No working day is the same, and I think that's the beauty of producing. For me now, I work on producing the 'top of show' – acts one and two for The Real. That usually consists of six to seven shows a week, and each show is 20 minutes of content that needs to be filled.
My team consists of another producer, two assistant producers and a runner. We have to find topical stories relevant to our five presenters and our audience demographic; pitch these to our EP for approval; write the scripts and brief the presenters on each show. An average day is 12 hours plus!
What skills learnt on your course have come in most handy since graduation?

Having a knowledge of all aspects of TV/film-making was invaluable when I started my first job. I understood everybody's role and knew how TV was made, it wasn't a foreign language to me. Also, being on a practical course was a great learning curve on what you need to make a good piece – cutaways are essential!
I also learnt the importance of good clear sound. You can get away with poor visuals with special effects, claiming it's an artistic choice, but you can never get away with poor sound!
How did you get your foot on the first rung of your career ladder?

If it wasn't for my uni course I would have struggled to get work so quickly. It was mandatory to get work experience as part of the curriculum on the course. I wrote 50 letters and got a week's work experience for GMTV kids. When I was working there, I got chatting to some of the staff and ended up working an additional four weeks on GMTV's 'Get Up & Give' annual charity drive, which ultimately led to me getting an interview to be a runner the following year. I got the job and started five days after my dissertation was handed in – all thanks to having to get work experience as part of the course.

What top three tips would you give to students wanting a career in the industry?

Get work experience, get work experience, get work experience! Showing that you are keen to learn, making contacts and just making your CV stand out from the rest of that year's graduates is essential to get a foot in the door.
What did you love most about your time at Solent?

A variety of things: I genuinely enjoyed my course, it was a great mix of practical and theory, which I don't think at the time many other universities offered. It taught me what to expect working in the media and to develop a tough skin for a competitive industry. But most of all, it's the people I met. The close friends I made at uni are lifelong, and there's no other time in life that you live so close to so many people you know! Being a student was fun, hard work and very beneficial for my career.
What does the future look like for you and what are your aspirations?

LA is a great city to live for creative folk and out here people are open to you wearing many hats. The mantra really is 'anything is possible', and it's encouraged and expected really that you make your own work!
I've been in talks with production companies to develop my own shows, as well as expanding on my writing skills to create fiction shows.  I'm looking forward to exploring new avenues and developing new skills.