Meet the apprentice - one year on
Today marks the start of National Apprenticeship Week 2020. Over the course of the week we will catch-up with apprentices studying at Solent to find out how their studies are going and introduce you to some new faces.
3rd February 2020
During last year's National Apprenticeship Week we introduced you to Chris Wilde, currently on the Senior Leader Master's Degree Apprenticeship at Solent and working at Eaton Ltd. 
We catch up with Chris one year later to find out what's new with him, including a promotion to Global Supply Chain Transitions Team Manager, and how his studies have been going over the last 12 months.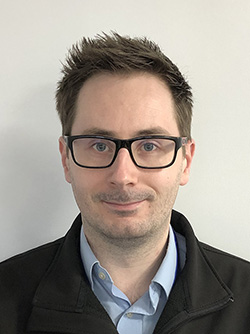 Hi Chris, how have things been going over the last year?  
Both work and study have been intense, but manageable. The industry I work in has seen significant growth and I was promoted to manage my team midway through 2019 - so learning a new job role and managing expectations all around has been a challenge. That said, completing the first year of the SLMDA felt like a big milestone which has helped boost my morale into the second year, and there is definitely a feeling of the light being at the end of the tunnel! 
What have you enjoyed most about the last year of your apprenticeship?  
I've really enjoyed the time on campus and getting to know the other apprentices and their businesses. This has helped my own learning as well as my personal development and is a genuinely enjoyable experience. 
What have the biggest challenges been? 
Trying to plan my wedding, manage a senior management position and complete the SLMDA simultaneously. In doing this, I've learned it's important to understand your priorities, and really focus on a work-life balance that works for you.  
What are your plans/hopes for the year ahead?  
Finishing the MBA elements of the SLMDA and getting married are major personal milestones I'm looking forward to.  Continuing to work through the challenges the industry generates also creates an exciting and dynamic work environment, so I'm hoping that continues.