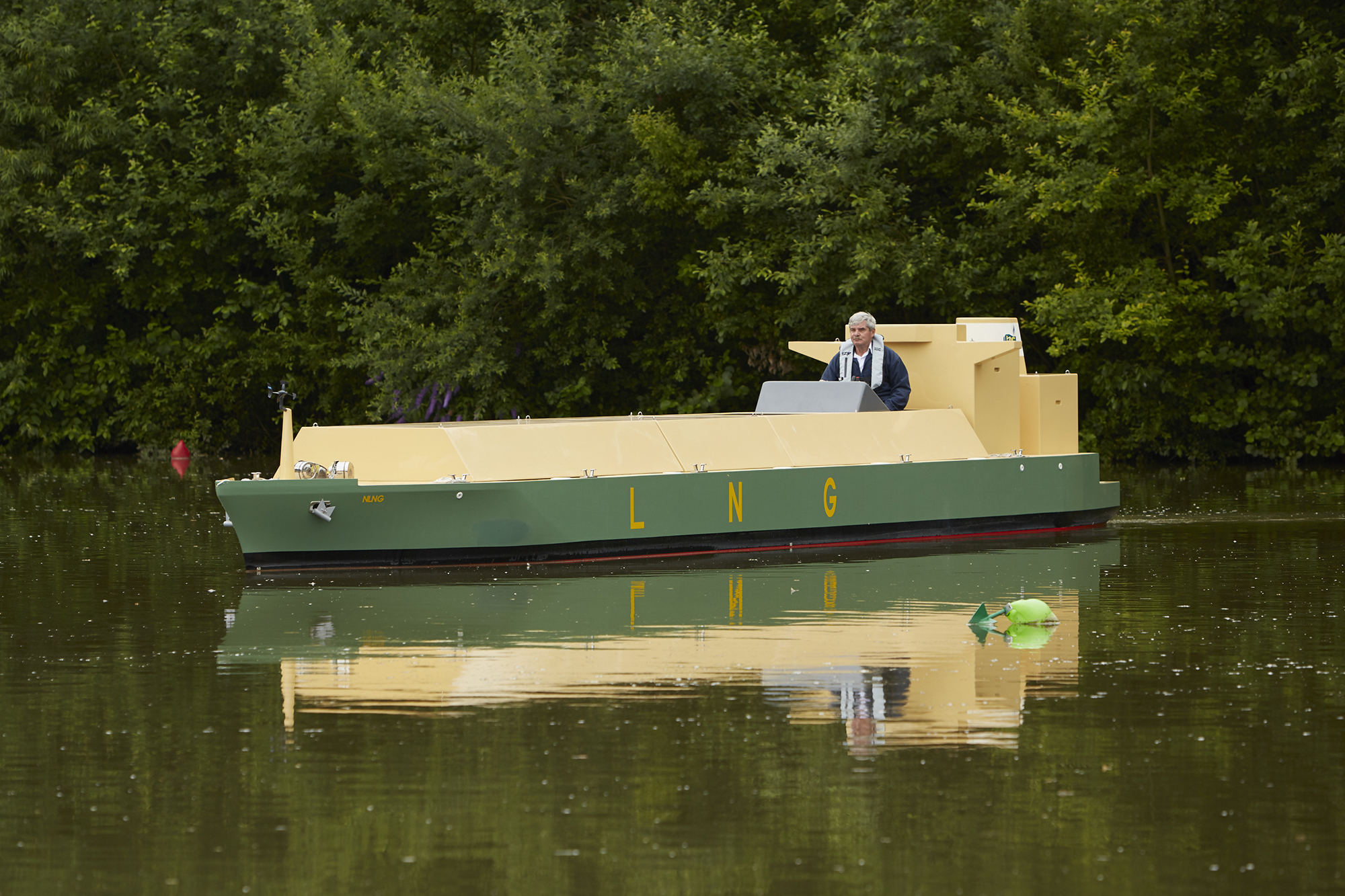 Nigeria LNG vessel joins Warsash Maritime Academy's fleet
New manned model makes waves
28th July 2016
Representatives from Nigeria LNG Ltd and University staff recently commissioned the latest vessel to join the scale ship model fleet at Southampton Solent's Ship Handling Centre at Timsbury Lake, near Romsey.
The introduction of the manned ship model named 'Nigeria LNG' was presided over by Mr Babs Omotowa, Chief Executive and Managing Director of Nigeria LNG Ltd and Dr Syamantak Bhattacharya, Director of Southampton Solent University's Warsash School of Maritime Science and Engineering on Friday 15 July.
Speaking at the commissioning Mr Omotowa said: "This is a deliberate strategy to upscale NLNG's world-class safety and operations records and achievements. NLNG's current goal is to sustain growth and build upon it, safely. And that is precisely why we are here today."
He went on to say: "NLNG's partnership with Warsash Maritime Academy helped us to obtain the required design specification for the scale manned model, which was delivered from South Korea last month."
 The partnership will also deliver the highest quality ship handling training for NLNG fleet officers and authorized third-party personnel. This is in addition to specialized consultancy services required for the planned NLNG Marine Resource Centre at Bonny Island.
"Our two companies may be separated by the oceans and great distances. But I have no doubt that we are united in our joint ambition to be the very best at what we do. It is no big surprise therefore that Nigeria LNG and Warsash have a relationship dating back many years," Mr Omotowa stated.
Dr Syamantak Bhattacharya added: "This most recent addition to the fleet demonstrates the importance placed on this type of training by the shipping industry. Our Ship Handling Centre is internationally renowned and Nigeria LNG's latest investment represents a significant addition to our fleet. We look forward to welcoming more of Nigeria LNG's officers to our Ship Handling Centre at Timsbury Lake."
 NLNG and Warsash Maritime Academy have a long-standing relationship in the training and skills development of ship personnel manning NLNG vessels.
 Modelled on the 175,000m3 twin-skeg DFDE LNG Carriers built in Korea, by Samsung Heavy Industries for Bonny Gas Transport Limited (BGT) the ship will be used by Nigeria LNG Limited and the Ship Handling Centre for training senior navigation officers in the BGT fleet and Bonny river pilots.
The model will facilitate training in the handling of the six new ships built for Nigeria NLG Ltd. The full-sized ships are twin screw, dual fuel (gas or diesel) diesel-electric ships and are fitted with a bow thruster.
The 1:25 scale model is 11.68 metres long and weighs 7.837 tonnes.  It has two fixed inward turning propellers; two independent rudders; and is fitted with operating anchors and a water ballast system to allow for alterations of trim or draught replicating different load conditions, for training purposes.
The only centre of its kind in the UK and one of only a few in the world, Warsash's Ship Handling Centre provides a world-class training facility for pilots, masters and ships officers, using various manned models, accurately simulating the characteristics of a real ship.
More information on the Centre's fleet can be found on the website.