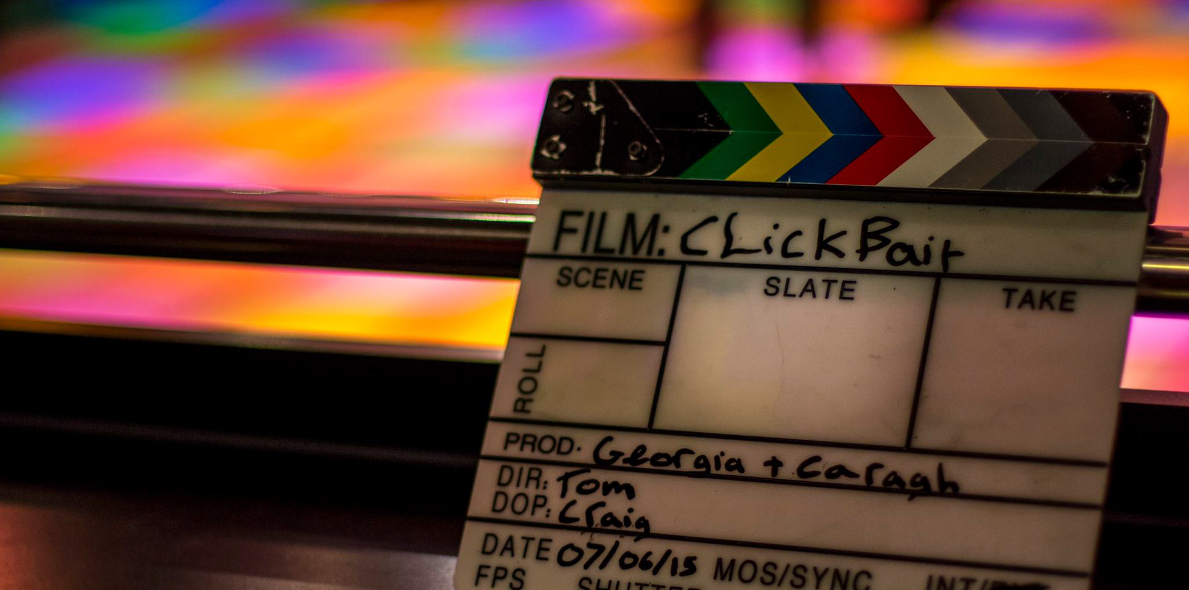 On location: media opportunities with Solent TV
Sick of Clickbait? Solent TV have the solution.
22nd February 2016
TV, film, media production and technology
Eleven pm on 1 June 2015, and producer Caragh Davison is sitting in an empty warehouse on an Eastleigh industrial estate, surrounded by cameras, lighting gear and exhausted students. It's the end of the first day of filming on Solent TV's latest headline drama, Clickbait, and one of the crew has gone to London with the keys to the equipment van.
"All a shoot ever is, is a long list of problems you need to find ways to solve."
– Ben Sutton, Solent TV Content Creator
Close to forty students from across Southampton Solent University came together to create Clickbait – writers, directors, lighting and sound techs, camera operators, make-up artists and musicians, working on a full-scale shoot over two weeks in the summer. A four-part series for the University's web channel Solent TV, it's the story of Emily Grace – a naïve teenager who becomes an internet sensation after her terrible music video goes viral, and the sharks begin to circle.
Inspired by the real-life story of Rebecca Black, whose Friday video made her infamous back in 2011, Clickbait was the young channel's biggest project yet.
Clickbait was about online bullying and shaming, and the disconnect between being unpopular on the internet and how the industry can capitalise on that."
– Ben Sutton, Solent TV Content Creator
A year before, Solent TV had launched its programme of annual summer shoots with 'Til Death, a black comedy that was shortlisted for Best British Series in the Raindance Independent Series Awards, but Clickbait was a massive step up in scale, scope and ambition – and in the opportunities it offered to Solent students.
"I think it can be quite daunting for a lot of people if they come straight out of uni and get a job." That's Georgia Constantinou, Solent TV's production coordinator. "Within university it's really rare to be on a thirty-five person set, so we offer them that chance. Whereas normally students are doing projects with three or four people, with us they get a unique role, so they can work on those skills and that specific role that they're interested in."
Ben Sutton, one of the channel's content creators, agreed. "With Solent TV, students can take a role on-set which might be a bit too big for them when they start, but they're being supported in that role. We basically give them the opportunity to learn and make their mistakes with us, safely, before going on and doing big drama projects in the real world.
"We've got a lot of factual work experience opportunities available, but the opportunity to go and work on fiction, films, drama series' – that kind of work experience is the holy grail for a lot of our media students."
In-house opportunities
Solent TV isn't the first agency set up to help students at the University. It's part of a long-running focus at Solent on gearing students up for their professional lives, rather than just delivering just academic knowledge without the practical skills to get ahead on the career ladder.
Solent Productions was the first, set up in 2006/7. "We were getting a lot of requests for films from charities and other organisations, and we had this huge requirement for student experience…" That's Tony Steyger, Associate Professor Film and TV, and the man behind Solent Productions and Solent TV. "So we decided to combine the two."
Solent Productions was born out of that need, and quickly attracted attention. The University had already been working with Glastonbury Festival since 2003, but with the infrastructure of Solent Productions in place the relationship really began to flourish.
"We're the second media partner for Glastonbury – we do the parts of the festival that the BBC don't reach."
– Tony Steyger, Solent Productions
"We had the outdoor broadcast truck, and 40 students going every year to make a range of products for them – on-screen work, and films, and documentaries…" Tony Steyger again. "It's grown… word got out. We were very good at one festival, so we got another festival, and then another festival… our reputation has grown, so we now have eight or nine every summer. We've never advertised, they come to us."
Solent graduate and Royal Television Society award-winner Sam Clarke got some of his first filming experience at Glastonbury, working as part of the Solent Productions crew in 2011 and 2013. "The work experience available at Solent was brilliant," Sam said. "It really helped me create some useful contacts, and experience what working to a specific brief is like."
Sam's currently working as a production executive for GoFilm, and has recently returned from filming in Uganda for a children's charity. He also hopes to expand the RTS award-winning short Birdman, which he and fellow graduate Matt Farrant created as their final-year project, to feature length… as soon as he can find the time. "I've been so busy concentrating on my career, but I'm determined to get it finished."
The value of experience
For Solent students, the value is clear. Initiatives like Solent Productions and Solent TV give them a safe place to develop their hands-on and professional skills, with the support and supervision of practicing professionals. But all the work that goes on there is handled as realistically as possible, giving students exposure to industry practices and the professional environment before they join the industry proper.
"At Solent there are a whole cluster of courses which really differentiate themselves as highly industry-focused, and meeting a high standard."
– Nicole Hay, Senior Accreditation and Quality Manager at Creative Skillset
And giving students those kinds of opportunities has set Solent apart when it comes to accreditation too. Creative Skillset, the industry skills body for the creative industries, commonly brings in industry panels to interrogate the courses they're accrediting – are the courses delivered in a way that gives students the skills they're going to need, which employers are looking for?
"It's a high standard; three times more courses apply than actually get the tick, so it's a fairly exclusive club," Nicole Hay, Senior Accreditation and Quality Manager at Creative Skillset, says. "Solent Productions played a healthy role during accreditation – replication of professional practice within HE is crucial to giving students that experience of work-readiness. You've got real-life external clients – actually it's not replicating industry practice, it is industry practice."
The new media landscape
And the nature of that practice is changing. As in the music and publishing industries, the advent of the internet age has shaken things up enormously – recording equipment in everyone's pocket, a vast array of digital channels with few or non-existent gatekeepers, and a vast, insatiable audience for new content have reduced the barriers for content creation to almost nothing.
"To make a piece of content is one thing – audience generation is a whole other skill." That's Jason Jones-Hall, Head of Delivery and Development at Creative Skillset. "It's a whole new skillset media students need to be aware of and thinking about – how do you get audiences to know it's there, to find it? Knowledge of channels, analytics tools, campaigns. How to create awareness and drive an audience towards content… that's what broadcast companies want to see."
"Look at Steven Fry, whose personal Twitter followers outnumber the audience for his BBC shows – that's a really interesting dynamic."
– Jason Jones-Hall, Head of Delivery and Development at Creative Skillset
Tony Steyger, who manages Solent TV, agrees. "And that's why it's very good to be working with students in a way which is part of the future. Our students are getting production and broadcasting experience, they're involved in commissioning, they're involved in audience-building, they're doing social media marketing – that's where the jobs are for students, in areas around social media and digital broadcasting. I think that puts Solent in a very strong position to shape the people the industry will need in the future."
The way Clickbait is being consumed delivers an excellent example of this rapid evolution. YouTube isn't the main platform for Solent TV's video content any more – it's been overtaken by Facebook's own native video. That shift towards fast, flexible, online content creation – and the new skillset it requires – is in part what Solent TV was set up to deliver. Ben Sutton of Solent TV says, "It's a new and emerging market, being a content creator, coming up with your own ideas and pushing those forward and finding your own way of making those work. We want to encourage that side of the career progression."
"That's the new media landscape. The barriers to entry and the barriers to broadcast are simply not there like they used to be. You don't have to go through an established broadcaster to get your content seen."
– Tony Steyger, Solent Productions
Georgia, Solent TV's production coordinator: "Some people don't want to go into the corporate world, they want to make their own content. Especially with the digital production age moving very very quickly, we're able to offer students if you have an idea, come to us with it, give us a brief and we can pay for the project – that's not really something that was offered before. I think that's filled a gap, in terms of what students can do that'll help them get a job."
Generating collaborative, cross-discipline experience
And part of what Solent offers goes beyond student experience. Both Solent TV and Solent Productions offer graduate positions, either as graduate associates or full-time, fixed-term staff… giving Solent grads the chance to experience the other side of the coin.
Clickbait's Caragh, Ben and Georgia are all Solent graduates, and they're now running shoots, commissioning content, organising students, and
getting the kind of broad industry experience that employers crave.
Georgia: "We work closely with our manager; he trusts us to say "we like this idea" and go with it… we're trusted as the creators of the web channel, that we know what we're looking for."
It's a little more complicated than that, in reality. Before something like Clickbait gets the greenlight, ideas are bandied about, argued about, developed as far as they go… the team have to consider audience, production limitations, budget – if an idea makes it to development, it's something that the whole team is already excited about.
Then the long recruitment process starts. The writers come first – rigorously interviewed and tasked with putting together a five-page scene. Then the directors – Clickbait had two, each directing two episodes, and their styles had to work well together.
The rest of the crew were interviewed one-on-one, based on what they were interested in doing. "We let them tell us what they were interested in," Georgia says.
While that might be the ideal, inevitably not everyone got their first choice – but sometimes that turns out for the best. "There are so many things to do on the film set," Series Director Ben Sutton says, "that when the students come on they don't necessarily know at the beginning what field they want to specialise in, and where they're good… they can try a lot of different things on the set and see a lot of different people working."
Richard 'Sparky' Titley, a mature student in his forties, initially applied hoping for a writer or director's role, and ended up coming on in lighting. Producer Ben Sutton: "We have him on our own personal films outside the uni, because he's just so good at it now."
None of the crew had worked together before, but there was so much to do on the first day that the crew just had to get their head down and focus on the work. "The friendships start to form, and by day two people are just getting on great," Georgia says.
Ben shrugs. "They've got a lot in common – they're a specific type of student, dedicated people."
Sparky's story
"I thought maybe the producers were put off due to my age, so when I saw a post for crew members I was going to ignore it," he says. "But I received an email from Caragh asking if I was going to apply for a crew position after applying for both writer and director, and I thought I might as well… I'm a qualified electrician, so I asked about gaffer."
After being made redundant when wind turbine manufacturer Vestas UK closed its UK plant, Sparky stumbled across a TV Production BTEC at the Isle of Wight College. "I loved it. I gained a distinction for level 2 so decided to carry on with the two-year level 3, and at the end of level 3 I had gained a D*D*D grade; and now had to make the huge decision as to whether to carry on with my studies. I decided this is what I wanted to do for the rest of my life, and here I am.
"Working with a large crew like on Clickbait was definitely an interesting experience. Most of the projects I have worked on previously have generally had a crew of 4 people, producer, director, camera and sound. I tried to watch everything that was going on around me and picked up lots of little hints and tips that will be useful in the future – different mic positions, why a director did that, how much organisation is involved, that sort of thing."
"I learnt so much it would be hard to list everything. Working on most projects the two things that are really important but nearly always get overlooked is sound and lighting. Having the opportunity to concentrate on the lighting side really helped me to see just how important and how much impact lighting can have on a production."
Craig Lees, who works at Solent Productions, came in to replace a graduate Director of Photography who had to pull out – and ended up helping Sparky and Jo Potts, the lighting assistant, with some of the complex lighting setups.
"I actually missed the first morning of filming as I was still flying back from a scuba trip in Burma," Craig laughs. "I've worked on all kinds of shoots – big ones like Around the World in 80 Days with Jackie Chan and Steve Coogan, shoots on location and in TV studios – but this was the first where I had a large inexperienced crew so I was actually revelling in the challenge… and hoping to share a trick or two that I've picked up along the way (without too many bad habits!)"
For Sparky, the experience working with Craig on Clickbait was invaluable. "I learnt about the three levels of lighting (front, middle and back), something that you only get to experience on set; most lighting tutorials only deal with three-point lighting – the basic set-up used mostly for interviews."
In an academic situation there is rarely a problem that isn't easily solved. When you're in the middle of a shoot and you realise the thing you need is five miles away and nobody has a car – you can't just stop shooting, you need to work out a solution and quickly."
– Richard 'Sparky' Tiley, Clickbait Gaffer
Sparky: "I am in the middle of pre-production on my final-year major project, a Victorian crime drama, and I know a major aspect is going to be getting the sound right." The cross-disciplinary nature of a shoot like Clickbait has left him with plenty of options – and it stretches beyond the traditional bounds of media technology. "We are also going to need make-up so I may be contacting the Clickbait make-up artists in the near future."
Natasha's story
One of those artists was Natasha Dawes, who graduated from Solent in 2015 with first-class honours in makeup and hair design. "It was like any other job application, so it was a good way to start being industry-ready in areas other than just makeup application," she says.
Since leaving university Natasha has been working freelance on commercial shoots in London, as well as some short films and trailers. She worked for Benefit Cosmetics over Christmas, and is looking forward to a work placement with the National Theatre's makeup department in March 2016. When it comes to the professional world, the experience she gained on Clickbait and other Solent TV projects has proved invaluable.
"It really built my confidence, helped me to learn new techniques, and challenged me to take on more responsibility. Solent TV gives you the chance to work in a professional environment with motivated, creative people before starting in industry… and it's amazing how much you do learn on set like this."
"The more you know about what goes into a production, the better you can do your job. You get a better appreciation for what each department does, and learn how to work with them more effectively."
– Natasha Dawes, Clickbait Key Makeup Artist
Trial by fire
It's this blend of students from wildly different disciplines in the mixing pot of a professional shooting environment that sets Solent TV apart. Ben Sutton, again: "In only two weeks, it was unbelievable to see the progression of some of the students. They get absolutely immersed in the project, and they learn so much from everybody – the students teaching each other and supporting each other as well." He laughs. "They're actually all still quite interconnected now, like a weird sort of family."
"Completely and utterly professional. I wouldn't give it the 'student' tag – it's not. It's been professionally carried out, and that stands out."
– Andrea Black, professional actor
Part of that interconnection is the experience of working so closely, and so intensely; another part is banding together in the face of adversity. Back to that warehouse in Eastleigh.
It had been a long day's filming, with the crew just starting to bond. They'd been in the warehouse to film some tricky greenscreen shots inside a car, with a complicated lighting setup.
And now the keys to the kit van were well on their way up the M3.
Georgia: "Ben and I had our cars, and we had to just shuttle stuff and people back to campus."
Ben: "And it was raining as well…"
Georgia: "I was the only person who could fit in my car, I had so much stuff. So it would have taken ten people one minute, but took me twenty each time."
"They were all sat there, so tired…" Caragh says. "I was kind of surprised they came back the next day."
 "It has to be hard though. I don't think you feel as good about something if it isn't difficult to achieve."
– Ben Sutton, Solent TV Content Creator
But come back they did, for nine more days of shooting and plenty more dramas – everything from packing an overheating camera with ice to on-set driving lessons. "It had been years since I'd driven, so to drive an SUV on day one of the shoot was a little daunting!" That's Claire Lichie, one of Clickbait's professional actors, who played scheming studio exec Kerry Bishop. "[Solent TV Series Director] Ben was brilliantly supportive, though, and after a little test drive I was enjoying racing down the road in pursuit of Tabitha!"
Was the hard work worth it? The crew don't seem to have any doubts:
"The experience was priceless…" That's Pete Earle, Second Assistant Camera. "It gave me the opportunity to work with a wide variety of people wanting to work in different areas of the media, which was useful to gain a more rounded knowledge of the industry.
"After Clickbait I talk to a lot of the crew regularly and would not hesitate to work with any of them again on other projects. I am most definitely looking forward to working with Solent TV more and more…"
Open to all
While many of the content creators who work with Solent TV are former crew from shows like Clickbait, there are plenty who come to the channel from other avenues.
Caragh: "Quite often people aren't aware that we're open to anyone – but they just need to come talk to us."
 "I would have loved to have something like Solent TV when I was a student. The film industry is a notoriously tough industry to get into and the opportunities, skills and experience offered through working on projects with Solent TV is massive, especially these dramas where you learn so much."
– Craig Lees, Associate Producer at Solent Productions and Clickbait's Director of Photography
First-year TV and video production student David Zohan is one of those independent content creators, taking advantage of the opportunities Solent TV offers.
With Solent TV's help, he's currently working on a short film about Murray, an ex-army tank commander. Murray lost both his lower legs in Afghanistan from a roadside IED explosion, and now competes in CrossFit competitions and superbike racing for the team True Racing Heroes.
"The support Solent TV are offering is excellent. Initially I started the project alone then quickly realised affording it would be an issue now I'm a student. I had been told about Solent TV, so I went to them with the footage I had… they liked it and agreed to fund my production costs."
"They're always available and willing to help with any issues. Recently I went to them for help on the film and they instantly dropped what they were doing to help me resolve the problem. The experience I've had working with them is great and I'll definitely be coming back to them for support in future projects.
"I've not needed to take out any equipment yet as I invested in a lot of gear before I started uni, but there are a couple of lenses they have that I'd like to play with sometime."
The latest professional kit
For most students, however, the huge amount of professional-grade equipment available from Solent's media stores is a huge draw.
"The level of kit we offer is remarkable – we spend something like 15k a year on camera lenses alone," says Micah Gates, Head of Specialist Facilities. For the media stores team, it's a constant race to keep up with the latest technology. "You have to choose carefully and make sure the University's getting value for money from its kit – balancing lifespan with cost, and providing students with access to equipment which wouldn't be out of place in a professional environment."
The popularity of the equipment on offer is unmistakeable, however, with loans up 10-15% a year for the last few years. Rigorous tracking and analytics systems make it easy to spot the kit that's in high demand and increase stocks accordingly.
In September 2015 the University bought the Canon C100 for the film and TV courses. It's a specialist documentary camera and a good all-rounder – lightweight, compact and ergonomic with high-quality picture and sound. "It's got built-in ND filters and XLR sound inputs in a small form factor. It's good in low light…" Micah smiles. "The usage they've seen has been incredible – something like a 400% increase in loans over the camera it replaced. We've seen around 26,000 hours of use out of 26 cameras, just since September – even Canon have been really impressed by the amount of use our C100s have seen."
The primary purpose of all this kit is helping students build hands-on experience; on Creative Skillset-accredited degrees like BA (Hons) Television and Video Production it's practical elements which form the core of the course, and Solent does everything it can to encourage extracurricular activity. Micah: "We prefer they're out practicing and building experience than the kit's just sitting on the shelf."
The University's keen to take as professional an approach as possible, however, with loans working on a passport system. Students need to have a technical induction with the kit before they're able to book it out freely – ensuring they know how to make the best of the equipment's capabilities, and understand its strengths and weaknesses from day one.
"The only charge students ever pay is for late return of kit," says Micah. "It's part of their education in professionalism, in recognising that other people are going to be relying on having that kit on time, just like they are."
Some of the more recent developments include a Dolby Atmos surround sound studio – making Solent one of just a handful of universities to use the tech worldwide – and throwing a lot of effort into cameras. But the media team are already exploring lighting as the next area of expansion. "Past LED tech suffered from gaps in the spectrum that could lead to problems with colour. But with the latest LED technology, the colour's better, skintones render well – and of course there are other benefits."
LEDs don't get hot; they're more robust, more efficient, and less likely to explode when plugged into the mains circuit! But new technology brings its own challenges – not just for the technical specialists, but for everyone on set.
Less heat but more intense light changes the studio dynamic – there's less sweating under the lights, which affects makeup requirements, but the intensity can cause performers to squint. So the lighting setups will need to adapt to the new technology. Micah's team are looking at that too. "We're looking at light modifiers – everything from silk to building materials like plastic heat protection film – that might change the way light works. It's an ever-moving target."
The pace of modern media never stands still.
Courses at the cutting edge
For Solent's media courses, that means keeping up with current thinking, technology and working practices is essential. Initiatives like Solent Productions and Solent TV address that, giving students and staff alike regular exposure to professional working environments… and not just on the media courses. Solent TV is growing increasingly integrated with the course content on degrees like performance and popular music – acting as crew for third-year performance students' short showreel pieces.
Meanwhile, the viral earworm Cinema which kicks off Clickbait's dramatic action was actually the product of a brief to Solent's own popular music students.
Bob Burke, Senior Lecturer in Popular Music and leader of the Songwriting Techniques unit: "We're always looking for opportunities to embed real world opportunities within the curriculum so we were really pleased to ask our songwriting students to pitch songs for Clickbait. It was initially set by as a 3-hour in-class studio task to write 'an irritating teen pop song' in the vein of Rebecca Black's Friday. The look on the students' faces was a picture!"
And the students certainly seemed to rise to the challenge. "The playback session featured some of the best songs written all semester, and several songs were submitted in the songwriting portfolios – not only Cinema, but also Haircut, Sleepover and The Nando's Song (Peri Peri Hot Hot). I still find myself singing these earworms, and may never recover.
"I'm really proud of the efforts that all the students put in and Carl, Paul and Jake really did us proud with Cinema. These interdisciplinary outputs are a trademark of education at Solent and this has been a fantastic project for everyone involved."
In-course opportunity
And Solent TV work is also incorporated into a range of units across the University's media courses, as you might expect. Caragh: "The idea is that we act as the client, helping them provide the kind of content that can go on our channel. For them it's working to a client brief."
Students split into four-person production teams – twenty little production companies making content – to take the brief, develop an idea, and pitch it back to Solent TV… before the students can go away and make the project.
"It gives the project work the students are doing a real-world focus," Roy Hanny, Course Leader for BA (Hons) Media Production (Top-Up), says. "A client with specific needs, ie audience, channel brand etc, provides creative challenges for the students to work through, and simulates the way video production works in the real world – introducing messy, complex problems to the creative process and ensuring that the projects have a destination with a real audience.
"Giving students constraints is always a good thing, and they will respond in ways that are always surprising. Open briefs more often than not produce flat, uninteresting films… It is also more fun working with them on solving problems, and makes for a more engaging course. They gain confidence, they develop problem solving skills… and they get to see the creative process is just that – a process!"
A key part of that process is responding to client feedback. Tony Steyger: "If a client wants X, you can't just say 'I think it'd be better doing Y' – you have to listen and adapt your ideas accordingly – that's professional practice."
"Creative problem-solving is what will earn them money in the long term, not their ability to turn a camera on and off. Employers want graduates who can tell compelling stories that engage audiences – and this is what we try to achieve by bringing in Solent TV as a live client."
–Roy Hanney, Course Leader, BA (Hons) Media Production (Top-Up)
After Clickbait
Unusually for a prestige student production, the Clickbait crew was mostly made up of first and second years. "[Previous Solent TV drama] 'Til Death was handpicked, and mostly third years, but this time we wanted people to come to us," Producer Georgia Constantinou says. "Now we know them, and they've got the confidence to come to us their whole student life."
Alice Stansfield, now in her third year of BA (Hons) Film and Television, worked on the behind-the-scenes film with Tom Herrington and Billy White. "I am still involved with Solent TV; I recently finished filming with the drama and performance students for their new short films. Outside of Solent TV, I work with Solent Creatives who gave me funding to launch my own freelance production at the beginning of 2015 – Chameleon Films."
And among those third-years who've gone on to graduate after time with Solent TV or Solent Productions, there's plenty of evidence that the experience has helped their careers.
Lloyd Thompson, who works for factual TV production company Woodcut Media: "Solent Productions gave me projects to manage, which is something you don't normally get at a lower level in the industry, and also allowed me to develop my technical skills in shooting, editing and even a bit of motion graphics which is something I'd never tried before. These have all been skills that have really helped me since leaving Solent."
Kate Beal, Woodcut CEO, can't value that kind of broad skillbase highly enough. "Creating multi-skilled individuals who can do all aspects of production is essential. There are still roles for pure editors, pure specialists… but having people like Lloyd who can do everything, and do it to a high quality, is really valuable to us."
Graduates Jed Tune and Glen Kirby, who worked on Clickbait's predecessor 'Til Death, have set up Jack-in-the-Box Films – their feature Noble Claim, a Viking epic, is part of the British European Talent Screening at the Berlin film festival's European Film Market this year.
Jack-in-the-Box also recently premiered thriller Off-Piste, and will soon be working on another feature film, The Pugilist. Solent Productions is taking a role in that, providing students to work on the film and learn from the professionals in all the major departments – hair, makeup, camera, sound, lighting, and more.
And other new partnerships are in the works for Solent's media school, including a project creating video content for local newspaper Southern Daily Echo. Echo Editor in Chief Ian Murray said: "The team at Solent are extremely professional, and the liaison between our two newsrooms will bring a depth to our features, investigations and projects that can only be to the benefit of our readers and visitors to our websites.
"Working closely in this way will enable us at the Daily Echo to work with tomorrow's newsmakers working with the latest developments in technology in our field."
"It's great for students to be making this work through Solent TV," says Tony Steyger. "Good for the film-maker's experience, good for the client, and good for the audience."