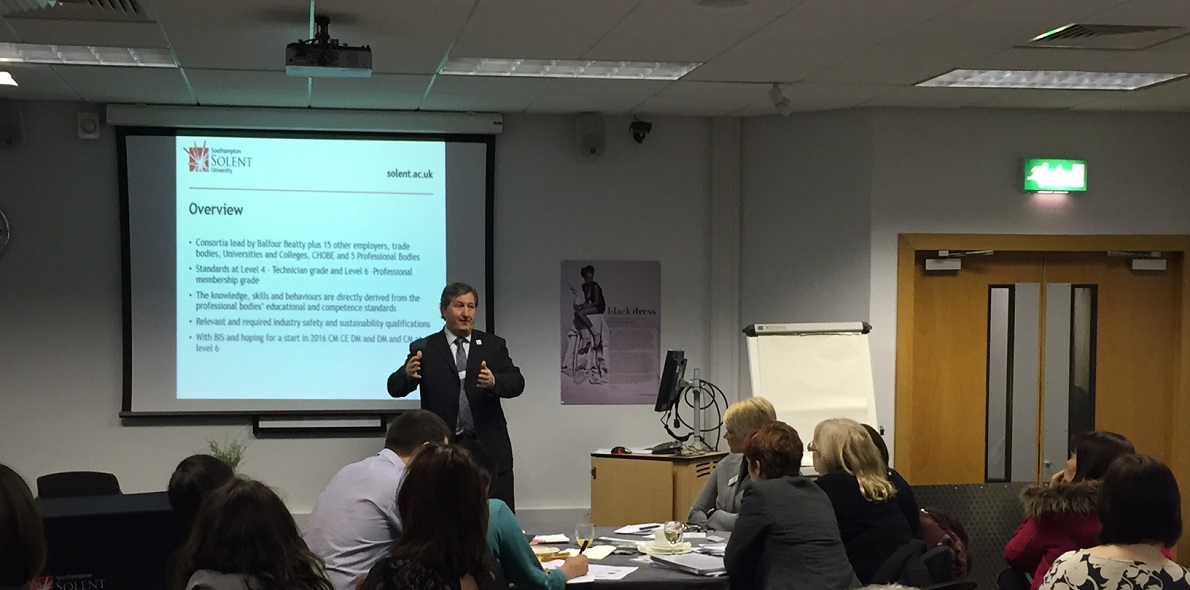 Shaping the future of higher apprenticeships
Get your dose of 'real-world knowledge'
25th January 2016
A group of forward-looking managers from across the local region recently attended Southampton Solent University to find out more about the future of apprenticeships.
Designed in partnership with employers, and majority funded by the government, the degree and higher apprenticeship scheme offered by Southampton Solent University gives students the benefits of both a recognised high-level qualification and paid professional experience in one practical package.
Southampton Solent University's first-degree apprenticeship programme, the Chartered Manager Degree Apprenticeship, is already set up – and the University is keen to talk to employers who might be interested in what a degree apprenticeship can offer.
The University is also looking to launch several more in 2016, including apprenticeships in construction and the built environment. Momentum and interest in the scheme, and what it can deliver for both employers and students, is building.
John Barfoot, Programme Group Leader for Design and the Built Environment, comments, "We teach real-world knowledge, but these schemes take it one step further and allow us to have an employer as a partner in the delivery of the programme. It's not just education, but something that is relevant to what students need to do in their working life."
Attended by around 30 professionals, the event saw plenty of interest in the scheme. Amy Howard, HR Manager at Captec, said: "I think degree apprenticeships are very promising – they're covering a gap where graduates have degrees but lack a strong skills base coming into the working environment.
"By giving them practical roles, this enables to develop those skills alongside their work at university. So there's a lot more I'd like to learn about the scheme and how we can get involved in developing the programmes."
For more information on higher and degree apprenticeships, visit www.solent.ac.uk/hda or contact academic.partnerships@solent.ac.uk