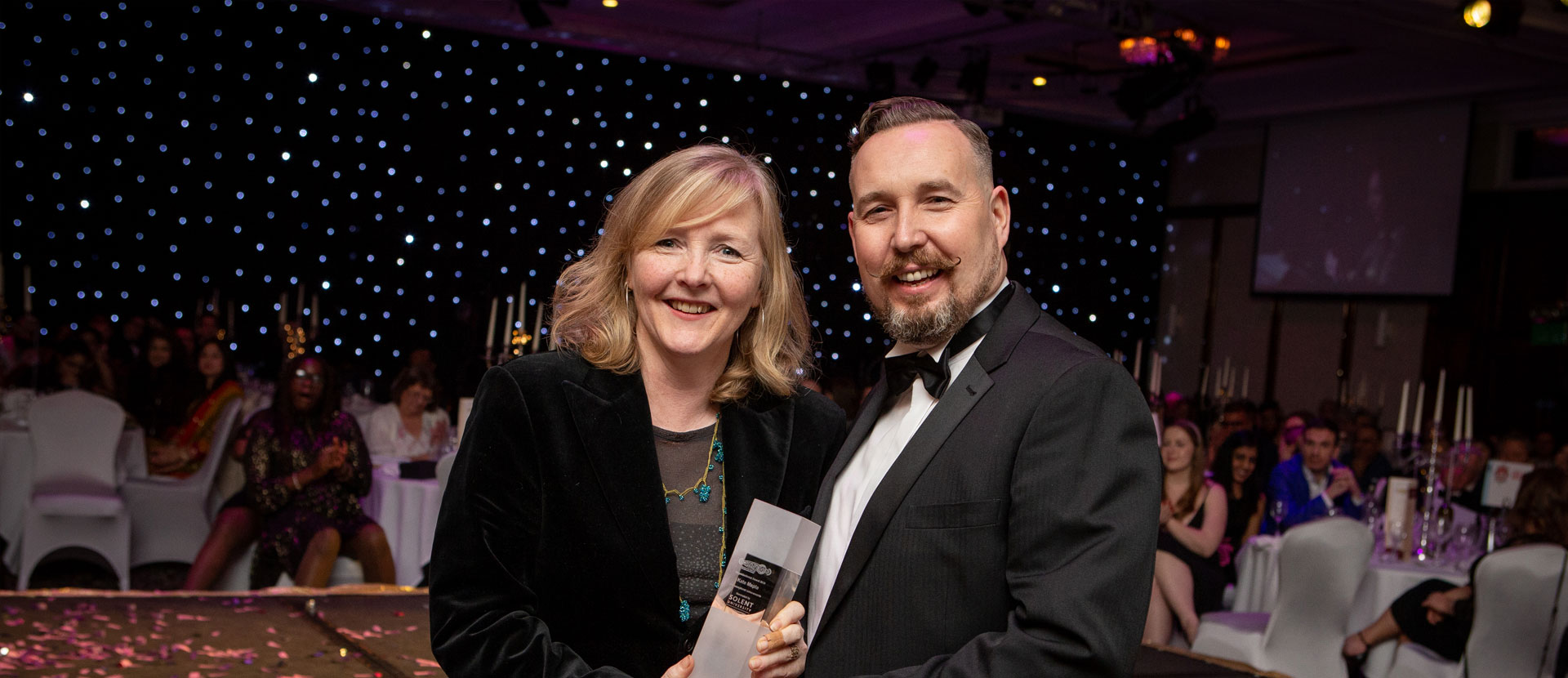 Showcase Gallery curator receives award at the Unity 101 Awards
Solent Showcase Gallery curator, Kate Maple, received the Solent University Award at the recent Unity 101 Awards in recognition of her work within the community.
13th January 2020
Solent University is proud to support the local community and work with organisations from across the city - and this includes Unity 101 radio station. As part of our partnership with Unity 101, we support the station's annual anniversary awards and achievement programme.
On Friday 10 January, Kate Maple, Gallery Curator at Solent's Showcase Gallery received the Solent University Award for her dedication to the local community, going above and beyond enabling people from across the city to be involved with the arts. We caught up with Kate to find out what winning the award means to her and how people can get involved with the Gallery.
Congratulations on winning your award! Tell us more about the Solent Showcase Gallery
Thank you! The gallery is the University's arts space in the heart of the city's cultural quarter. We are an innovative creative space that involves students and local communities in exhibitions and events about issues affecting our world. Students gain valuable professional experience by working for us and each summer we showcase some of the fresh new talent of recent graduates from the School of Art, Design and Fashion.
How can people from the local community get involved?
We are an open and safe space where everyone is welcome and we constantly link with local communities and schools, often working collaboratively with local groups to show exhibitions that have deeper meaning and stronger ownership from the local area. This type of collaborative practice means local people often contribute significantly to the making of an exhibition, show their artwork alongside national artists, take part in workshops and have a strong impact on what we do. We are always open to new ideas and new dialogues with interested groups.
What exhibits and events can we look forward to in the coming months at the Gallery?
We are really excited about the exhibitions we have this year.  For the first six months (January to June) we are running a DISPLACED season of exhibitions and events exploring different experiences of displacement, identity and social perception.
The first chapter is NARRATIVES OF DISPLACEMENT, on show from 24 January to 21 March - an exhibition created by Syrian women who have found refuge in Germany, the UK and Jordan. Their work explores using art as a form to tell the stories of refugee women and families, and local groups and primary schools will be adding artwork as the exhibition progresses.
In the second chapter we are working with disabled visual artist, Rachel Gadsden, to create a SALON OF DISABILITY from 10 to April to 13 June. Rachel will be modernising the 18th century concept of a 'salon' and will be working with local artists to create a discursive space that explores notions of physical displacement and the realities of cultural displacement of disabled people.
What does it mean to you to win this award?
To win a community award like this is so important to me and to the Gallery team.  It makes us feel like we are succeeding in reaching communities in a meaningful way and that the Gallery is gaining recognition and a reputation for connecting and engaging with our local community.  A vital part of the Gallery's mission is to engage in conversations with people from around the city and find out what it important to them and explore how we can use art as a means to have deeper discussions. An award like this is a great indicator that we are on the right track - and a good opportunity to celebrate!