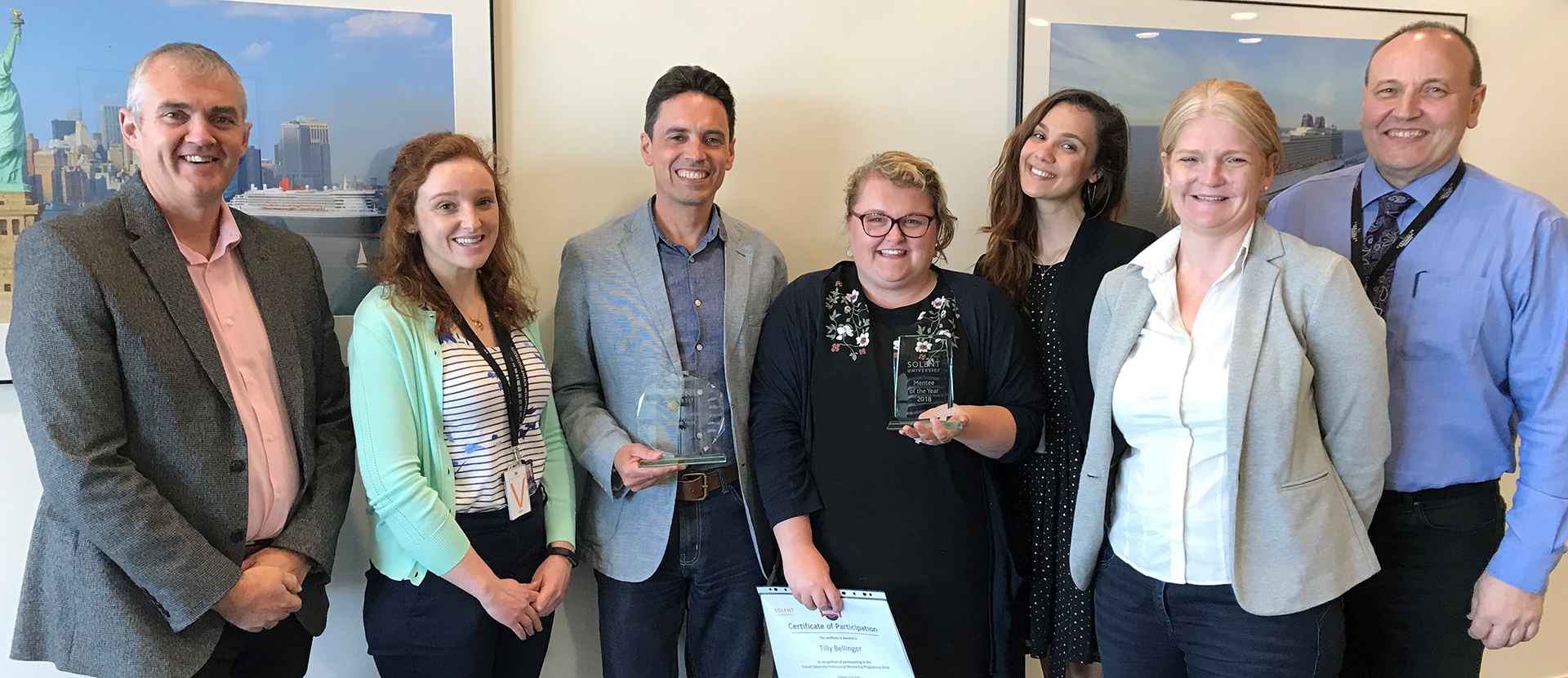 Solent hosts a celebration of mentoring
The past couple of months has seen Solent Futures celebrating participants in its mentoring scheme.
22nd May 2018
The past couple of months has seen Solent Futures celebrating participants in its mentoring scheme. Two events took place recently to award the stand out mentors and mentees, with each winner awarded a glass shield in recognition of their achievement.
'Alumni Mentor of the Year' was awarded to Marcus Herbath, who graduated from BSc (Hons) Shipping Operations with Technology (Foundation Year) in 2001. His mentee, Tilly Bellinger, also won 'Mentee of the Year'.
Both were presented with their awards at Carnival headquarters, a company who has provided many mentors to Solent over the years the scheme has been running.
Tilly, who graduated from BSc (Hons) Geography with Marine Studies in 2017, says: "I nominated Marcus because throughout my mentoring, he has been one of the most down to earth, encouraging and inspiring mentors, far exceeding my expectations.
"He helped me to refine my CV, create cover letters, and gave me interview tips for the jobs I went to interview for.  As he'd worked for many of the big companies I wanted to start my career in, he could give me insider knowledge of the recruitment process, and give suggestions of how to target those companies in my applications.
"Overall, my mentoring time has been one of the most helpful parts of my time at Solent, and I am so thankful to Marcus for all his help!"
Marcus, who works as a Senior Planner at Carnival UK, adds: "I'm very grateful to have won the alumni mentor of the year award, which was unexpected. All credit goes to Tilly, who has been a pleasure to mentor.
"I think the mentoring programme is a very valuable tool for current students and graduates in getting realistic non-academic advice from others that may have knowledge and experience in specific areas, or just life in general that can help. It's not all about getting a job, but about identifying our individual strengths and weaknesses and applying relevant courses of action."
More awards were given out in April, when students and their mentors attended a celebration event in the Spark, enjoying canapes and networking.
Sharath Ranjan, mentor and police officer, says: "The most enjoyable part about mentoring has been the process of having conversations that matter; I've loved being able to make that positive difference and being that person who enables the other to think differently and to work towards a goal.
"It was a super event and even more so when I received the award as one of the 'Mentors of the Year'. I've found the whole experience hugely rewarding. It was heartening to hear the other nominations and the comments as it truly showed why this process was important; human connections to inspire one another to go further."