Solent student recognised at BAME Apprenticeship Awards
A Solent University apprentice has been recognised at the BAME Apprenticeship Awards for her contribution to the NHS.
27th November 2020
Health, psychology and sociology
Raquel Valentine, 47, has been 'Highly Commended' for the Carers Award in the Health, Medical and Social Care category of the BAME Apprenticeships awards. The awards recognise British BAME Apprentices, their employers and learning providers.
Raquel, from Portsmouth, is currently an apprentice at Solent, studying the Registered Nurse (Degree) Apprenticeship, and working for Solent NHS within the Portsmouth Rehabilitation and Reablement team.
Commenting on her award, Raquel says: "I am truly humbled to be appreciated and recognised for my efforts. My sincere gratitude goes out to the University staff for all the support through my placements and units and my workplace for giving me such an invaluable opportunity. I also owe it to my family which have been my motivation throughout.
"I decided to be a nurse as I have always had a genuine interest in people and helping people; making a difference has always been the reason for everything that I do and being a nurse allows me to do so."
"This award has spurred me on and motivated me to continue to work harder and strive for a change and difference. I cannot wait for the day I qualify to be a registered nurse so I can continue practicing my passion."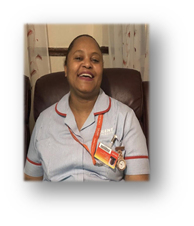 Within her current role, Raquel works in the community where she assists and enables patients to gain their independence following discharge from the hospital, along with observing to see if they are progressing or deteriorating.
Raquel also touched on how it has been nursing through the Covid-19 pandemic: "I have learnt so much during this time along with picking up various skills; the main one to highlight is being resilient."