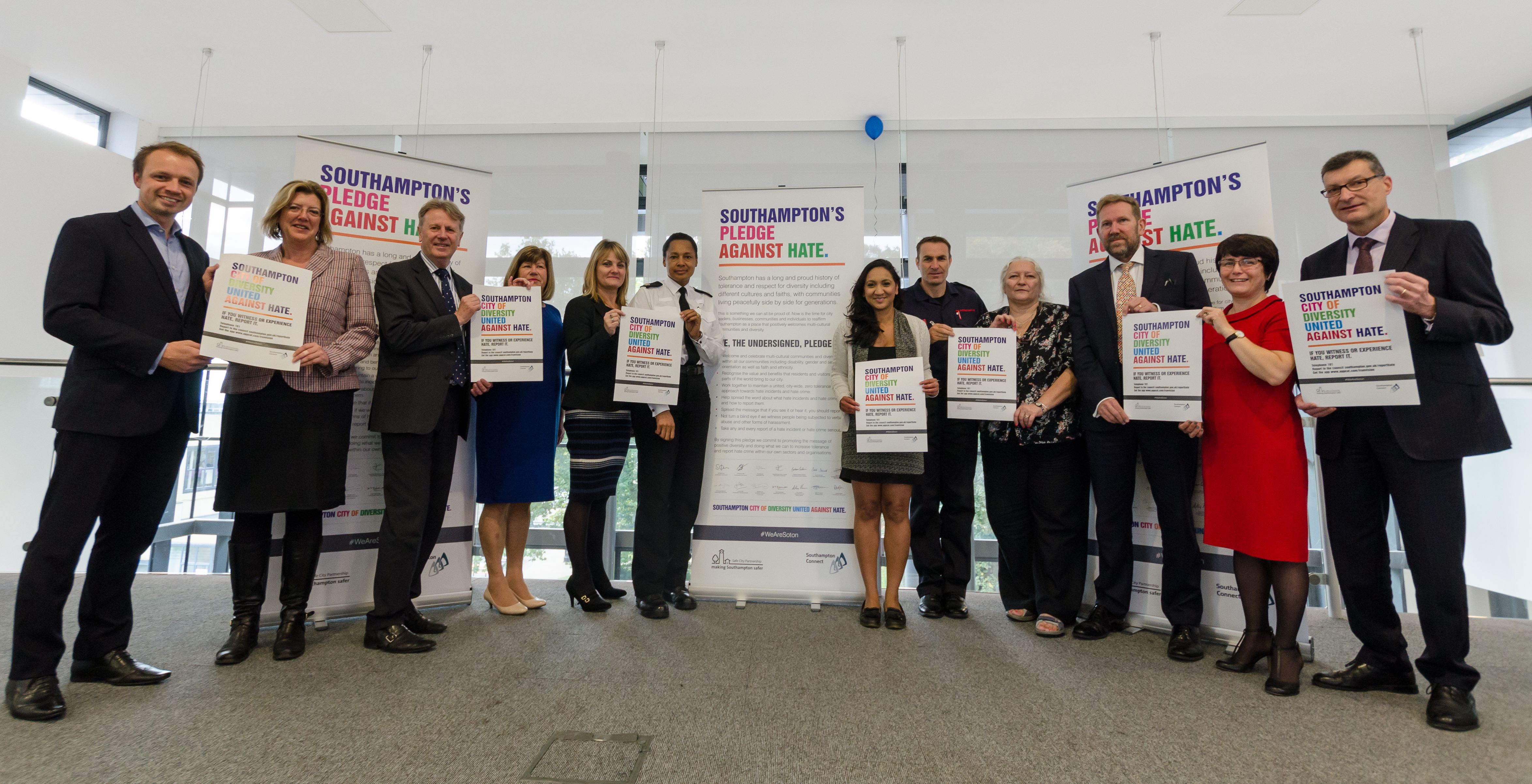 Solent University pledge to support 'Southampton United Against Hate' campaign
National Hate Crime Awareness Week campaign underway
11th October 2016
We are supporting Southampton's United Against Hate campaign which has been created to run alongside National Hate Crime Awareness Week (8 – 14 October 2016).
This week, Southampton Solent's Vice-Chancellor, Professor Graham Baldwin signed a pledge on behalf of the University, along with a number of local organisations, partnerships, community and voluntary sector groups throughout Southampton.
Led by Southampton City Council, the pledge promises to raise awareness of hate incident crimes as well as to encourage reporting. 
In signing the Southampton United Against Crime Hate Campaign, Solent pledges to:
• Welcome and celebrate multi-cultural communities and diversity within all of our communities, including disability, gender and sexual orientation as well as faith and ethnicity. 
• Recognise the value and benefits that residents and visitors from all parts of the world bring to our city. 
• Work together to maintain a united, city-wide, zero tolerance approach towards hate incidents and hate crime. 
• Help spread the word about what hate incidents and hate crime are and how to report them. 
• Spread the message that if you see it or hear it, you should report it. 
• Not turn a blind eye if we witness people being subjected to verbal abuse and other forms of harassment. 
• Take any and every report of a hate incident or hate crime seriously. 
Other groups supporting the hate campaign in Southampton include:
Ian Dunn - University of Southampton
Michael Lane - Police and Crime Commissioner
Tony Deacon - Hampshire Fire and Rescue Service
Sarah Stannard - City College Southampton
Sally Thompson - Business South
Jo Ash CBE - Southampton Voluntary Services
Dawn Baxendale - Southampton City Council
Stewart Dunn - Hampshire Chamber of Commerce
Cllr Jacqui Rayment - Southampton City Council
Cllr Satvir Kaur - Southampton City Council
Cllr Simon Letts - Southampton City Council
Sandeep Sesodia - Hampshire Chamber of Commerce
Superintendent Alison Heydari - Hampshire Constabulary
Sue Harriman - Solent NHS Trust
Denise Edghill - Southampton City Council
Sue Leamore - University Hospital Southampton NHS Foundation Trust
John Richards - Southampton Clinical Commissioning Group
National Hate Crime Awareness week aims to bring together organisations and communities across the UK to raise awareness of Hate crime and encourage reporting. The awareness week covers all monitored strands; disability, faith, gender identity, sexual orientation, and race.
Throughout the week, the public will be able to have their say, show support and get involved by sharing the hashtag #WeAreSoton via Twitter and Facebook. In a bid to spread the word get as many people involved, Southampton Solent urges the public to share, retweet and post throughout the week.
To find out more about hate crime or to report an incident, visit the council's hate crime and harassment webpage.