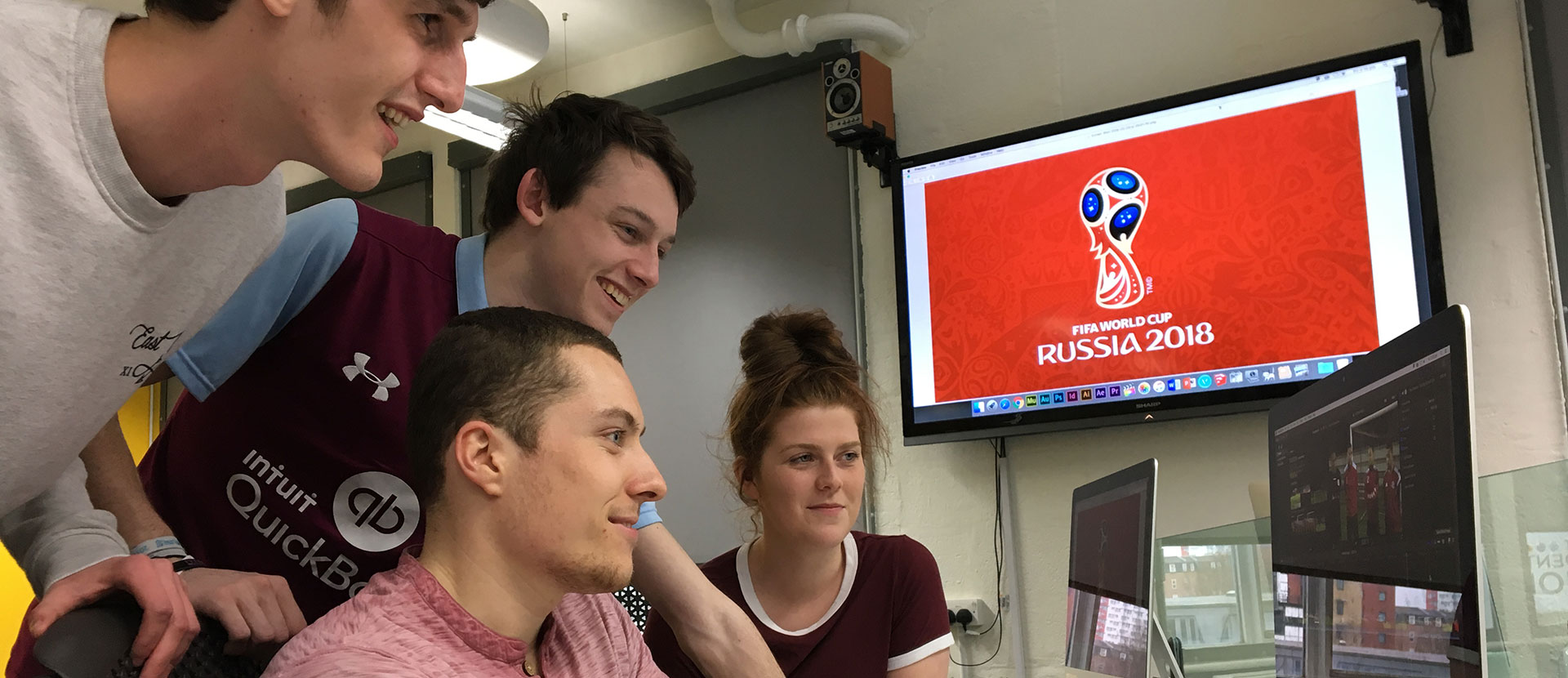 Sport journalism students on their way to the World Cup
Sport Journalism students at the Russia football World Cup
16th March 2018
While England manager, Gareth Southgate is still finalising his squad for this summer's World Cup in Russia, a group of BA (Hons) Sport Journalism high-fliers have already booked their seats on the plane.
Callum Beirne, Ashley Gregory, Amber Hemming and Tom Norris have all been selected to work for the host broadcaster at the most prestigious tournament in world football.
The third-years secured half of the eight paid places available to provide live and post-match footage to be sent to broadcasters across the globe.
Sport journalism course leader, Will Cope said: "We're extremely proud that so many of our students have been selected for such a high-profile role.
"Not only will they receive a salary, training and all expenses, but it will be the experience of a lifetime and will look great on their CVs.
"It's fantastic, not only for them, but also for the other students on the course and those thinking of coming here because it shows just where this course can lead. There are a few of our lecturers who are very jealous!"
Callum said: "It will be a wonderful opportunity and I can't wait to get out there and start work. Unfortunately I'll have to miss graduation, but the chance to go to Russia and work at the World Cup is something I couldn't possibly pass up."
Amber is thrilled to have been selected, saying: "This is the chance of a lifetime. All my friends are very envious; they can't quite believe I'm being paid to go to the World Cup. It is going to be amazing!"
Ashley added: "It's brilliant there are so many of us going as it'll really help that we already know each other. It's also a reflection on the high standard of teaching we've received that we've secured half the places."
And Tom finished: "I'm really looking forward to working at one of the biggest events in world sport - experiencing different cultures, being at the heart of the action and making industry contacts, as well as using all the skills we've been taught."
Feeling inspired? Find out more about our journalism courses