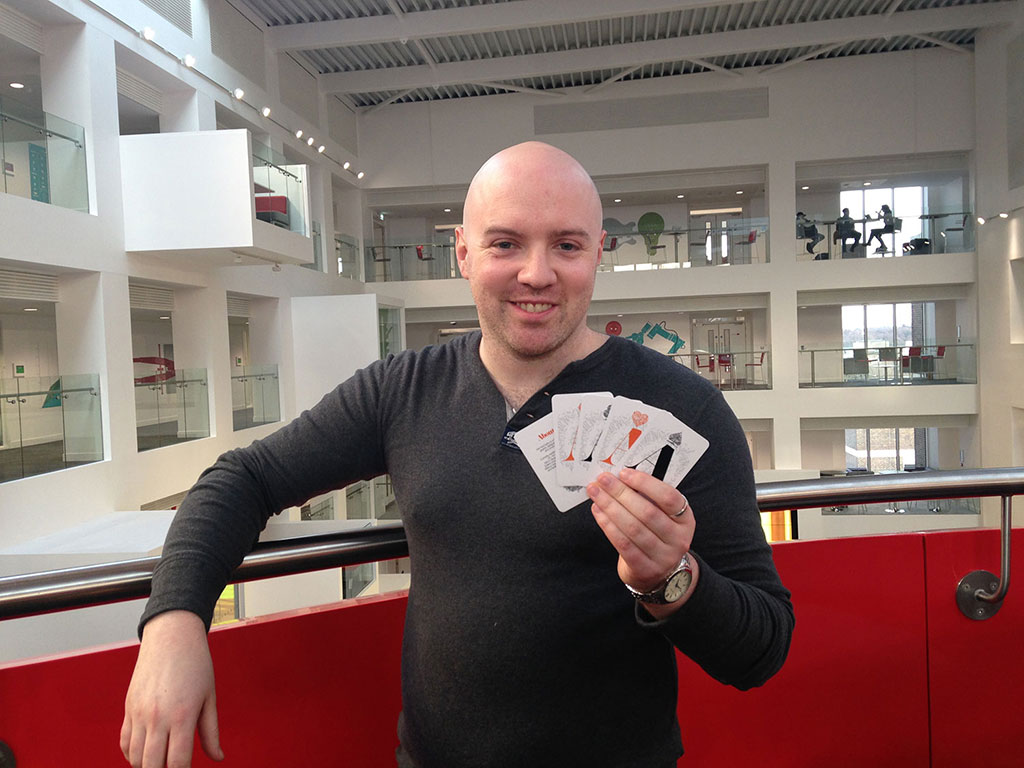 Student-designed merchandise goes on sale
Student plays an ace
15th March 2017
Late last year, Solent ran a competition for its students and alumni to design some University merchandise. These products are often given as gifts to our important connections all around the world, and help our students to get the exposure their work deserves.
The judges were impressed by the high quality of the entries and amount of effort put in, and they awarded the £500 prize to Ken McCarthy, who designed a pack of cards.
Ken, who is from Dublin and is currently studying MA Visual Communications, says: "I'm amazed! It's such a great feeling knowing that people enjoy my work."
The cards are now available to buy on the University's online shop. To mark the occasion, we asked Ken some questions about the inspiration behind his designs and his experience at Solent so far.
What made you decide to enter the competition, and what were your inspirations for the cards?
My tutors, Brent and Julie, told us about it, and I felt like I stood a good chance. Brent is always encouraging us to enter competitions, so I thought 'why not?'
In terms of the design of the cards, I wanted to create a modern look on poker royalty. I imagined they'd be the high-rollers you'd see playing professional matches.
The work is abstract but based on calligraffiti, something I've been learning about on my Masters. A lot of people have told me the letters in the cards look Arabic, Cyrillic, or even Celtic, which I think is great considering they're going to be sent all across the world.
What made you choose to come to Solent as an undergraduate?
I did a higher diploma course in Graphic Design at home in Ireland, and the option arose to apply to UCAS at the end of it. Coming to the UK was always my plan, it was just a matter of which university. Solent's facilities and teaching stood out, and it had just won an award for best improved university. There was an overall impression of a quality university from the media at the time, so a group of five of us decided we would apply here as our first choice.
Tell us more about your undergraduate degree.
I studied BA (Hons) Graphic Design, and got a 2:1. Mainly, I learnt more about what I'd already done during my higher diploma, but there's a great deal more creative freedom.
In Solent specifically, there's a great focus on typography, which I attribute to re-awakening my love of lettering. This in turn led me to my current Masters project.
Why did you decide to take a Masters?
An MA shows a level of study that most people aren't prepared to take, a sort of dedication or higher understanding of your chosen field. In a pretty overcrowded graduate job market, I'd like to think an MA helps me to stand above the crowd, together with a solid portfolio.
My MA tutor, Brent Meheux, pitched the course to me very well and made it sound very appealing. He was very enthusiastic and it just clicked with me that day that an MA was my next step. I got a fee discount for graduating with a 2:1, and overall I had a feeling of comfortability at Solent that the idea of leaving it didn't make much sense. I enjoy the environment at Solent and I like Southampton, so it was an easy choice to stay.
Would you recommend the courses you've done here?
100%, absolutely. I learned more as an undergrad for sure, and, as a creative person, the MA Visual Communication has great group sessions where ideas get shared and flow freely - that's a very important part of the process.
What are your plans for the future?
Originally I thought about opening a creative studio, but now that I've touched on calligraphy work, I'm actually really getting into that and suspect that it could take my career in a different direction.
I'm currently working on bringing the calligraffiti off the page, into virtual reality space. I'm interested in how light comes off the page, so I'd like to get involved with the games department at Solent to find out what kind of projects I could collaborate with them on.
What advice would you give to other students?
For creative students, my advice is the same as Nike's - just do it. By this I mean just start on something: put pen to paper, paint to canvas, hands on clay, etc. The act of getting lost in the 'doing' removes the self-doubt, once you get into the flow of it. I make a point of just practising, even if it's unrelated to the work I'm doing.
You can check out Ken's other work on Facebook and Instagram.